EarlyPay is our unique Supply Chain Finance (SCF) solution operated in partnership with Lloyds Bank to provide early payment for our Category A subcontractors. See more here EarlyPay
Recognising the potential advantages of SCF, Willmott Dixon set out to design and implement a solution that would deliver a real benefit to its supply chain and operate under clear, equitable terms that the company would happily adopt if offered by one of its clients.
We believe the use of EarlyPay combined with our subcontractor web portal gives a transparent way to manage payments. See details to register below.

Millions of pounds of annual spend is now being paid early through EarlyPay.

James Sutherland, managing director, Dortech Architectural Systems Limited:
"We at Dortech think that EarlyPay is the best payment process in the industry and is certainly "best in class''. We are grateful for being accepted into the scheme."
Dave Taylor, commercial director, D B Ryder & Co Limited
"EarlyPay is an excellent supply chain finance scheme, I am baffled as to why anyone would not sign up. I am encouraging other Willmott Dixon suppliers to do so."

Alan Brayley, director, AB Glass (Doors and Windows) Limited;
"EarlyPay works very well for us, we are very happy that we entered into the scheme. It's simple and it makes so much sense."
Katie Wills, business development manager, A V V Solutions Ltd:
"EarlyPay works very well and is very informative."
To register for EarlyPay contact earlypay@willmottdixon.co.uk or Elysia Burrough on 01462 678910.
To register for access to the portal use the following link: https://paymentsportal.willmottdixon.co.uk/WDPortal/

Example calculator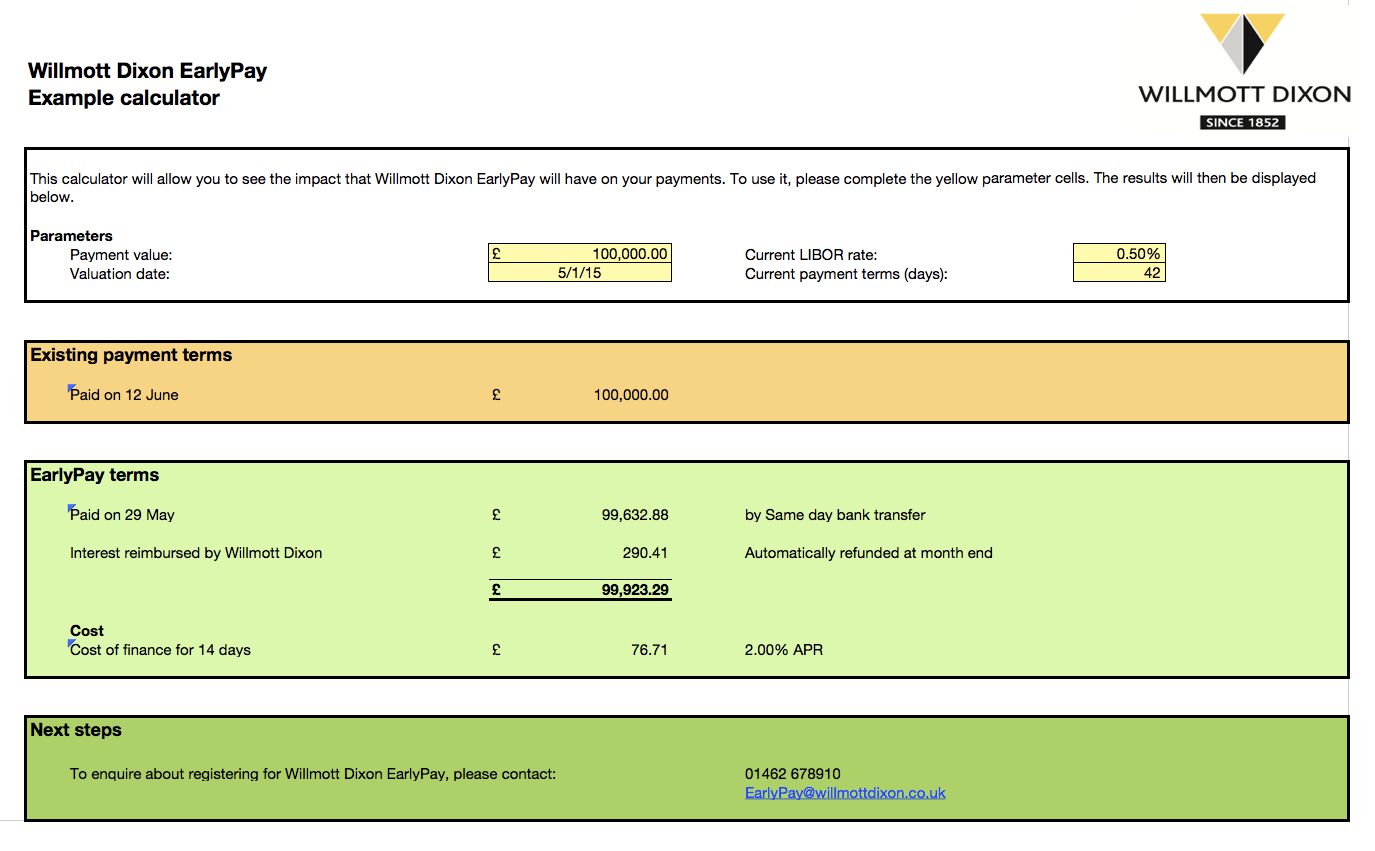 Try our EarlyPay example calculator and see how much you could benefit. Download it below.