Reducing deprivation in towns and cities by improving social mobility
Sustainable urban regeneration has three key pillars – economic, environmental and social. How can construction and development projects improve social mobility?
Delivering tangible social value through regeneration projects is more important than ever before, with local authorities placing a huge emphasis on enhancing local communities, ensuring projects leave a positive legacy and improving social mobility. Marie Wilkes, head of social value in the Midlands at Willmott Dixon, says that it's only by understanding the unique requirements of a town or city that truly high-impact social value can be delivered.
Sustainable urban regeneration is underpinned by three key pillars – economic, environmental, and social. It's often easy to see how the built environment can positively contribute towards the economic and environmental pillars, but the impact of construction and development projects on the social aspect isn't always so clear cut.
For many local authorities, regeneration and development is poised to be a catalyst for change – providing a much-needed transformation for our towns and cities. An often-overlooked aspect is that, through high-impact social value, peoples' lives in the community can also be transformed.
A key part of our social value offering is that it is bespoke for every construction project. What will be high impact in one area won't necessarily have the same impact in another. However, a recurring trend that I have seen lately is more and more local authorities wanting to address deprivation and improve social mobility.
Below I have outlined three examples of initiatives that can help to address deprivation and transform the lives of individuals.
Providing career opportunities to those people not in employment, education or training (NEET)
When you're looking to address deprivation in an area, helping young people to find employment will have long-term benefits. There can be a range of reasons why people fall into the category of being NEET, but one of the most common stories I hear from people in that situation is that they didn't like school or 'book work'.
In these instances, a career in construction truly could be the answer. I've seen first-hand how individuals have absolutely shone when they've been out on a site. Having the opportunity to learn hands-on skills and being guided by supportive people who believe in you can make a massive difference to people who may have written themselves and their future off.
In a 2023 report from Solihull Council, they identified that the youth claimant unemployment rate for 18-24 year olds in Kingshurst & Fordbridge sat at 9.6% - over double the average for England as a whole, which sat at 4.7%.
We've recently started the first phase of Kingshurst's regeneration scheme that will see us building net-zero social houses. Alongside this project helping to tackle fuel poverty, we've also set up one of our Building Lives Academies – this will take the form of a Construction Training Hub.
This hub is targeted to help address youth unemployment and will only be available to people who are NEET and who live within specific postcodes in the local area. It will provide them the opportunity to learn about careers in construction, gain hands-on experience on our site and leave with the experience required to be able to work on construction sites.
The first cohort has recently started, with seven more due to follow. In total, around 100 people will have the opportunity to become job ready for a career in construction.
The hub will be free for participants as it is being funded by West Midlands Combined Authority and delivered by us in partnership with Solihull College.
Find out more about a similar initiative we ran in Wolverhampton here.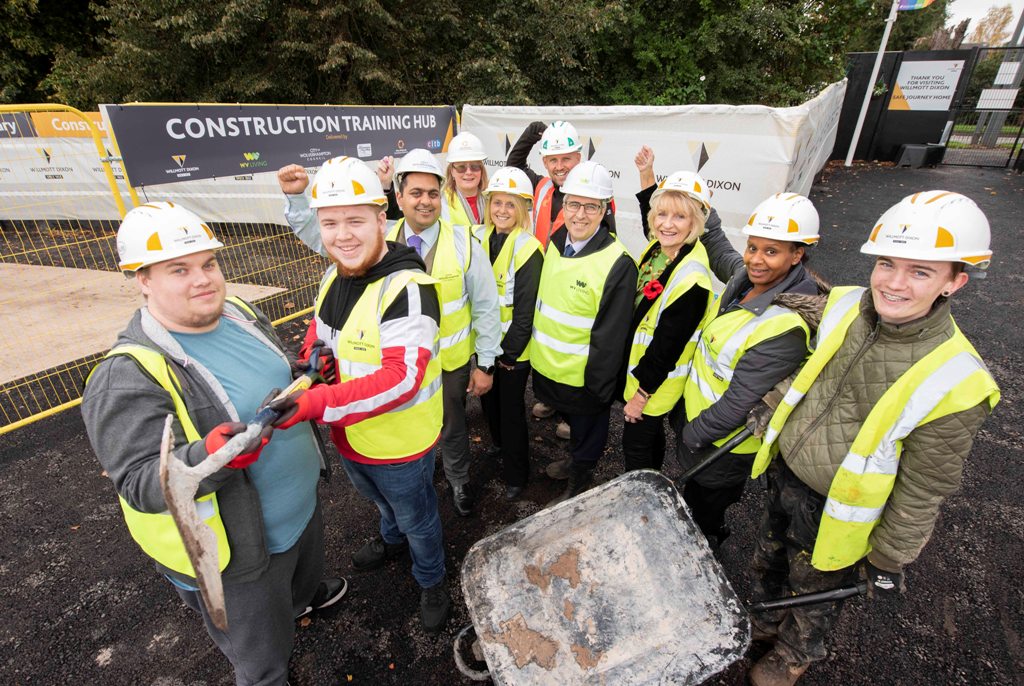 Upskilling and reskilling local people
A particularly poignant outcome for me, personally, is when you have helped someone to improve their social mobility. Often, these people are already hardworking individuals who just need to be given the opportunity to upskill or reskill themselves. Giving them the opportunity to break the cycle and set a new course for their life really does have a positive impact for years to come.
One example that stands out to me was when we were delivering plots 8 and 9 as part of Perry Barr Residential Scheme in Birmingham. The scheme formed part of a wider regeneration plan that was designed to reinvigorate a disadvantaged area, with some of the new apartments being sold at a discounted price for first-time buyers.
As the project was in a disadvantaged area, providing opportunities to the community through social value was of huge importance. Alongside a range of different initiatives, we created 134 jobs for local people and 34 apprenticeships.
One of these careers that we helped to kickstart was a lady called Iman. We met Iman through RMF, a social enterprise focused on social inclusion recruitment.
Iman had lost her job as a bartender during the pandemic and with a young daughter at home, finding new employment was a priority. She took the opportunity to reskill herself through a college course as she wanted to show her daughter that "the sky is the limit".
We introduced our supply chain partners to RMF, who in turn introduced them to Iman. As a result, Iman secured a role with one of our supply chain partners working on Perry Barr as a traffic marshall and dumper operator. This enabled Iman to join the construction industry with no prior experience.
Iman went from strength to strength and ended up being promoted to a supervisor. This just shows the power reskilling and upskilling opportunities can have when it comes to social mobility.
Find out more about Iman's story here.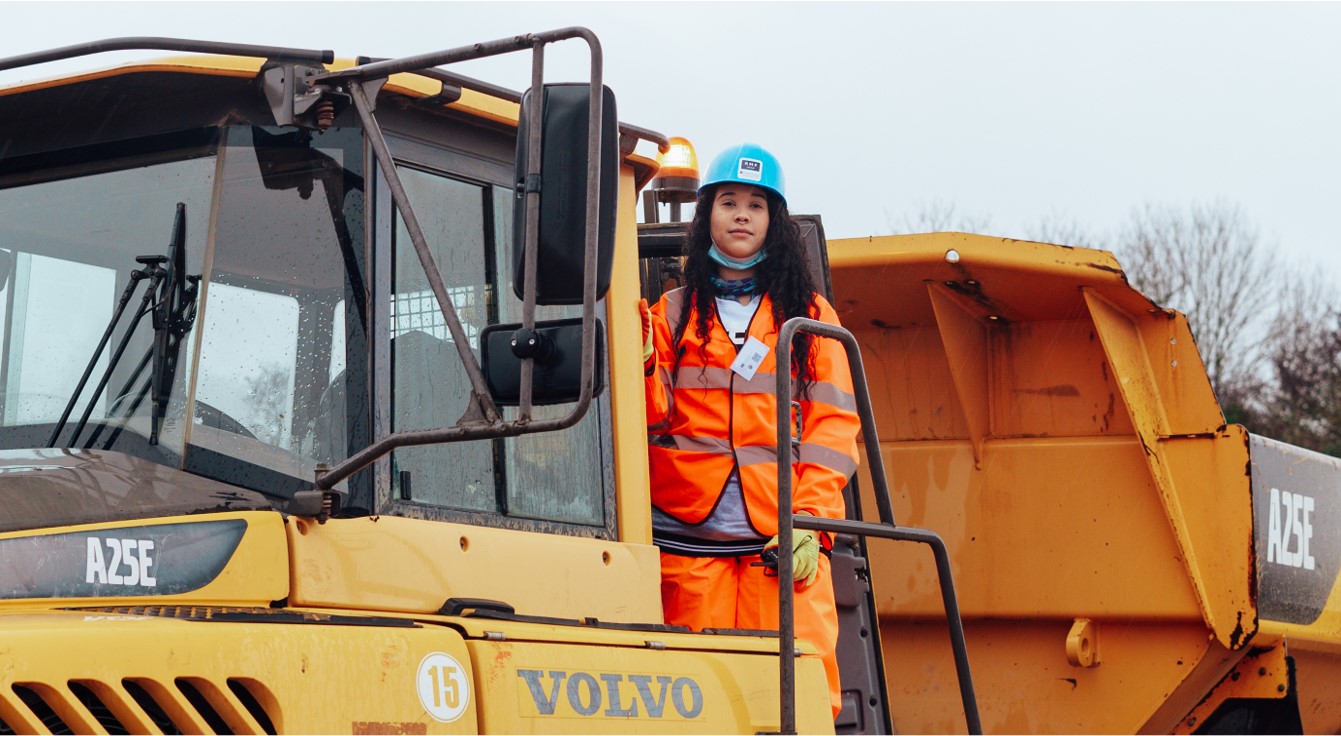 Reducing reoffending rates - helping ex-offenders to find meaningful work
In 2022, 52% more crimes were recorded in the most income-deprived areas of London. Reducing crime and reoffence rates in deprived areas is a key social aspect in sustainable urban regeneration.
One way to help address this is by helping ex-offenders to find meaningful work. In fact, ex-offenders who get a job after prison are up to nine percentage points less likely to reoffend.
More than 50,000 people in Lincolnshire are living in an area recognised as being in the 10% most deprived areas in the country. The work we have done with HMP Lincoln is a great example of high-impact social value that is tailored to the needs of the local area.
With the support of our supply chain partners, we have set up a Building Lives Academy in the prison – this takes the form of a drylining academy. This scheme enables eight prisoners per cohort to learn the art of drylining and gain the practical experience required to work on construction sites upon release.
Having been launched just over four months ago, we're already seeing fantastic results for individuals. Four cohorts have been through the academy, with 75% of those released having found work and none of the ex-offenders have reoffended.
Watch a video here to hear what this initiative meant to prisoners taking part.
DOING MORE TO SUPPORT COMMUNITIES
Development and regeneration are about so much more than buildings; they create opportunities to regenerate our towns and cities and make a long-lasting positive impact in communities. By putting social value at the heart of our projects, we know that we are leaving communities better than we found them and in turn supporting growth.
Regeneration and social value are intrinsically linked, both playing an equal role in addressing issues of deprivation and wider social challenges across our towns and cities.
To find out more about how development and construction projects can enhance social mobility in your area, please contact me.