University of Warwick Interdisciplinary Biomedical Research Building
The building has been completed to a world-class, industry-leading standard with 50% of the development made up of pre-manufactured value.
Our education specialists in the Midlands have created the new Interdisciplinary Biomedical Research Building at the University of Warwick, which has been completed to world-class, industry leading standards with 50% pre-manufactured value (PMV).
The £33m state-of-the-art research building on the University's Gibbet Hall campus – which was built using a PMV pre cast concrete frame – will now bring together up to 300 biomedical researchers to fight human infectious diseases. The facility will also enable world-class research in neuroscience, microbiology, infection, cell biology and disease models - supporting and facilitating interdisciplinary biomedical research of the highest quality.
The new building is 7,000 square meters and includes a 400-seat lecture theatre as well as a five-storey laboratory and various social and collaboration spaces. Alongside housing a team of researchers, the development will also enhance the student experience, facilitate the growth of undergraduate schemes and foster interdisciplinary collaboration enabling life-changing biomedical research.
Designed by Hawkins Brown Architects and Fairhurst Design Group, the building compromises of several offsite manufactured components, such as a pre-cast frame, mega-riser, timber frame and cladding. This approach simplified the project's logistics and improved its sustainability credentials by reducing carbon footprint.
Whole life performance
The project also maximised opportunities to improve sustainability, including the installation of 600 vertical PV solar panels which offset approximately 26,000kg CO2 in emissions.
A specific carbon focused study was also undertaken to not only look at the operational carbon of the building but the full life cycle. Through the completion of this we have now developed a process that will allow the business to tackle embodied carbon on future projects. We will now be applying our Energy SynergyTM process to the building to bridge the performance gap and drive down energy costs.
Alasdair Donn from our sustainability team said:
"Under our 2030 'Now or Never' sustainability strategy, one of our key objectives is to achieve net-zero carbon buildings by 2030. There are elements to this project that already achieve that goal, mainly the use of the Energy Synergy process to measure and verify performance and also the substantial amount of renewable energy generation from PV. With those two factors alone, we're halfway to a net-zero project already which is great. We're also going to create a case study on the use of Energy Synergy on IBRB to help us be more competitive in winning future higher education projects across the country."
Stuart Croft, vice-chancellor and president, University of Warwick, said:
"Three years ago we announced our intention to invest over £50 million in a new state-of-the-art research building to bring together up to 300 biomedical researchers from across the University of Warwick's School of Life Sciences and Warwick Medical School, to help research and advance human heath and fight diseases. Completing that building in this most challenging of years of a global pandemic makes that achievement of our staff and Willmott Dixon all the more praiseworthy, and the context of the ongoing pandemic says more than I possibly can about how crucial such an investment is in our biomedical research."
James Breckon, director of estates, University of Warwick, said:
"This fantastic building has been delivered during exceptional times and is testament to the tenacity and commitment shown by all those involved in designing and building it from the construction industry. The strategy taken in using modern methods of construction and a strong focus on sustainability and safety has paid off. The building is an excellent addition to the campus at Gibbet Hill, with the architecture and public realm massively enhancing the environment for our students and staff. I look forward with excitement to hear about the purposeful research and development that will be carried out within this building."
Peter Owen, manager director, at Willmott Dixon, said:
"We are delighted to have completed such a significant scheme both for the University and for the on-going fight against human diseases. In the current climate, we are extremely proud to be playing a part in the future ambitions of the University of Warwick's Medical School. By providing a world-class building through the use of innovative construction techniques, the facility will witness ground-breaking research to further solidify the University's position at the forefront of biomedical development."
Nick Preedy, project lead at Willmott Dixon said:
"This is a hugely important scheme for the University and we were proud to be part of its creation. It was a really exciting project to be a part of, not only will the research that takes place in the building be revolutionary but the construction process itself was something really special. Using PMV not only has had a positive impact on the sustainability, logistics and carbon footprint of the build but the factory build environments also provided better quality control, less strain on specialist trades on site and less site deliveries. This in turn benefited the local community by ensuring the local roads of Coventry and the University were much quieter."
PROJECT HIGHLIGHTS
New state-of-the-art research building
400 seat lecture theatre
New home to up to 300 researchers
Installation of over 390 vertical PV solar panels which offset approximately 26,000kg CO2 in emissions
PROJECT DETAILS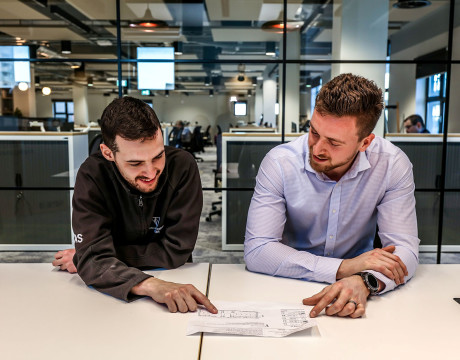 CONTACT US
Chantry House, High Street, Coleshill, Birmingham
B46 3BP
Tel: 01675 467666
Fax: 01675 467655