Llys Cadwyn development in Pontypridd
Town centre transformation to replace a derelict 1960s shopping centre.
Our Cardiff-based team have transformed the centre of Pontypridd with a modern mixed-used development that provides a headquarters of Transport for Wales, alongside a library, council customer contact point, plus a leisure and fitness centre.
Our work for Rhondda Cynon Taf County Borough Council has delivered a flagship that replaces the 1960s era Taff Vale Shopping Centre with a stunning facility that comprises:
two new office blocks
striking gateway building incorporating a 21st century library
council customer contact point
cafe
community facilities
new leisure and fitness centre
Llys Cadwyn
The project was officially named Llys Cadwyn, or Chain Court, a name chosen to reflect the strong and proud industrial heritage of Rhondda Cynon Taf, and the world famous Brown Lenox chain works which were situated in the centre of Pontypridd during Wales' industrial heyday.
The scheme has rejuvenated the area by reopening the river edge with an attractive riverside promenade, delivering substantial economic benefits that place Pontypridd as a strategically important town in the region by providing 14,693sqm of office space for over 1,000 people.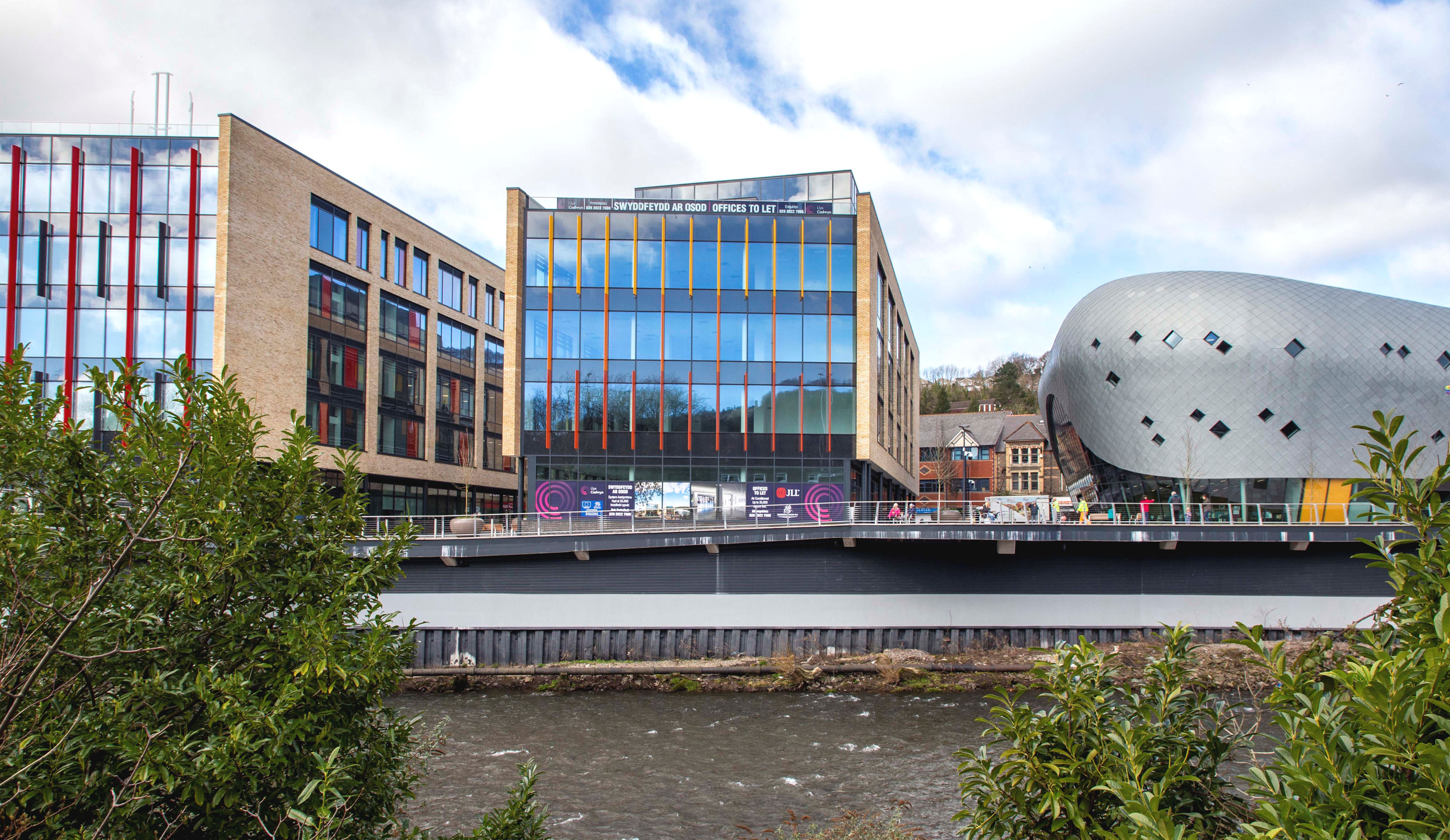 Overcoming technical challenges
The project overcame a number of technical challenges that required a truly collaborative multi-disciplinary approach, across the three buildings:
Building A and B – Office space, including a new home for Transport for Wales
Building C – A futuristic grey finished curved building, including library space, fitness facilities and a multi-function space for hire. A café is provided for the benefit of the building's patrons.
This included managing ageing flood defences, retaining existing walls, and the construction of the curved walls of Building C which needed to be carefully engineered, utilizing a steel skeletal frame, over-clad with precision engineered timber panels utilizing laminated veneer lumber.
Buildings A and B included hand-laid brick facades, with a fully glazed ground floor, requiring a complex array of brickwork supports, horizontal and vertical movement joints and detailing. A longer, wider and shallower danish brick was used which while suited the aesthetic required a great level of skill to complete, with tolerances a lot tighter.
The distinctive curved walls of Building C needed to be carefully engineered, utilizing a steel skeletal frame, over-clad with precision engineered timber panels utilizing laminated veneer lumber. The internal structure of the building also required careful design solutions, and as the gym and activity studio is situated above the library, managing vibration and acoustic control in long span (up to 15m) steel beams was a significant challenge. The curved steel frame springs from the reinforced concrete core. This frame then supports prefabricated timber cassettes that are bolted back to the steel. There are 6,345 zinc shingles in total, each around the size of a ceiling panel.
A new public space adjacent to the riverside is designed to cantilever over the existing flood defence wall and some 3m higher to retain levels with Taff and Bridge Streets, ensuring an unfettered view of the river.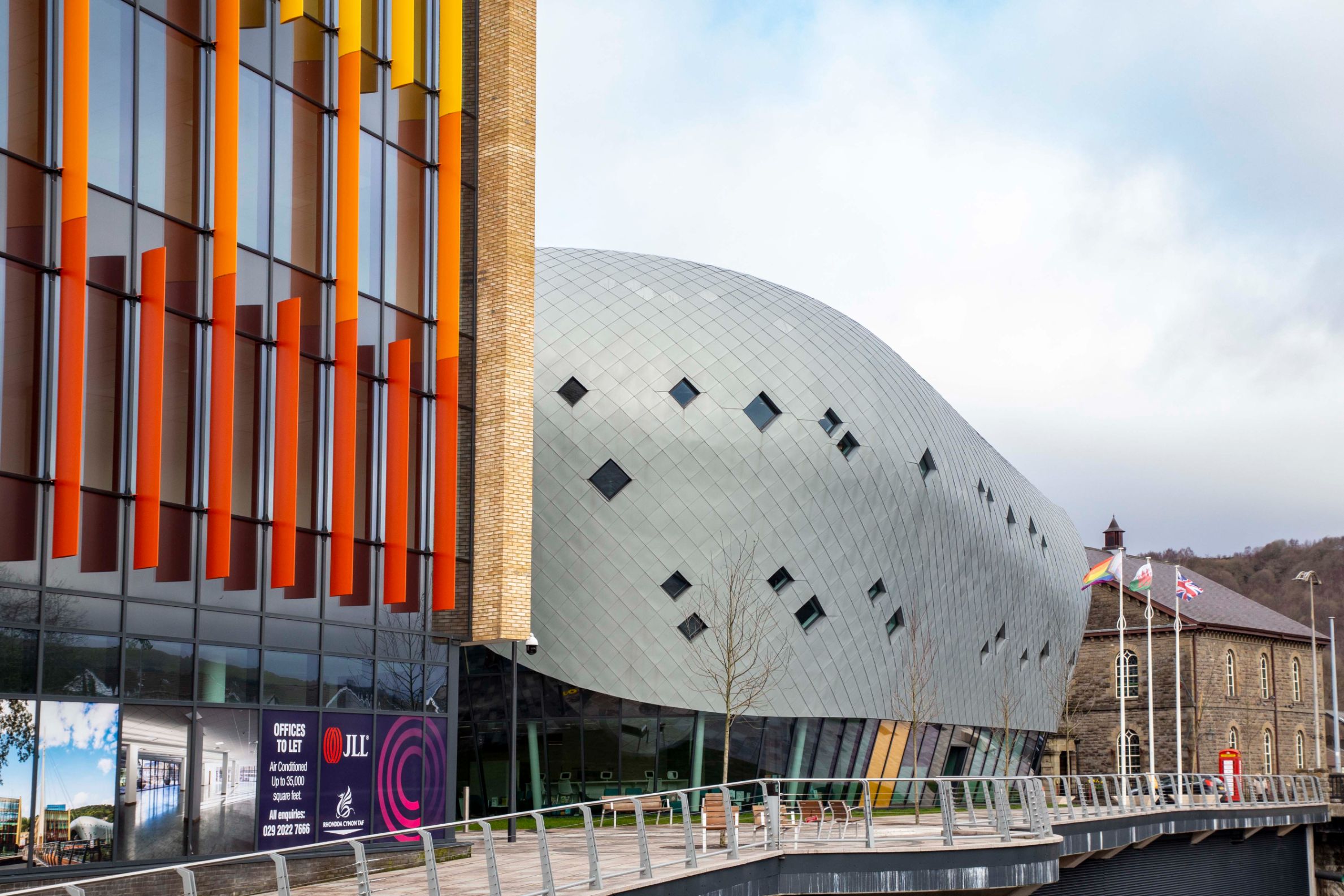 Sustainability through design
Designed to achieve BREEAM 'Excellent' rating, the project includes PV's on the roofs of building A and B, the use of variable refrigerant flow air source heat pumps, and one of the first hydrogen fuel cell CHP (Combined Heat and Power) systems in Wales, to generate heat and electricity for Building C.
Social Value
The project delivered over 3,987 weeks of training opportunities which included 834 weeks of training for long-term unemployed, 957 apprentice weeks and 201 weeks of work experience. 67% of the people working on site were from within a 40-mile radius of the project and over 60% of our spend was within a 20-mile radius of the project. In total the project delivered £12.6m social return on investment.
An award-winning development
Llys Cadwyn was recognised as 'Transformation' award winner at the 2021 Cardiff Property Awards.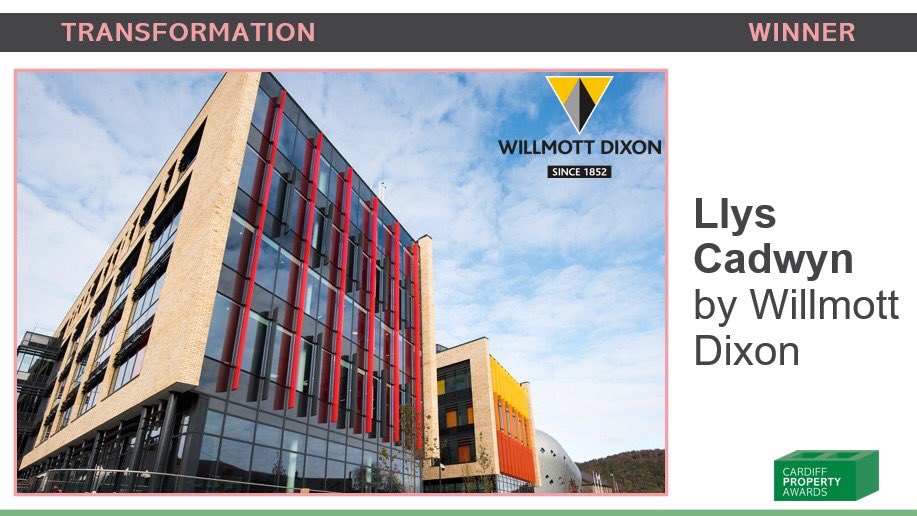 On completion of the project, the following was said:
Neal Stephens, managing director of Willmott Dixon in Wales and the West:
"This flagship project for Rhondda Cynon Taf County Borough Council is a catalyst to further revitalise the strategically important town of Pontypridd."
Councillor Robert Bevan, Rhondda Cynon Taf Council's Cabinet Member for Enterprise, Development and Housing:
"I'm delighted at today's announcement that Llys Cadwyn has officially been delivered, with all construction works now complete and the third and final building handed over to the Council by contractor Willmott Dixon. The keys to 3 Llys Cadwyn have now been given to Transport for Wales, with the South Wales Metro operator establishing its new home in Pontypridd Town Centre from next month.
"Llys Cadwyn is at the heart of Pontypridd's regeneration – bringing hundreds of jobs to the town, increasing footfall for existing businesses and breathing new life into a large strategic site that lay derelict for so long. It will be followed by the ongoing multi-million pound projects to revitalise the Pontypridd YMCA, the Muni Arts Centre and the former Bingo Hall, while nearby Ynysangharad War Memorial Park is already home to the National Lido of Wales, Lido Ponty.
"I would like to thank the Willmott Dixon for its partnership in delivering Llys Cadwyn for Pontypridd. Its contribution to the town goes far further than just the three buildings – including invaluable work with local groups and schools, and the numerous job and training opportunities it has offered the community. The company is also donating staff time and resources to renovate the bowls pavilion at Ynysangharad Park, which was damaged by flooding in February."
It's the latest in a series of mixed-use developments Willmott Dixon are behind that are transforming town centres. In February, it secured a contract to build the £80 million Rochdale Riverside for a joint venture between Genr8 and Kajima in partnership with Rochdale Borough Council.
PROJECT HIGHLIGHTS
Mixed-use includes retail, leisure and library
14,693 sq m of workspace
Public realm space next to river
Designed to achieve BREEAM 'Excellent' rating
Creating a new home for Transport for Wales
PROJECT DETAILS
CONTACT US
Global Reach, Wing A, 3rd Floor, Celtic Gateway, Dunleavy Drive, Cardiff
CF11 0SN
Tel: 029 2022 1002
Fax: 029 2038 8206