Golden Gates Housing Trust (GGHT) has awarded a contract to energy efficiency experts Willmott Dixon Energy Services to deliver a multi-million pound project to regenerate five multi-storey blocks of flats on Alder Lane in Orford, Warrington.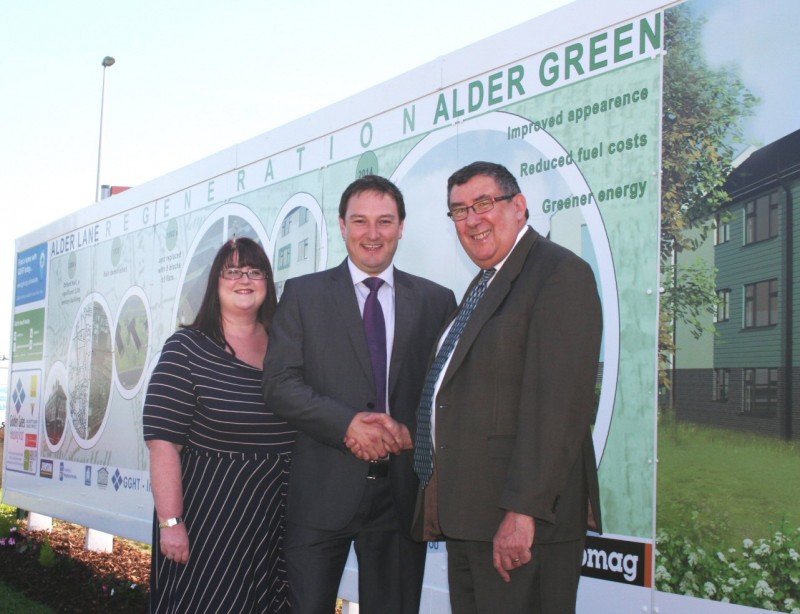 The project, which has been named 'Alder Green', will see the five existing buildings and the surrounding area of Alder Lane being completely regenerated to bring them up to a ground breaking energy efficient green standard. It starts on site on Monday 16 June and is scheduled to be completed by December.
The work comes after GGHT carried out a review of the energy usage and efficiency of the Alder Lane blocks of flats, with the report also looking at the life expectancy of the roof, windows and the heating systems. The results showed that improvements would need to be made in a number of key areas. Recommendations included taking steps to help remove tenants from fuel poverty by reducing their energy costs, extending the useful life of the buildings, making internal and external improvements including surrounding areas, creating new off road parking facilities for residents and reducing the buildings carbon footprint.
Over the next six months work to the properties will include the installation of a new roof and Solar PV (solar panel) systems, which is being installed by GGHT's own in house maintenance team. The system will generate enough electricity to potentially save tenants £100 - £150 year. A BMS (Building Management System) will also be fitted, using smart technology to divert electricity generated from the solar PV to other areas of the building. The existing building will also be wrapped with a new external wall insulation to prevent heat escaping through the walls, before the finishing touches are added with a rendered coating.
Each tenant will also have a new individual heating system fitted. Additionally, a Voltage Optimization device to reduce the voltage supplied to their home, further saving on electricity usage. The unit works 24 hours a day and offers expected savings of approximately £50 a year on energy bills.
As part of the project there will also be a number of community initiatives taking place. Children from local primary schools, Beamont Community Primary School and St Anne's Primary school will be attending the development to discuss health & safety on construction sites. Staff will also be visiting Warrington Collegiate to speak to students about careers in construction and work experience opportunities will be made available for them during the project. GGHT's Energy Officer will be visiting every tenant prior to work starting, helping to give them a better understanding of the new technologies fitted in their home and explain how they can make best use of these to save energy and money. Several tenants will also be supported in becoming Energy Champions. The Alder Green Energy Champions will be educated on the implemented systems, so they can help other residents understand the work taking place.
Jason Wellard, Operations Director, Willmott Dixon Energy Services said: "We are delighted to be working in partnership with Golden Gates Housing Trust on this innovative project to transform the properties on Alder Lane. We are proud to be installing innovative energy efficiency measures which will help residents to reduce their fuel bills and heat their homes for less."
Roy Smith, GGHT Chair said: "The fantastic improvements which we are going to see over the coming months are really going to make a difference to the lives of our tenants who live in the Alder Lane flats. As a Trust we are committed to making all of our properties energy efficient and increasing the use of renewable energy to help tackle fuel poverty." If you would like to find out more about the project including detailed plans and artist impressions then you can visit the dedicated website page at www.gght.org.uk/aldergreen. Alternatively, you can check updates of the project on Twitter using #AlderGreen.