Bolton Institute of Medical Sciences
"First of its kind" facility that's a transformational blueprint for training NHS staff across the country
The Bolton Institute of Medical Sciences (IMS) will train 3,000 students a year and contribute as much as £150million to the borough's economy when completed in 2024. This includes local spend of £6m from the project itself, largely through local employment and supply-chain expenditure.
The flagship facility sciences at the Royal Bolton Hospital is a "trailblazing facility that will change people's lives not just here in Bolton, but across the North West."
Bolton NHS Foundation Trust finance Annette Walker chief said, "This will help us develop our existing staff and provide new routes for those who want a future in healthcare to expand their skills."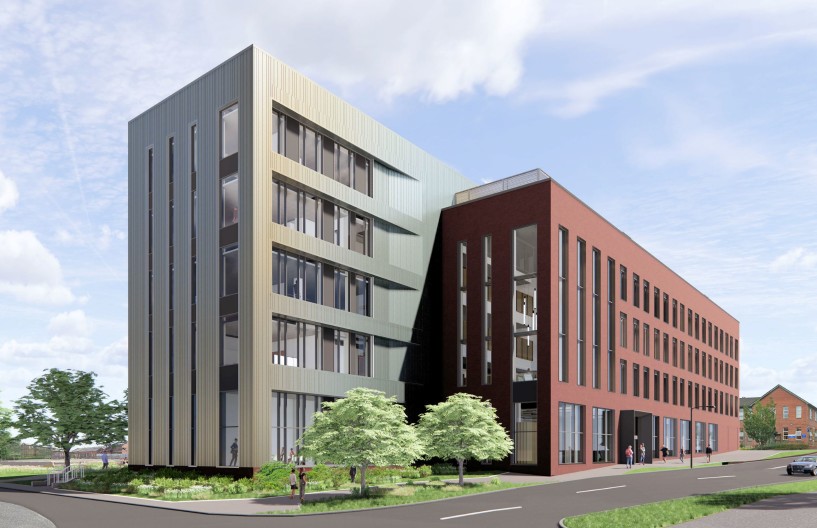 In addition to a range of new courses and apprenticeships, the college will also deliver continual professional development opportunities for existing NHS people.
A collaborative project between the University of Bolton, Bolton College, Bolton NHS Foundation Trust and Bolton Council, IMS will give people a direct route into clinical healthcare employment, with a focus on practical, skills-based learning in a live hospital environment.
In addition to a range of new courses and apprenticeships that will provide entry-level and higher-level skills development for those aged 16+, IMS will also deliver continual professional development opportunities for existing NHS staff.
Apprenticeship provision will extend to Higher and Degree Apprenticeships, with programmes including Nursing Apprenticeships and Higher Apprenticeships in Care Leadership and Management.
Supporting local skills
We're also working to provide jobs for students. In collaboration with Bolton College and the University of Bolton, students from various construction-related disciplines, such as site management, bricklaying, joinery and painting and decorating, will work alongside our team during the construction process.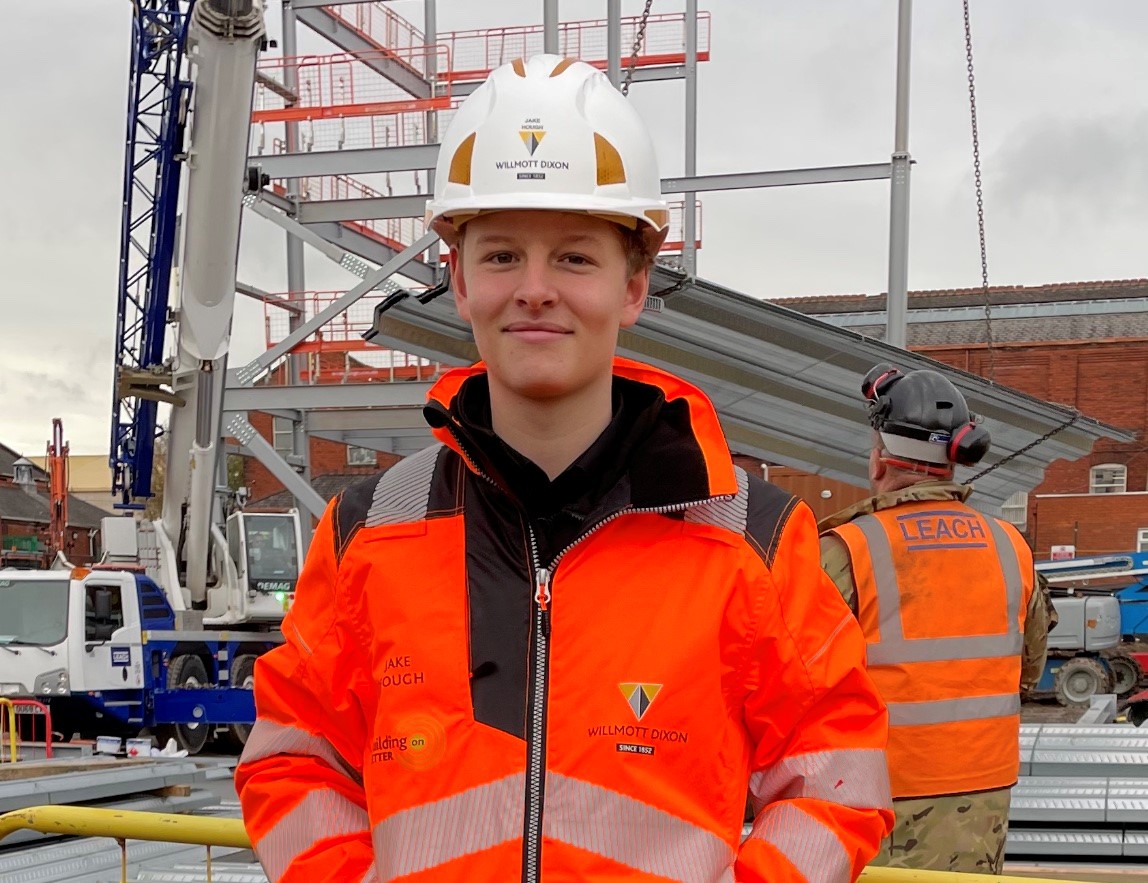 17-year-old Jake Hough (above) is the first apprentice on-site from Bolton College. Studying for a Level 4 Site Supervisor Apprenticeship, Jake will complete one year of his apprenticeship on the IMS site before transitioning to another Willmott Dixon project to ensure sustained employment throughout the course of the apprenticeship. Jake lives locally to Bolton and is one of many local residents contributing towards the construction of the project.
Jake said:
"Onsite experience is the best way to learn in my opinion. The most exciting part of the IMS build for me is the modern technology used throughout the building. The technology that is being used just fascinates me. I also feel privileged to work on a project that will have such a great impact on the local community and the world of teaching."
Jake will be joined on-site by trade students at Bolton College who will complete their required work placements at IMS, in disciplines including plumbing, plastering, electrics and brickwork. Opportunities also extend to degree students at the University of Bolton too with our team providing a three-month paid internship over the summer of 2023 to a construction graduate.
In addition to our work with students in Bolton, we have partnered with homelessness charity Emmaus, which works across Greater Manchester to help people who have been homeless by providing them with a home and meaningful work. One person has already secured a short-term working trial on BCMS through this partnership.
IMS Project Director and Managing Director of strategic consultancy Just Ask Scarlett, Mark O'Reilly, says:
"Once IMS is up and running it's going to provide countless employment opportunities for people in Bolton looking to go into medical and clinical professions. But we felt strongly that there was no reason why it couldn't start generating jobs while under construction, so that's what we've worked with Willmott Dixon to create. We hope students at Bolton College and University take full advantage of this opportunity and are proud to be involved in a project of such regional significance."
Read more here about our work to upskill local young people.
University of Bolton President and Vice-Chancellor Professor George E Holmes said:
"IMS is arguably one of the most significant projects delivered in the North West in decades. Not only will it increase employment prospects in the local area and make healthcare professions more accessible, but it will also help alleviate NHS staffing pressures in Greater Manchester and provide improved levels of care in our community."
A leader for constructing facilities
This is Willmott Dixon's latest big, high profile healthcare project that supports the NHS both locally and nationally. Recently we handed over Dorset County Hospital's expanded emergency department and are currently working on similar facilities at Luton & Dunstable. Likewise, Willmott Dixon Interiors assembled modular solution adds extra capacity for A&E department at Royal Sussex County Hospital.
PROJECT HIGHLIGHTS
Template for future NHS training
Built at Royal Bolton Hospital
Possible through £20m Levelling Up grant
PROJECT DETAILS
CONTACT US
Hollinwood Business Centre, Albert Mill, Albert Street, Hollinwood, Oldham, Lancashire
OL8 3QL
Tel: 0161 947 3960
Fax: 0161 947 3961