10 Brindleyplace
Birmingham's biggest office fit-out and refurbishment scheme at 10 Brindleyplace
Our construction team in the Midlands worked in partnership with Willmott Dixon Interiors to deliver the full refit and refurbishment of Birmingham's landmark 10 Brindleyplace office block on behalf of CBRE Global Investors.
The back-to-the-frame transformation has seen 10 and 8 Brindleyplace combined into one building, creating open office spaces totalling 212,000 sq ft over twelve floors. It's is also one of Birmingham's largest available floorplates at over 27,000 sq ft.
Underpinning the project were three core pillars: sustainability, wellness and technology.
Sustainability
Sustainability is a key element of this project - including the decision to go down the back-to-the-frame refurbishment route. By undertaking a refurbishment rather than demolishing the old building and building a new one from scratch, there has been a huge saving in embodied carbon - around 60% according to a projected 60-year building life cycle assessment.
In terms of the operational carbon, a range of solutions have been put in place to make the building as energy efficient as possible. It's predicted that the new office will require 65% less energy than other offices of this size. Solutions put in place include:
Taking a fabric-first approach to increase energy efficiency and reduce heating and cooling demands - this included things like ensuring high levels of thermal insulation and air tightness
Transforming the external façade using a brickslip system - this has improved the visual appeal of the building and has also increased insulation
Embedding natural solutions, such as a green roof, which will help to keep the building cooler in summer and warmer in winter
Removing the need for any gas or fossil fuels with all-electric heating, cooling and hot water systems
Adding a solar PV array to the roof, helping to provide green energy
The finished building boasts an 'A' EPC rating and is BREEAM 'Excellent'.

Wellness
This large scale transformation has truly put the end-user at the heart of the project, with occupant wellbeing being taken into account throughout the build. In fact, the project has achieved a Fitwel 2 Stars, making it the first Birmingham-based office building to receive Fitwel accreditation for its health and wellness features.
Alongside the range of flexible and collaborative Grade A office spaces available, a proportion of the building's floorspace is made up of different amenities to enhance the experience of building users. This includes things like a bouldering wall, a gym, outdoor terraces, a cafe, podcast studios and zoom rooms.
Studies show that having plants inside of a building, particularly office spaces, can improve health and wellbeing. To make use of these benefits at Brindleyplace, we have included live green walls inside and out.

Technology
With technology and digitalisation so ingrained in working lives and businesses, it was important to the customer that the building would be set up to provide the best experiences around these areas.
The building has achieved a WiredScore Platinum rating, which recognises best-in-class digitally connected buildings.
Technology is also being used to enhance the sustainability elements surrounding the project. We incorporated smart meters throughout, which will provide real-time energy data. This is going to be used for energy management with this data being fed into a digital twin to help drive energy efficiency in the building.
Nick White, Director at CBRE Investment Management, said:
"This scheme really does set new standards in the Birmingham office market; the facilities and certifications align with our focus on sustainability, wellness and technology, creating office space which is both fit for today and the future needs of our occupiers."
Paul Stanley, Workman LLP's Venture team Technical Director, said:
"The complex refurbishment and retrofitting of large office buildings is clearly a growing theme across the UK real estate sector, as investors seek to improve the ESG performance of their holdings and avoid carbon-intensive knockdown-and-rebuild strategies, while aligning premises with occupiers' modern and future needs.

"10 Brindleyplace is a beacon of best practice for this effort – having transformed two smaller outdated office spaces into an industry-leading workspace that sets the tone for both Birmingham city centre headquarters spaces and the Midlands office market more widely. The success of this significant retrofit has been testament to the commitment and professionalism of all involved and I – like many others – am proud to see it reach fruition."
Phil Crowther, director at Willmott Dixon Interiors, said:
"We are incredibly proud to have led the delivery of Birmingham's biggest office refurbishment scheme, working alongside a first class project team and supply chain partners.
"The refurbishment has reinvented an existing building as a truly modern, high-tech office space with top class amenities, that prioritises the health and wellbeing of occupiers. It sets new standards in the city's office market and delivers one of the most sustainable office environments that Birmingham will have to offer for many years to come."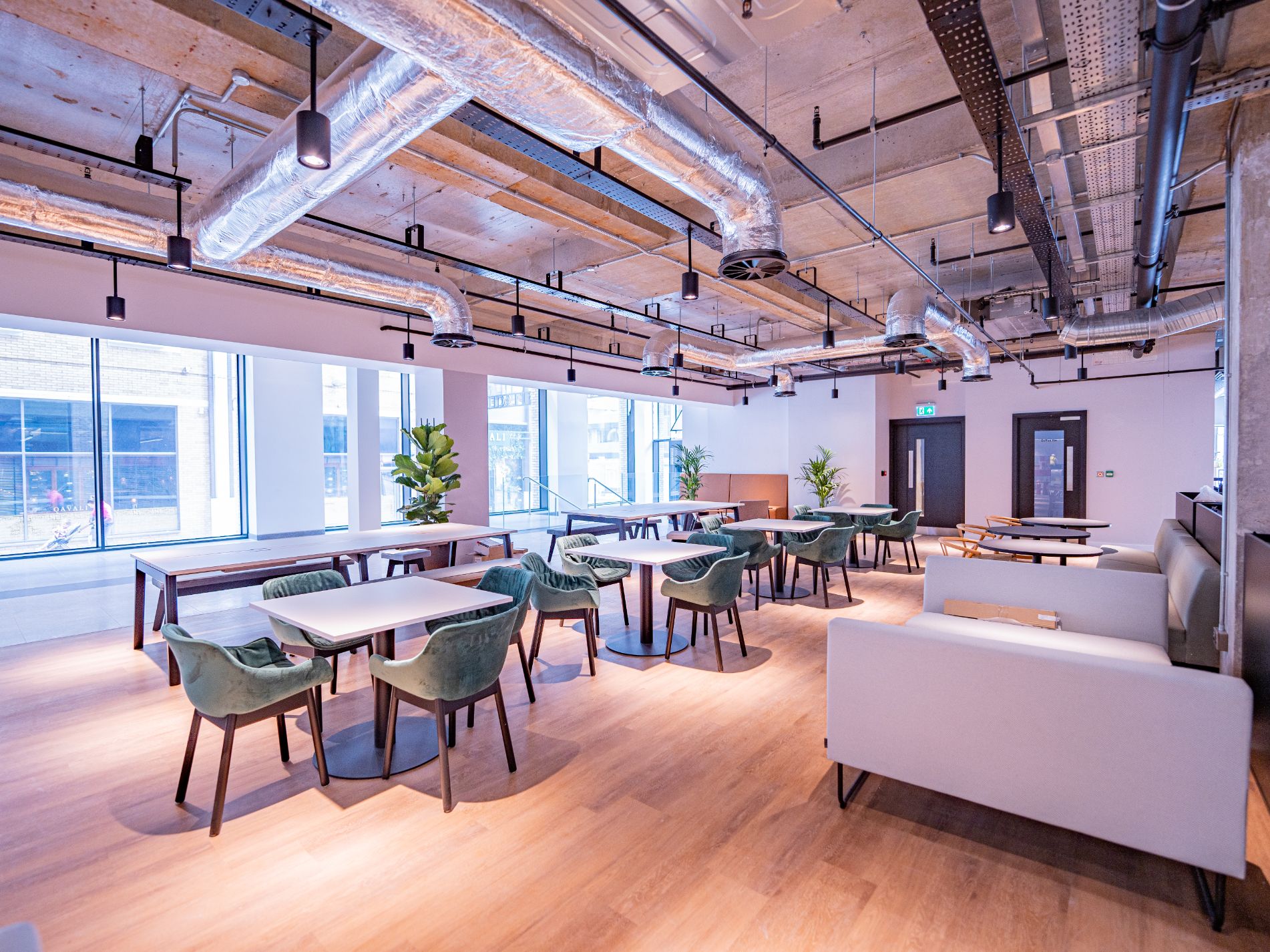 PROJECT HIGHLIGHTS
A complete transformation of Birmingham's landmark 10 Brindleyplace office block
One of the city's largest available floorplates and open office spaces and the first to achieve Fitwel accreditation
Compromising twelve floors with a fitness studio, bouldering wall, cycle storage, electric vehicle charging and communal landscaped roof terraces
PROJECT DETAILS
CONTACT US
One Snowhill, Snow Hill Queensway, Birmingham
B4 6GN
Tel: 0121 236 9668