Soho Theatre in Walthamstow
Another London heritage landmark gets transformed by our interiors specialists
Our interior specialist Willmott Dixon Interiors is transforming the iconic and popular Grade 2* EMD Cinema into a multi-purpose entertainment venue for Waltham Forest.
Just like with other London landmarks like Old Admiralty Building, Alexandra Palace and The Commonwealth Institute, our team is giving a new lease of life to this art deco building in Walthamstow that originally opened as the Granada cinema in 1930 and in its heyday saw performances from The Beatles, The Rolling Stones, Dusty Springfield and Johnny Cash.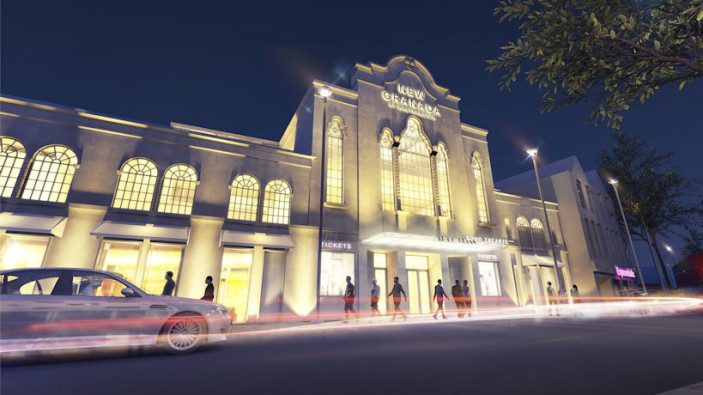 A CGI of the new theatre when refurbishment is complete (source Pilbrow & Partners)
The work will maintain the building's appearance and character, and will "respect its heritage and history".
Cllr Simon Miller, lead member for economic growth and housing development:
"Once opened, the theatre will be a fantastic addition to the outstanding cultural offer that this borough has, building on our legacy as the first London Borough of Culture. It's contribution to the evening and night-time economy will be significant, making it a destination outside of central London and bringing with it new jobs and opportunities for local people."
New Future
After closing as a cinema in 2003, the building declined but now has an exciting new future after being bought by Waltham Forest, which is teaming up with following up with the Soho Theatre to turn the venue into a 950-seat comedy hub that is set to be reopened in 2022.
The project follows similar schemes by Willmott Dixon to transform Grade 2* and heritage property across the UK into popular entertainment venues, including the Stockton Globe, Colston Hall in Bristol, Darlington Hippodrome, Octagon Theatre in Bolton and Eltham Cinema in Greenwich.
The intricate refurbishment will include reshaping the seating and stage to allow live performances with improved sightlines, while the ziggurat ceiling and the building's frontage will be restored to their former 1930s glory.
Fine history
The Granada Cinema is famous for its association with Alfred Hitchcock who spent time there in his formative years. In 1930, it became a 2,697 seat cinema and in later years, as a result of changes in the building's ownership, the cinema was variously known as MGM, ABC, and EMD cinema.
Ahe time of its closure as a cinema in December 2003, it was the only cinema to have an original working Christie Organ still in place at the cinema where it was originally installed.
Now the future is bright with Soho Theatre on board to operate the building as a new cultural venue for North East London, operating as a local theatre with a national profile, presenting the biggest names in comedy plus theatre, performance, music, pantomime and community and education programmes.
Procurement route
Procured via the Procurement Hub framework, Willmott Dixon Interiors is working with the architects Pilbrow & Partners and QS Stace LLP, with work carried out under the Construction Leadership Council's (CLC) Site Operating Procedures which includes social distancing measures to ensure the project is a safe environment to work during the Covid-19 pandemic.
EMD Cinema's restoration strengthens Willmott Dixon Interiors track-record for heritage property renewal in London. The company is also refurbishing Old Admiralty Building adjacent to Horse Guards Parade and The National Gallery in Trafalgar Square. Recently, it upgraded the art deco Dagenham Civic Centre into Coventry University's new London Campus, as well as turning the former Commonwealth Institute building in Kensington into a new HQ for the Design Museum and converting a former factory in Highbury Grove in Islington to create a new home for the London Screen Academy.
Graham Shaw, managing director for Willmott Dixon Interiors:
"We are delighted to be involved in restoring this historic landmark that is part of Waltham Forest's heritage so it can once again be a popular venue for people to visit as well as contributing important income to the local economy. Our team has configured the site to meet the latest guideless to ensure it is Covid-19 secure so we can carry out the refurbishment safely during the current pandemic."
PROJECT HIGHLIGHTS
Popular landmark in Walthamstow
Complete refurbishment of interior
Venue will attract top acts from 2022
Retains heritage while pointing to exciting future on high street
PROJECT DETAILS
CONTACT US
The Bailey, 16 Old Bailey, London EC4M 7EG
EC4M 7EG
Tel: 020 7634 9600