Fairfield Pools & Leisure Centre
Turning a tired 1970s era local asset into a super modern leisure facility
Fairfield Pools & Leisure Centre was constructed in 1976 with three pools and facilities like a gym, squash courts and studios. However, by 2014, it was no longer fit for purpose, and needed a big overhaul!
As Dartford Borough Council's main public leisure facility, the council decided on a technically complex project to extensively refurbish the facility and open it up with a new build addition.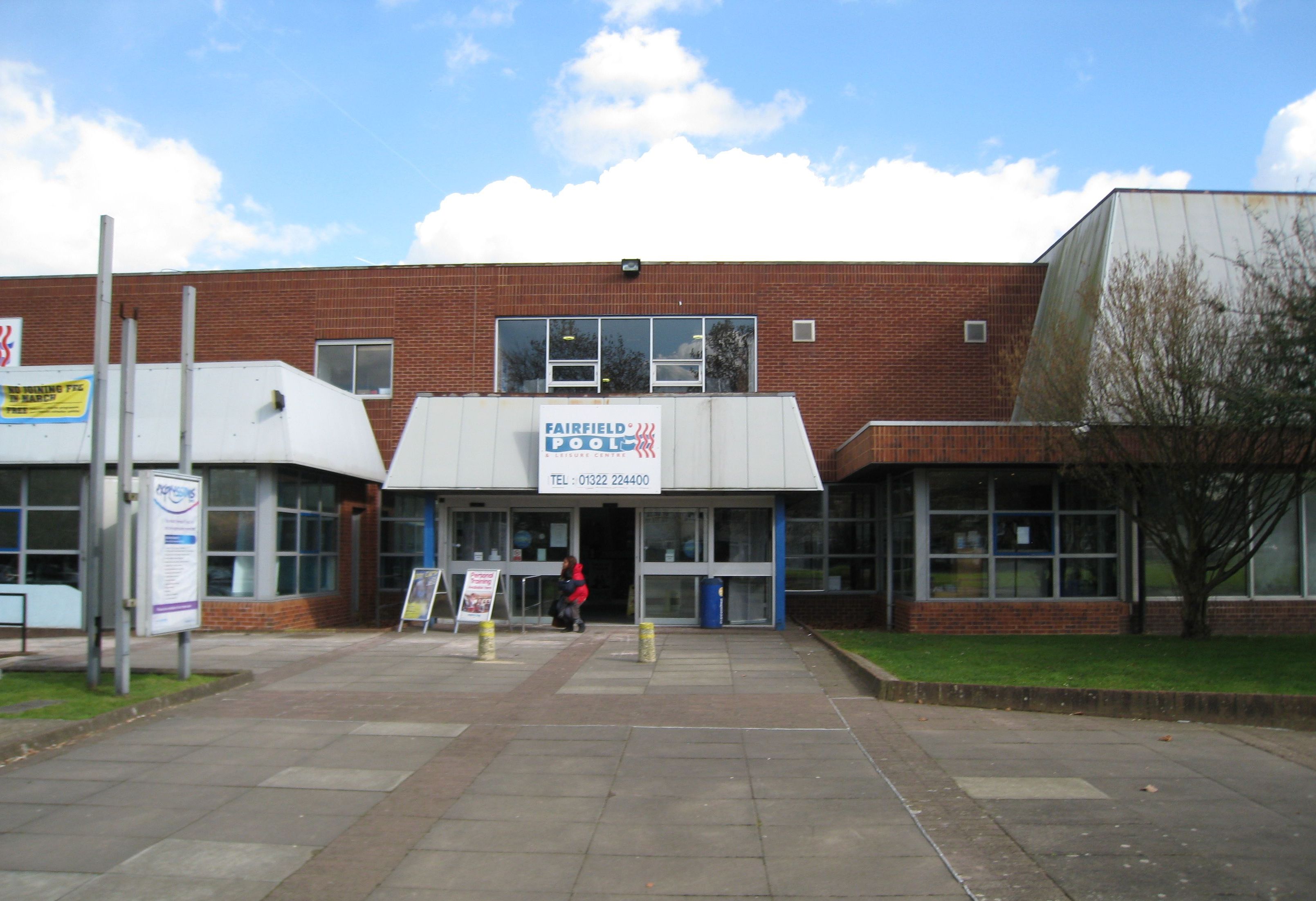 Previous facility before refit (above)
The council leader had a clear vision: this was to be a local council facility that looked and felt like a 'top end' member's leisure club. The design was to be modern with a long-lasting traditional feel to replace an existing leisure facility that was tired, out of date and losing members to privately owned leisure facilities.
Council leader Jeremy Kite:
"The pool has been a part of Dartford for about 30 years, but it was getting to the end of its life and so we took the decision to shut it and start again. We can get another 30 to 50 years use out of it now. We considered a new building and a new pool but it would have been expensive and people really like Fairfield."
Willmott Dixon expertise
The council needed a team with extensive leisure experience it could rely on to deliver a complicated refurbishment that included large-scale asbestos removal. The scope also included taking the building back to its raw frame and the removal of the ground floor slabs to renew all internal drainage, while also re-cladding and adding a new roof . It called on Willmott Dixon, via Scape's Major Works framework!
New build
Our role to add a new build element consisted of providing a steel framed sports hall and new front extension to form a soft play area, new reception area and an extension to the first floor. All were delivered to a very high spec to rival the local private facilities.
Complex
Renovating a 1970s building riddled with asbestos and plenty of unknowns required expert management from our team. This included the unexpected find of asbestos in the ground floor slab in the core area which involved replacing the slab. This meant reprogramming the work, in order to keep on schedule.
Another significant challenge was replacing all pool plant and services within the under-croft of the main pool to achieve more uniform heating of the water. It was challenging as carrying these works out in a confined space was not easy; the team had to drill through the 300mm thick existing concrete wall structure and also numerous concrete repairs.
Again, replacing the cladding was not straightforward. The existing cladding was leaning back, but the new was to be straight vertically, giving the required clean line design.
Pillar of the community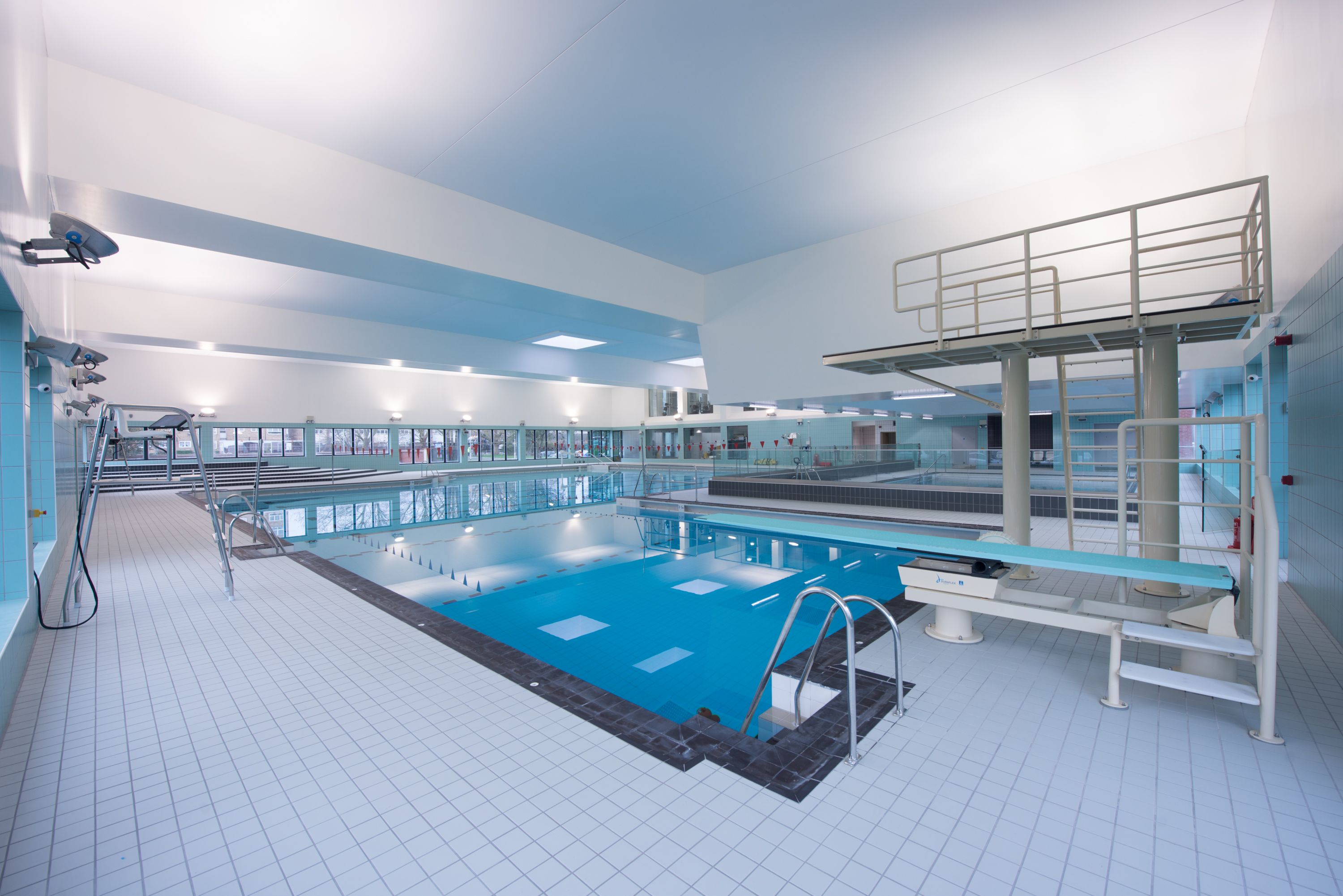 Cllr Kite:

"The diving board being put back in will introduce a whole new market to people."
The completed building looks fresh and modern, and houses an array of leisure and fitness equipment. Much of the work has been done to the flagship swimming pool. The learner pool has been given a viewing area for parents and families to watch their children, while the main pool has a 3m diving platform and springboard.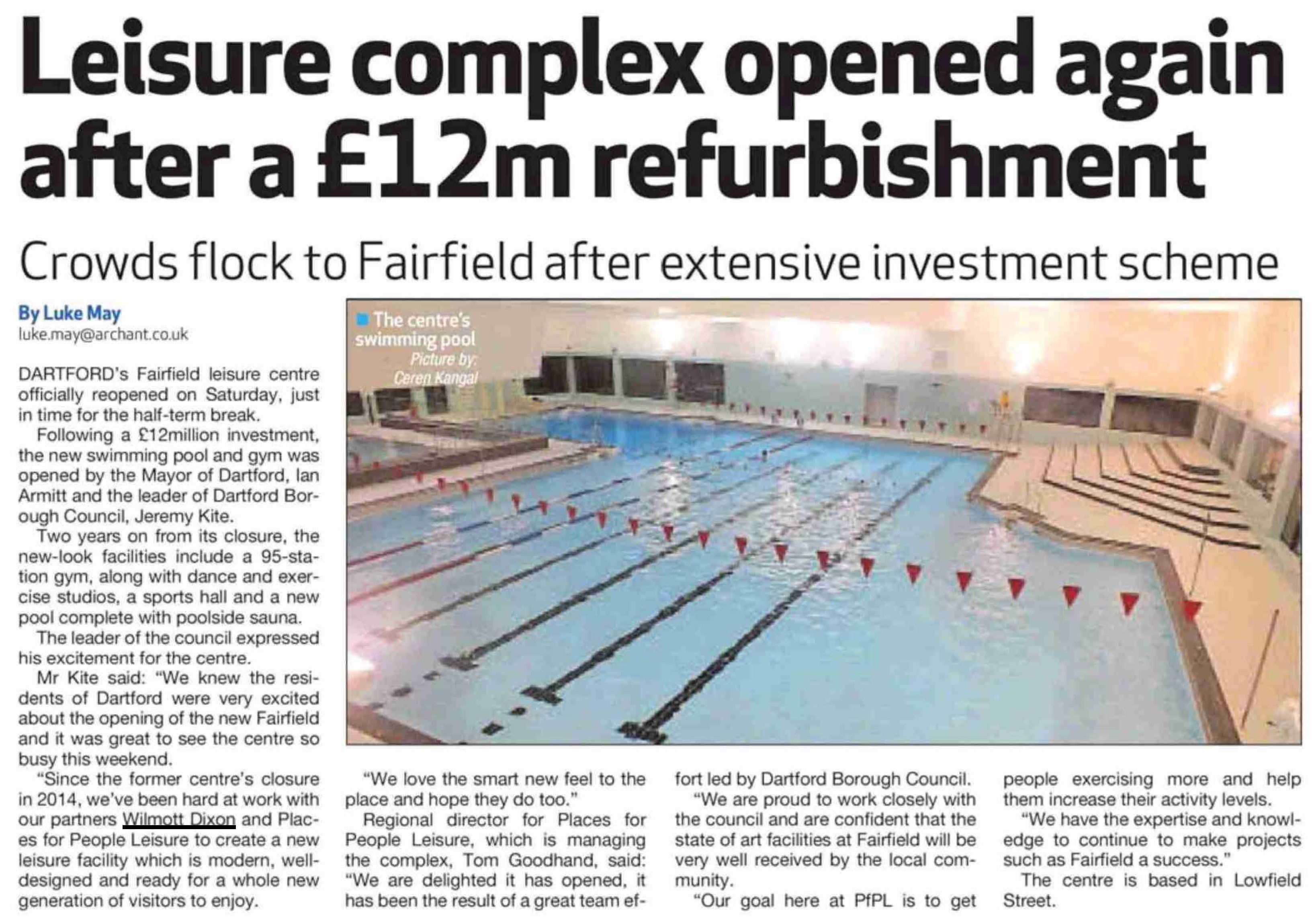 There is also a poolside sauna, with improvements to the pool area crucial in attracting families back to the centre after so long away.
There's also a 95 station gym, 4 court Sports Hall, Dance/Exercise Studios, Group Cycling Studio, Poolside Sauna, Teaching Pool and more.
Senior building manager John Charlton:
"We've got three studios so they can be hired out for different clubs and groups. The gym space is bigger with 110 stations and all the equipment is new, while the new sports hall has a walkway overlooking it, which lets people watch whatever's going on in there. It also helps make the whole building feel connected, you can go from activity to activity really easily."
Accessibility is key. Getting from the pool to the gym, and then to the sports hall or the on site cafe, is aided by a consistently bright, clean design. Also, the main reception has been brought forward and doubled in height to make a more spacious and welcoming front.
Council leader Jeremy Kite:
"The building has been made a lot more modern, it looks like a private leisure club inside and the whole thing is designed to be light, bright and airy. We looked at how people want to get from one activity to another and that was really important to us.
PROJECT HIGHLIGHTS
Extensive refit added to new-build

Replenished popular but dated public asset
Extensive removal of asbestos
Added another 30-50 years of use to public facility
PROJECT DETAILS
CONTACT US
The Heights, Building One
Brooklands
Weybridge
Surrey
KT13 0NY
Tel: 01932 584700