Headington Hill campus at Oxford Brookes University
Expanding the campus to transform science, technology, engineering and mathematics, plus creative activities on the campus.
Willmott Dixon is building two buildings at Oxford Brookes University's Headington Hill campus to provide sustainable new spaces for students, staff, researchers, partners and the wider community.
The new buildings within a Grade II listed estate will house a new teaching block and faculty offices, alongside an engineering building, all designed to transform science, technology, engineering and mathematics (STEM) and creative activities on the campus.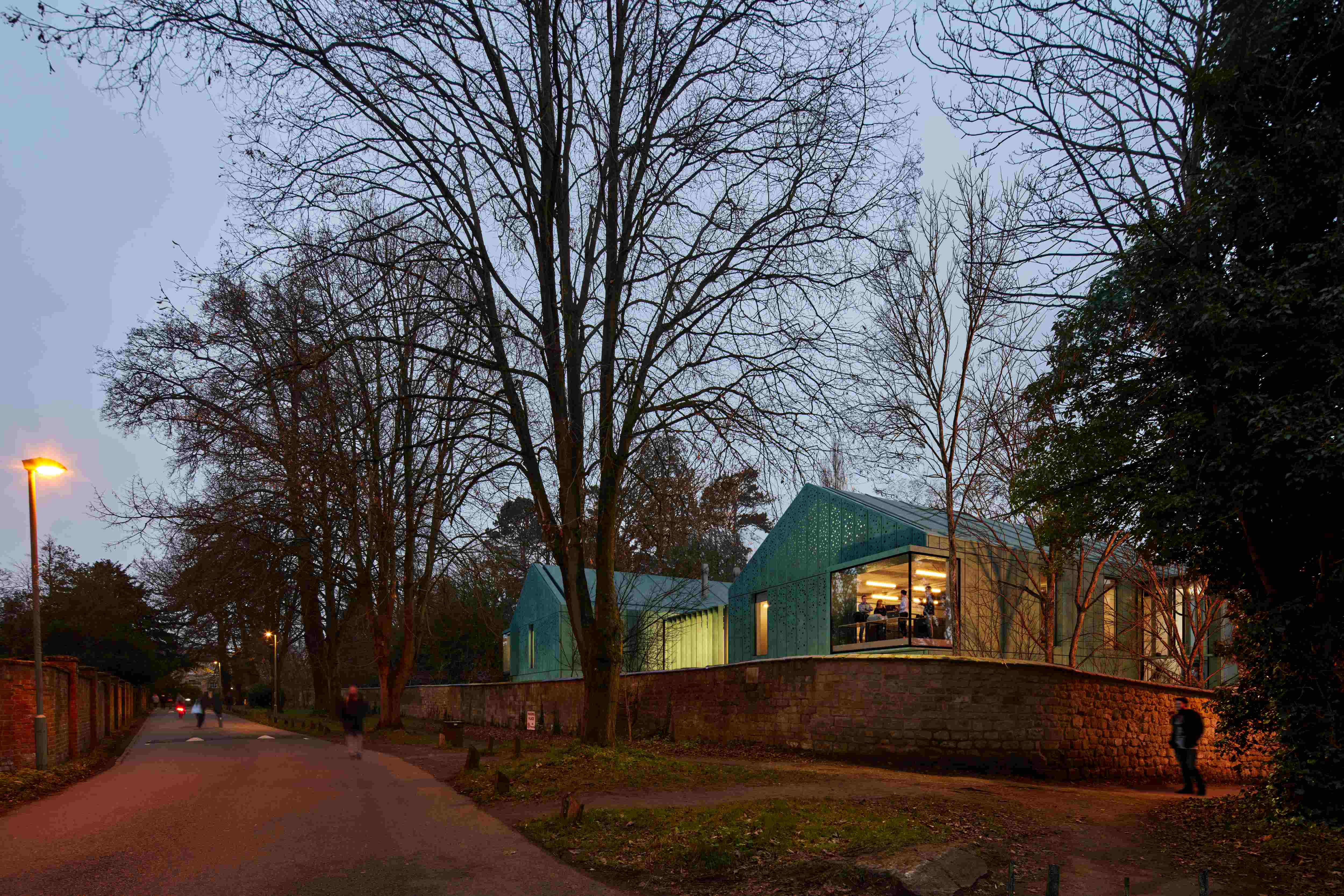 Designed by ADP Architecture, the buildings provide a new home for the Faculty of Technology, Design and Environment at Headington and deliver their vision of making and thinking through collaboration and collocation.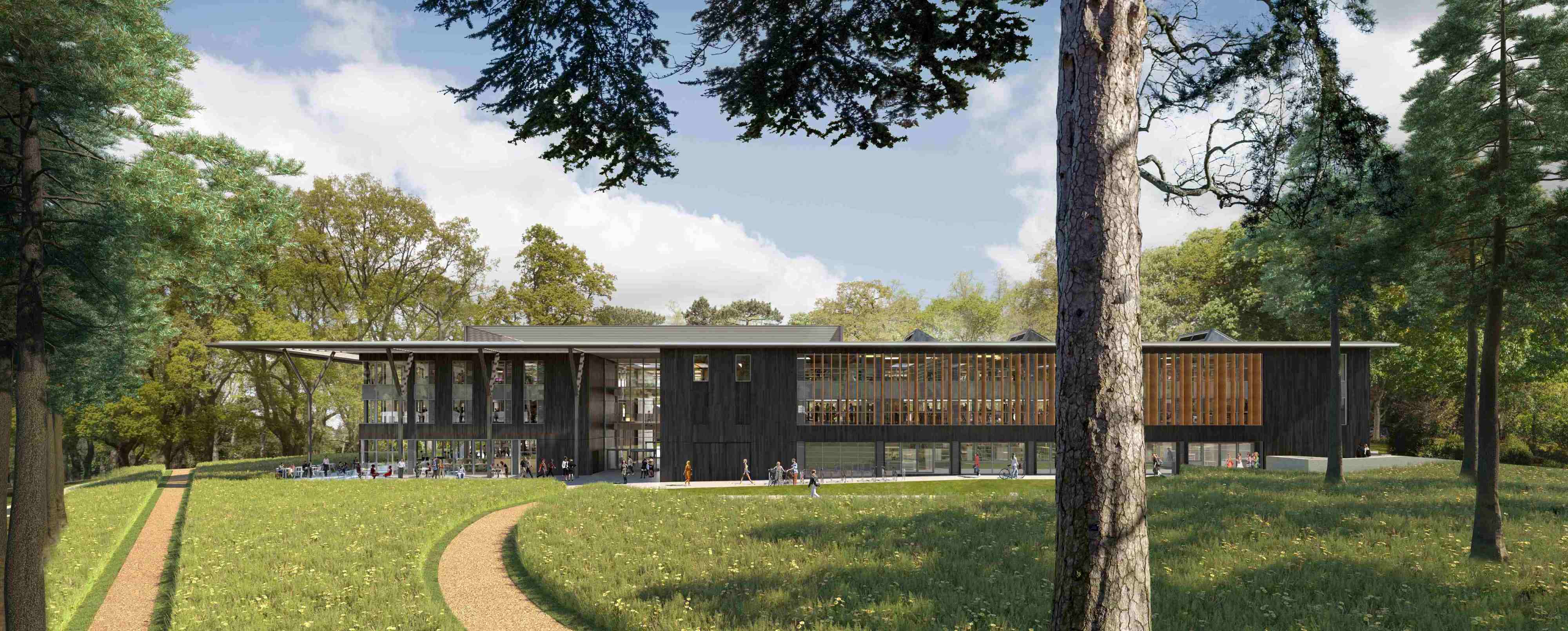 New teaching building
Across three floors, the teaching building (above) will include innovations such as an immersion lab for teaching, research, and industry engagement, robotics labs with industry leading equipment, 3D printing technology, and a dedicated computer suite with the latest industry-standard software for deep learning.
The building will adopt a wide range of emerging technologies such as Virtual Reality (VR), Mixed Reality (MR) and Augmented Reality (AR).
A centre-piece will be the Virtual Reality Cave, allowing students from multiple disciplines to create virtual buildings and towns, use interactive CAD design and disassemble a Formula 1 car to test changes to its design.
A social core at the heart of the three-storey teaching building will facilitate informal learning, encourage engagement and promote well-being. Alongside this, the purpose-built engineering workshop (more below) is designed to sit respectfully within the parkland conservation area of Headington Hill.
New workshop
The workshop building will provide industry-standard technical facilities for students, staff and researchers based in the Faculty of Technology, Design & Environment.
The workshop will be the home to specialist engineering equipment with state-of-the-art labs and hands-on teaching spaces. The motorsport, autolabs and mechanical engineering facilities currently based at our Wheatley Campus will be located in the building.
The dynamic, flexible workshop space in the centre of the building will link to the more specialist workshops. Having daily access to workshop, lab spaces and modern specialist equipment will enhance our students' teaching and learning experience.
Engineering labs, high-voltage testing, advanced scanning technology and an automotive lab with a range of Formula 1 racing cars will help develop students' understanding of suspension, chassis design and aerodynamics, and provide a base for the Oxford Brookes Racing team.
Jerry Woods, Director of Estates and Campus Services at Oxford Brookes University:
"We are pleased Willmott Dixon has commenced work on two inspirational buildings for our Headington Campus. The new state-of-the-art labs, workshops, and teaching and social learning spaces will be transformational for our Faculty of Technology, Design and Environment.
"Together, the new teaching and workshop buildings will help our students, staff and researchers to flourish, boost local collaboration and meet the needs of business. It will also support the move of our remaining activity on the Wheatley Campus and play a key role in the University's long-term estate vision."
Richard Poulter, managing director for Willmott Dixon in the south:
"This state-of-the-art facility will provide Oxford Brookes University with innovative facilities that allow their students and staff to meet the future requirements of industry and entrepreneurism. The sustainability credentials of this building indicate Oxford Brookes' forward-thinking approach, and we are thrilled to be part of their journey."
Alex Nelhams, SCF framework manager, said:
"The SCF is delighted to continue supporting Oxford Brookes with their masterplan by managing the procurement of a contractor for the exciting new Headington Hill project.The new spaces will not only serve as a physical space for students and staff to gather and learn but are also a reflection of the university's commitment to progress and growth.
"We are looking forward to seeing how the project develops and working with all stakeholders to drive positive impact out of the process and leave a highly sustainable new space for the students."
The facilities will be ready for the 2024/25 academic year and is the latest university project for Willmott Dixon.
Recently, the company handed over the award winning Interdisciplinary Biomedical Research Building and Warwick Arts Centre at the University of Warwick, which followed delivery of the £46.5m School of Engineering, creating a leading research facility for the University of Birmingham. The company also completed an interior refit of the School of Computer Science and Engineering, Innovation Centre for University of Westminster.
PROJECT DETAILS
CONTACT US
25 Templer Avenue, Farnborough Business Park, Farnborough, Hampshire
GU14 6FE
Tel: 01252379380