Holy Trinity Academy
Improving and expanding the school's amenities
In just seven months, our team expanded the facilities available at Holy Trinity School to increase capacity by 300 places.
During term time, the school remained operational. Our team took extra care to minimise disruption whilst still maintaining programme certainty to ensure the new spaces would be available as soon as possible.
The works comprised of a new three-storey teaching block, which houses four science labs, ten teaching rooms and other multi-purpose spaces. We also completed single-storey extensions to the east and west elevations of the existing dining hall, creating additional spaces for students to use at breaktime and for assemblies.
External works included renovating the outdoor sports areas including the addition of a new 3G sports pitch.
Hear from key stakeholders at the school and council about the project
Modern Methods of Construction
Given the importance of the deadline for this project, we made use of modular construction to help bring programme certainty and minimise disruption on a live site.
The three-storey teaching block was manufactured off-site and then assembled on-site. This included 69 bays being installed in two phases.
Using this approach meant that we had a water-tight building within just 13 weeks of the first bay going in. The building structure itself was completed in just 34 weeks, allowing finishing works to follow.
This approach also helps to drive better quality of finish as around 90% of the bays are finished in the factory, which is a quality-controlled environment without potential complications caused by the elements and bad weather.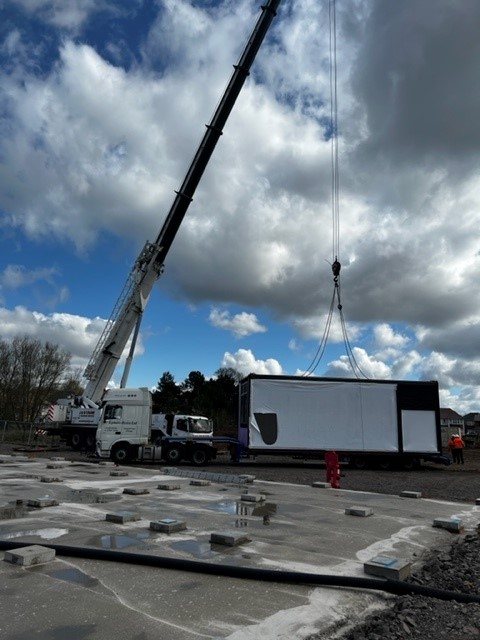 The bays were craned into place ready for finishing works
Innovative solutions
We also utilised two innovative solutions that reduced waste and concrete, and therefore the carbon footprint for this build.
One solution was for the foundations of the building. We worked with engineers to find a method that meant we didn't have to drill as deeply, reducing waste, limiting the amount of concrete needed and saving time. In fact, this method reduced drilling time for one section of the foundations down from about three hours to just 15 minutes.
Another interesting technique our team used was hydroseeding. Instead of using a concrete retaining wall as a support for some of the higher pieces of land around the field, we used this vegetated wall system. This minimal foundation solution has a fast installation time and also has the benefit of being a more environmentally-friendly option.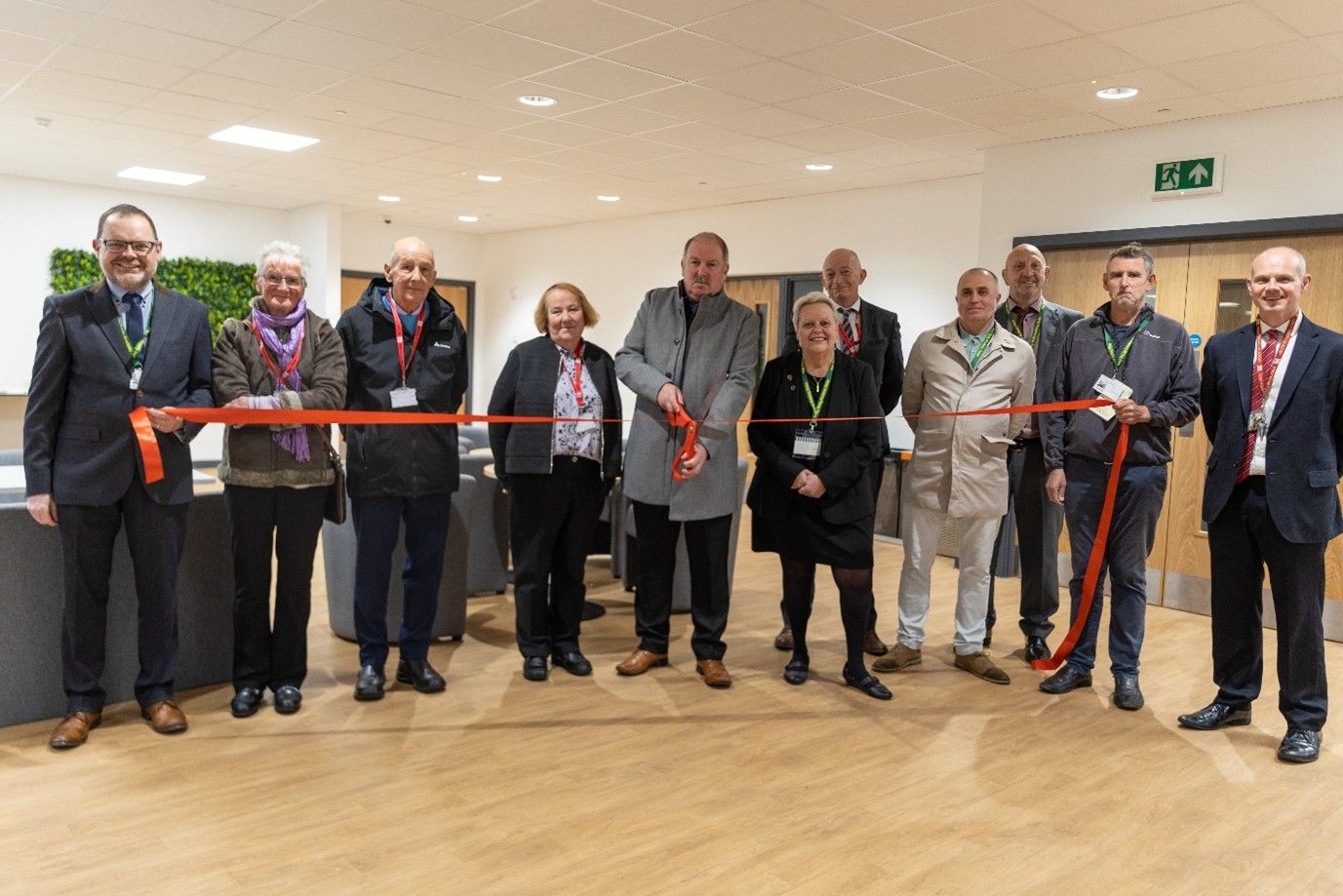 Attendees from Wilmott Dixon, the council and the school gathered for an official ribbon cutting ceremony to celebrate the extension opening
Giving back to the local community
As part of the project, we undertook a number of routes to give back to the local community. One area was engaging with local schools to provide careers guidance.
We ran a number of sessions at schools to introduce students to the different career paths available in construction. The students took part in a team activity where they had to assume the roles of a design manager and a quantity surveyor. Working in pairs, they designed a 'School for the Future' which they then needed to present back to our team.
Councillor Shirley Reynolds (Lab), Cabinet member for Children, Young people and Families, said:
"We are strongly committed to continue to invest in schools across the borough, so every local child and young person can have the opportunity to attend their local school and to learn in a modern environment.
"We are delighted that another major extension has been recently completed at one of our secondary schools and 6th forms, Holy Trinity Academy. The school is now able to take on more students and the local community can make use of new sports facilities available for hire during weekends and evenings.
"In the coming months, other borough schools will undergo refurbishments and extensions to provide the very best educational experience for our children and young people, closer to where they live."
Angus Neal, Headteacher at Holy Trinity Academy, said:
"This development led by Telford & Wrekin Council and its contractor Willmott Dixon has further expanded the fantastic facilities we had in place for our students since 2015.
"We are absolutely delighted with the finished product - with the new extra classrooms, science lab, IT facilities, 3G football pitch - our students and staff have fully accessed these since September.
"The new facilities support our educational vision for the school and our ambition to become an outstanding school, with places available for local youngsters."
Andrew Bell, Senior Operations Manager at Willmott Dixon commented:
"We are really proud to have been involved, together with Telford & Wrekin Council, in the massive upgrade of Holy Trinity Academy's facilities and to play a major part in creating new learning experiences, for generations to come.
"We have utilised modular construction for the new teaching block, to minimise disruption to the students and to ensure we complete the project in time for the new student intake in September.
"We are thrilled to now see the students and the teaching staff fully enjoying the new classes and their modern facilities."
PROJECT HIGHLIGHTS
The new three-storey teaching block was a modular build
The project has included new classrooms, a science lab, IT facilities, and a 3G football pitch
PROJECT DETAILS
CONTACT US
One Snowhill, Snow Hill Queensway, Birmingham
B4 6GN
Tel: 0121 236 9668