Kingston University Town House
Mies and Stirling Prize winner Town House is the university's centrepiece.
The Town House followed up its Stirling Prize to be crowned Europe's best new building by winning the Architecture Prize at the world renowned Mies van der Rohe Awards. This coveted honour is a major accolade for the UK!
Mies judges praised its 'remarkable environmental quality that creates an excellent atmosphere for studying, gathering, dancing and being together' before going on to add that it's 'the first time a university building has won this architecture prize…showing the potential of public educational projects with the quality of this one'.
Kingston University's Town House won the prestigious Stirling Prize in 2021, with Lord Norman Foster on behalf of the jury commenting:
"Kingston University Town House is a theatre for life – a warehouse of ideas. It seamlessly brings together student and town communities, creating a progressive new model for higher education, well deserving of international acclaim and attention. In this highly original work of architecture, quiet reading, loud performance, research and learning, can delightfully co-exist. That is no mean feat. Education must be our future – and this must be the future of education."
In recognising Willmott Dixon's role as main contractor, Kingston University said:
"The building was brought to life by Willmott Dixon, with its design features enhanced by excellent construction quality, particularly the fairfaced blockwork, the ground floor polished concrete slab, together with the oak flooring and stair-treads and plywood panelling, which provide visual warmth. The contractor delivered on Grafton Architects vision, understanding the importance of ensuring the quality of the finish across all aspects of the building met the highest expectations."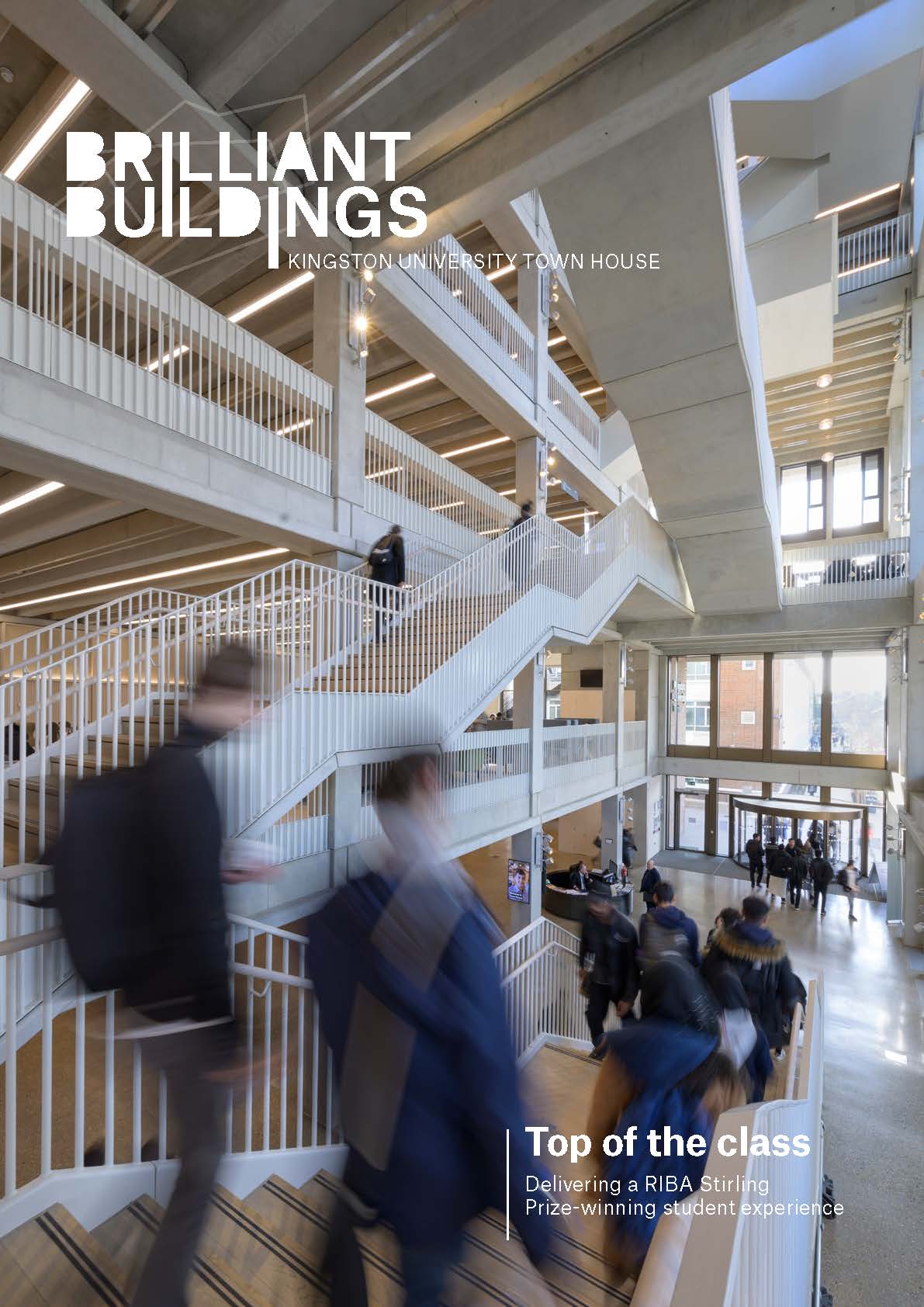 Download our Town House edition of Brilliant Buildings, exploring how to eliver a world-class architectural triumph, ensuring that it not only leaves a legacy, but is achievable and affordable in the first place.
About the Town House
This 9,403 square metre, six-storey landmark teaching building for Kingston University, named in 2020 by The Guardian as one its 'buildings that inspire', is the central focus for university's campus.
It provides an impressive physical symbol of shared learning experiences and community. Half the students at Kingston are the first in their family to attend university and the university wanted to use architecture to make students feel like they belong.
The result is a building incorporating covered internal courtyard, a multi-floor library, open auditorium, dance studios and a studio theatre, as well as a range of informal learning spaces and two publicly accessible cafés. It has a series of external balconies and walkways, culminating in a rooftop garden with views across Kingston and the River Thames to Hampton Court.
While more than half of the space is open plan, secluded corners allow for private study and group work. Sliding walls make for a flexible ground floor space with banks of seating that can be used for a theatre or lecture audience.
If you would like your project to be a future Stirling prize winner, get in touch here.
Ian Edwards, director of delivery at Willmott Dixon said:
"The precast concrete frame is integral to Town House's design. Exposed concrete runs throughout the entirety of the building and there are no surface fixings meaning it is open to close scrutiny. Perfection was paramount - there was no room for blemishes or air pockets, which would have impacted on the sleek finish. This was one reason behind using precast concrete rather than cast in situ reinforced concrete. Due to its bespoke nature, the construction was extremely complex so great care had to be taken to ensure the lines of communication were open with our supply chain at all times."
Multitude of uses
The facility gives Kingston University a warm welcome to students, staff, alumni and the local community alike, acting as the University's front door, providing information and assistance, celebrating learning, showcasing achievements and supporting collaborations with industry and others.
As with all our large university projects, Town House was modelled to BIM Level 2 protocols, with much of the building constructed from precast concrete.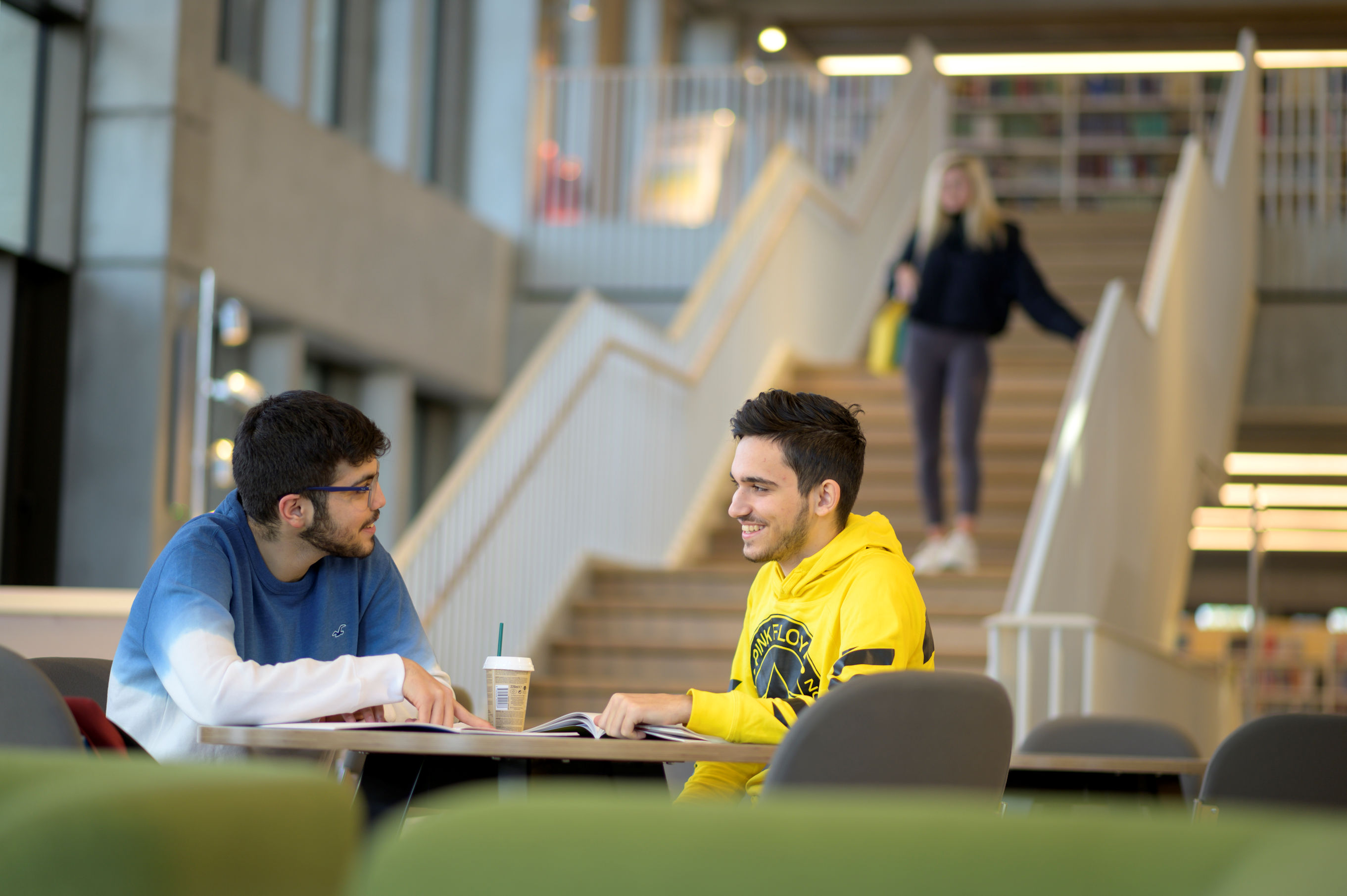 Design excellence
This is the first building in the UK for Grafton and in a nod to its surroundings, it includes a traditional hand-laid full brick finish to panels across the exterior elevations and sections of reconstituted stone, carefully chosen to reflect the Portland stone of Surrey County Hall across the road.
Importantly with climate change issues never far away, Town House is rated BREEAM Excellent for its many sustainability features which include a photovoltaic array, a large sustainable urban drainage system (SUDS), a thermally active building system (TABS) for underfloor cooling, multiple brown roofs and two roof gardens.
Roger Forsdyke, MD of Willmott Dixon in London & South:
"Town House was a hugely ambitious project – one we fully embraced. Although it was complex and highly challenging at times, it's testament to our people's dedication that the original design has been realised to such exacting standards.
From the outset we knew that the exposed concrete frame would be a key feature of this landmark building. Our challenge was to deliver a sleek, consistent and quality finish that would also hide all the building services from public view. The decision was made to switch from an in-situ concrete solution to a pre-cast, manufactured off site solution. This would ensure a quality finish could be achieved off-site and easily assembled on atight site constrained by residential properties and the live main campus building. The pre-cast element was also a neat solution for the concealment of essential building services that were necessary to provide the electrical and cooling services for the entire building."
Professor Steven Spier, Vice-Chancellor of Kingston University:
"A world-class building of this kind sends a strong signal to our students, staff and the higher education sector of the value of what Kingston University does. Grafton Architects' interpretation of our design brief, along with Willmott Dixon's commitment to ensuring it was brought to life, will ensure the building's presence helps dissolve the boundaries between the University and the Royal Borough of Kingston."
Most of Town House's pre-cast concrete beams are 500mm deep. The 750mm deep beams weigh as much as 22 tonnes. All were lifted into position directly from the delivery wagon, helping to maximise the construction efficiencies associated with pre-fabrication and significantly reduce vehicle movement and wastage on site. The floor slabs are of composite construction, with a 'Twin T' 50mm-thick and 2m wide plank supporting the wet underfloor highly sustainable cooling system, which was fixed into place before concrete was poured to bring it up to full slab depth.
Specialist sound absorption has been used extensively to avoid noise reverberation and create acoustically suitable spaces for diverse activities. Twelve water fountains have been installed to reduce the need for bottled water, and all taps, showers and toilets are low water usage appliances. The urinals are waterless. To encourage cyclists, there are six individual showers, as well as lockers and drying facilities, and 300+ cycle storage spaces, linking with the Royal Borough of Kingston's 'Go Cycle' scheme on Penrhyn Road.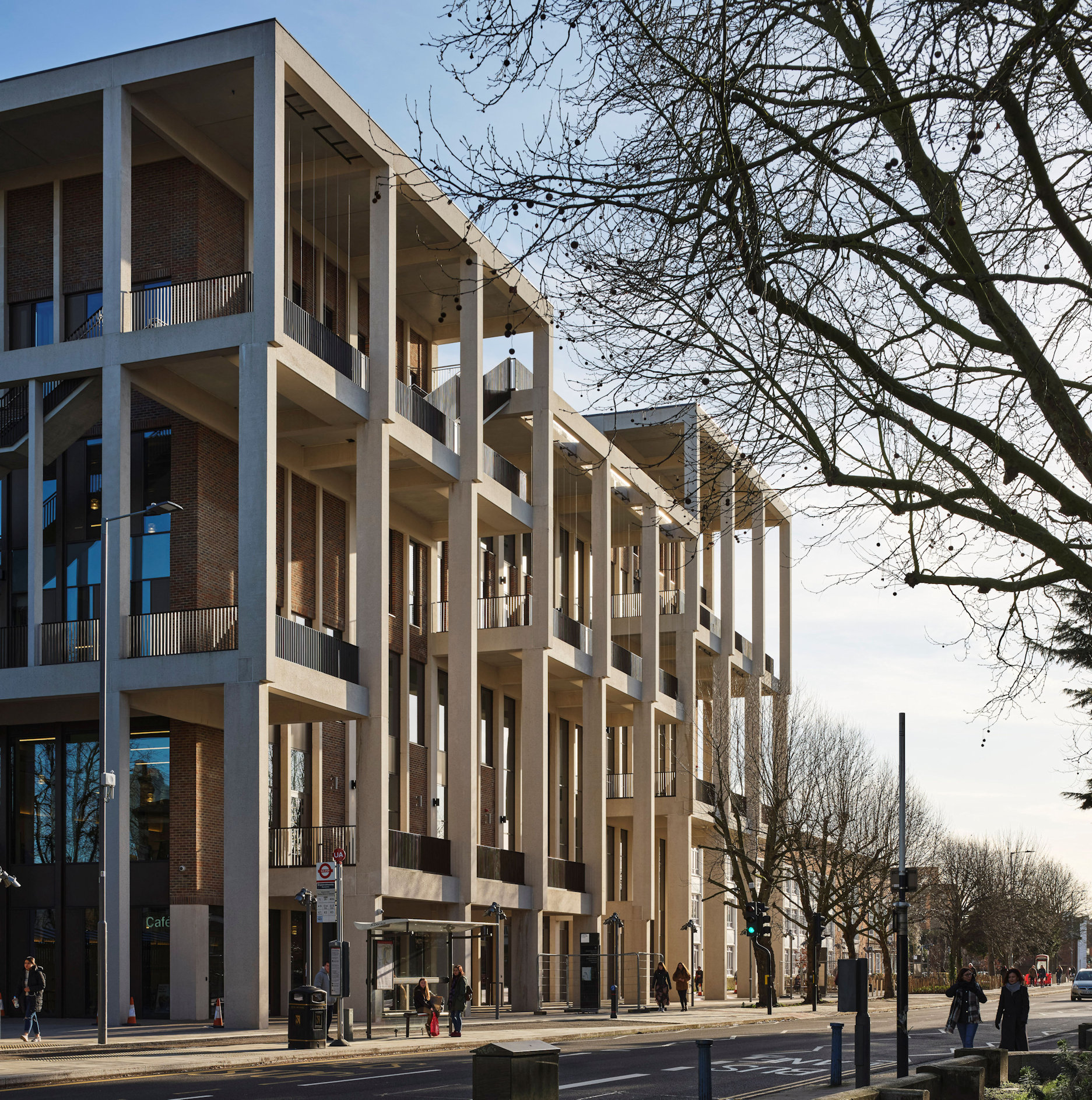 Town House comprises:
A learning resources centre - library and associated resources on several floors, including quiet study space for groups and individuals
Flexible technology throughout - to support inventive studying and collaborative group work
A covered courtyard - designed for innovative learning and experimentation, as well as civic engagement and creative enterprise opportunities
Specialist learning spaces - providing flexible rehearsal spaces for academic dance courses
Space for events
Cafes
New public landscaped areas.
University leader
We have a long track-record of enhancing university estates, using our knowledge of live-environment working to minimise disruption. Other recently completed projects include the Student Life Building at Teesside University, Poole Gateway Building at Bournemouth University, creating the new Green Heart for University of Birmingham, Bath Spa University's Locksbrook Road campus, Coventry University's Centre for Advanced Low-Carbon Propulsion Systems and the Kennedy Building at the University of Kent.
PROJECT HIGHLIGHTS
2021 RIBA Stirling Prize winner
Crowned Europe's best new building by winning the 2022 Architecture Prize at the world renowned Mies van der Rohe Awards
Major part of university estate investment
Designed by RIBA award-winning Grafton Architects
BREEAM Excellent that offers a vibrant new face to the university
Landmark for Kingston-upon-Thames
PROJECT DETAILS
CONTACT US
The Heights, Building One
Brooklands
Weybridge
Surrey
KT13 0NY
Tel: 01932 584700