Town House will create major new entrance for university
---
HIGHLIGHTS
Major part of university estate investment
New centrepeice for the university
Designed by RIBA award-winning Grafton Architects
BREEAM Excellent that offers a vibrant new face to the university
---
Our presence enhancing UK universities to make them world leaders, is underlined with the £41m contract to build Kingston University's landmark Town House building.
The Town House will be a key feature of the University's Penrhyn Road campus offering a warm welcome to students, staff, alumni and the local community alike.
It will act as the University's front door, providing information and assistance, celebrating learning, showcasing achievements and supporting collaborations with industry and others. It will provide a range of spaces that will facilitate learning as a social process, as well as spaces for quiet study.
The new building will comprise:
A learning resources centre - library and associated resources on several floors, including quiet study space for groups and individuals
Flexible technology throughout - to support inventive studying and collaborative group work
A covered courtyard - designed for innovative learning and experimentation, as well as civic engagement and creative enterprise opportunities
Specialist learning spaces - providing flexible rehearsal spaces for academic dance courses
Space for events
Cafes
New public landscaped areas.
RIBA
Designed by RIBA award winning Grafton Architects, Town House replaces an outdated, temporary building with a new environmentally sustainable BREEAM Excellent high quality design that offers a vibrant new face to the university and a welcoming gateway to Kingston upon Thames.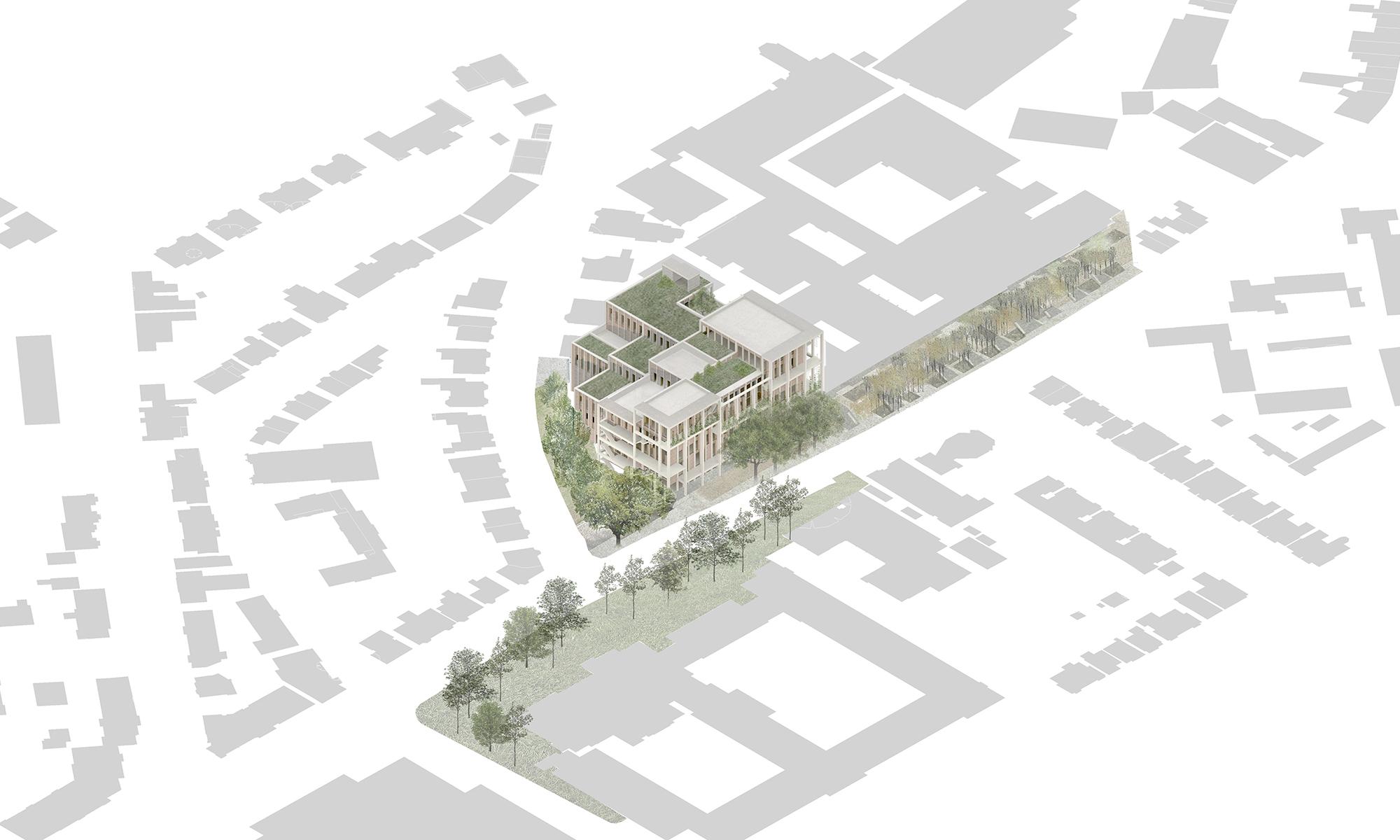 Masterplan of Town House
Landmark
The landmark will also transform the learning experience and bring together the university and the local community, with a welcoming and attractive new landscaping scheme across the front of the campus.
Vice-Chancellor Professor Steven Spier:
"The Town House will be transformational – a place in which students, staff and local people alike will be able to learn and develop."
University leader
We have a long track-record of enhancing university estates, using our knowledge of live-environment working to minimise disruption. Whilst there is many to come in our current pipeline, other developments include creating a 'living-green wall' for Teesside University, building and extending Birmingham City University's Curzon building, University of Kent's Sibson Building, creating Bournemouth University's new flagship 'Fusion' building and Leicester University's Passivhaus certified Centre for Medicine.