Loughborough College Block A
A-Block is one of Loughborough College's key teaching buildings but its 1960s-built home was no longer fit for purpose.
Our refurbishment skills were called into action to strip out the building and provide a complete renewal, apart from its structural walls, with a new lay-out inside, new cladding and a new roof. We also installed sophisticated IT infrastructure to create a very modern learning environment.
Live environment skills
As with the previous work on the college's Arts Academy and Hub, the site remained open throughout and required our award winning 'live environment' skills to ensure the students and staff were not disrupted by building work.
The team used a special programme to mitigate against disruption to campus life, with clear communication and clever sequencing of work so it did not affect the crucial exam period.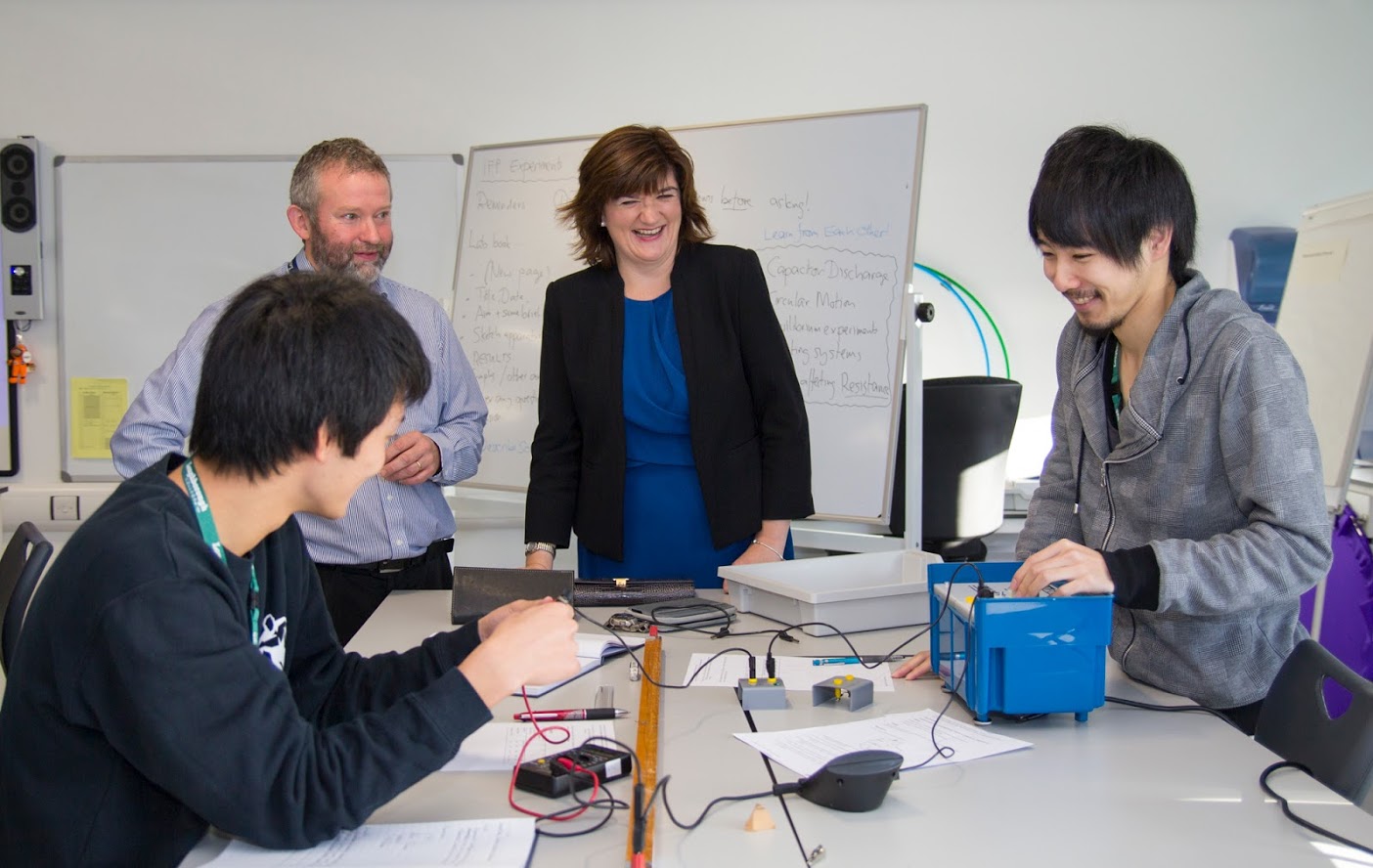 Loughborough MP Nicky Morgan meets students in the revamped A Block
The result is a facility that looks new and is far more energy efficient with improved lighting and much better open plan spaces for better circulation.
Better use of space
The top three floors are dedicated to sixth form students, while two of the floors are science laboratories for chemistry, biology and physics. The remaining floor will be for general teaching and will also accommodate staff rooms.
The new Arts Academy and Hub building
The refurbishment is major investment by the college to maximise the use of the teaching facilities to accommodate growing student numbers. It our delivery in 2014 of the Arts Academy and Hub building, which provide a 250-seat theatre, music and recording studios, a dance studio, art and textile facilities.
Loughborough College vice principal Yiannis Koursis:
"Loughborough College's expansion has a significant impact on our facilities, particularly for A-levels and service industries including hospitality, travel and aviation, hair and beauty and caring and public services.This refurbishment is transforming learning with the latest resources to help our students fulfill their potential for their future careers."
The project, procured through Scape Group's Major Works framework, finished several weeks early.
Other key points
Willmott Dixon supported the major decant of Block A whilst on site.
Extensive structural surveys carried out have assisted in developing robust design and costing.
Block A forms a central circulation area for adjacent existing college buildings.
Peter Owen, managing director at Willmott Dixon:
"The refurbishment is an important part of the college's strategy to maximise space to accommodate its increasing student population. Supporting young people is very important to Willmott Dixon and it is fantastic to use our refurbishment skills here."
PROJECT HIGHLIGHTS
Complex refit of a six storey teaching block

Utilized skills for working in live environments
Part of £20m upgrade programme at Loughborough College

Follows completion of Arts Academy and Hub in 2014

College at forefront of further education provision in East Midlands

PROJECT DETAILS
CONTACT US
Ground Floor, Lock House, Castle Meadow Road, Nottingham
NG2 1AG
Tel: 0115 977 1322
Fax: 0115 979 7886