New Campus Hub for London South Bank University
Rejuvenating a 50 year old building so it's fit for purpose in the 21st century
Our Interiors specialists have given a new lease of life to a London South Bank University (LSBU) building originally completed in 1976, providing bright new education space for students, academics and staff. This is one of the main facilities and focal points for the whole LSBU campus.
Our rejuvenation also improved the building's energy performance alongside supporting new approaches to learning that create a sense of belonging for LSBU's 21,000 students.
When we finished, the 220,000-square-foot, four-story structure named the Hub was transformed. Replacing the many corridors, narrow spaces and small offices are light-filled open, collaborative social spaces with informal study areas and a double-height library.
The Hub also has a completely overhauled arrival experience, with a new entrance lobby featuring a triple-height internal street as its principal circulation area, supported by a large entrance area glass foyer. Further staircases and lifts greatly improve accessibility.
The façade was upgraded to provide both improved thermal performance including solar glare control, and improved acoustic performance, which is vital for noise reduction on London Road.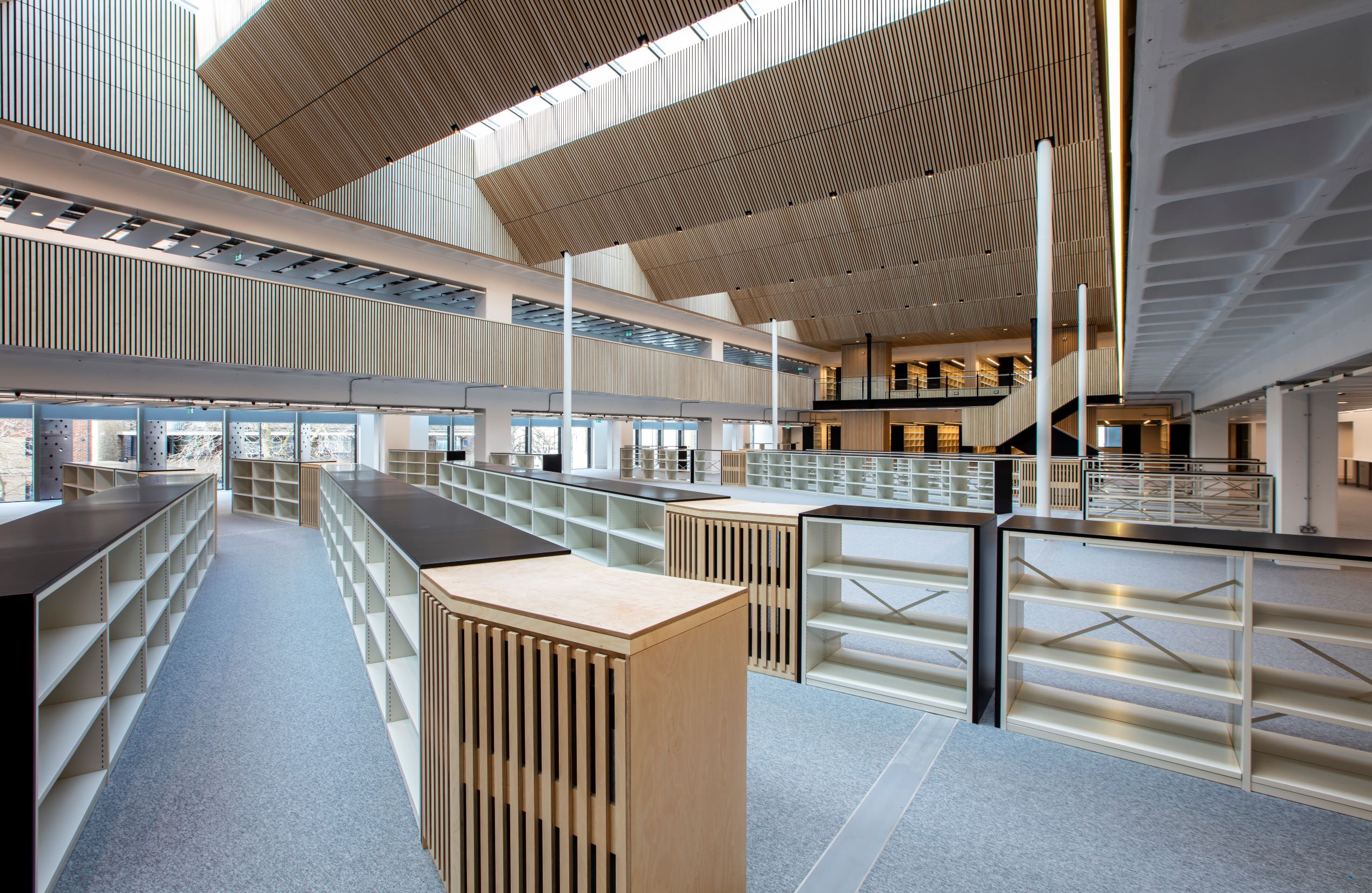 Re-purpose rather than re-build
LSBU's decision to remodel rather than re-build the hub building was a practical one. The campus is in a tight area with little room and therefore a new-build would quickly become impractical. Also, re-purposing it meant saving on embodied carbon in the existing concrete structure, as much as 65 percent in total.
Our team had to strip the building back to its frame, before then remedying any structural defects that had arisen over time. They gave a industrial look and feel to the Hub, with steel stairs and bridges, while sustainably sourced natural materials include a birch plywood feature wall showcasing a large fabric artwork, which injects colour and vibrancy into the building. There is also a graphic image by artist David Bomberg on the wall facing the entrance.
Externally, a new blue roof system and rain attenuation tank have been installed to manage stormwater.
Features
Following our work, the Hub has the following new features:
new workspaces, amenities and technology
new state-of-the-art library and learning resource
improved Academy of Sport facilities, with a fully equipped gymnasium
new open access computer rooms
private rooms for group work and study
additional lecture capacity and new and improved places to eat
AJ winner
The project won the Higher Education and Campus category at the AJ Retrofit awards. The magazine commented:
This radical reworking of London South Bank University's London Road building to create a more open hub for its Southwark campus was judged 'very impressive'. 'A really good approach with excellent data,' said one judge.
The four-storey 1970s concrete-framed building has a relocated library as its centrepiece, around which sit the university archive, small-group spaces, high-tech teaching spaces, computer labs, study areas and staff offices. New floors are hung from large steel beams that span at roof level, dispensing with the need for new foundations and columns below. 'The structural aspects were very well thought-through,' said one judge.
The project also included extensive internal reconfiguration of existing sports and catering facilities and the refurbishment of seven retained lecture theatres, film studios and cinema space. One judge summed it up as 'a tired old building that has taken off an old jacket and put on a brand new tuxedo'.
Thriving community
The new open plan, brighter foyer is already a focus point for students with pop-up clothing shops and posters in the columns.
The Hub is also proving a better environment for post-pandemic learning, supporting students to watch streamed lectures. It's an interior space that has found its calling and a supports the modern-day learning needs of students using the flexible space and open areas.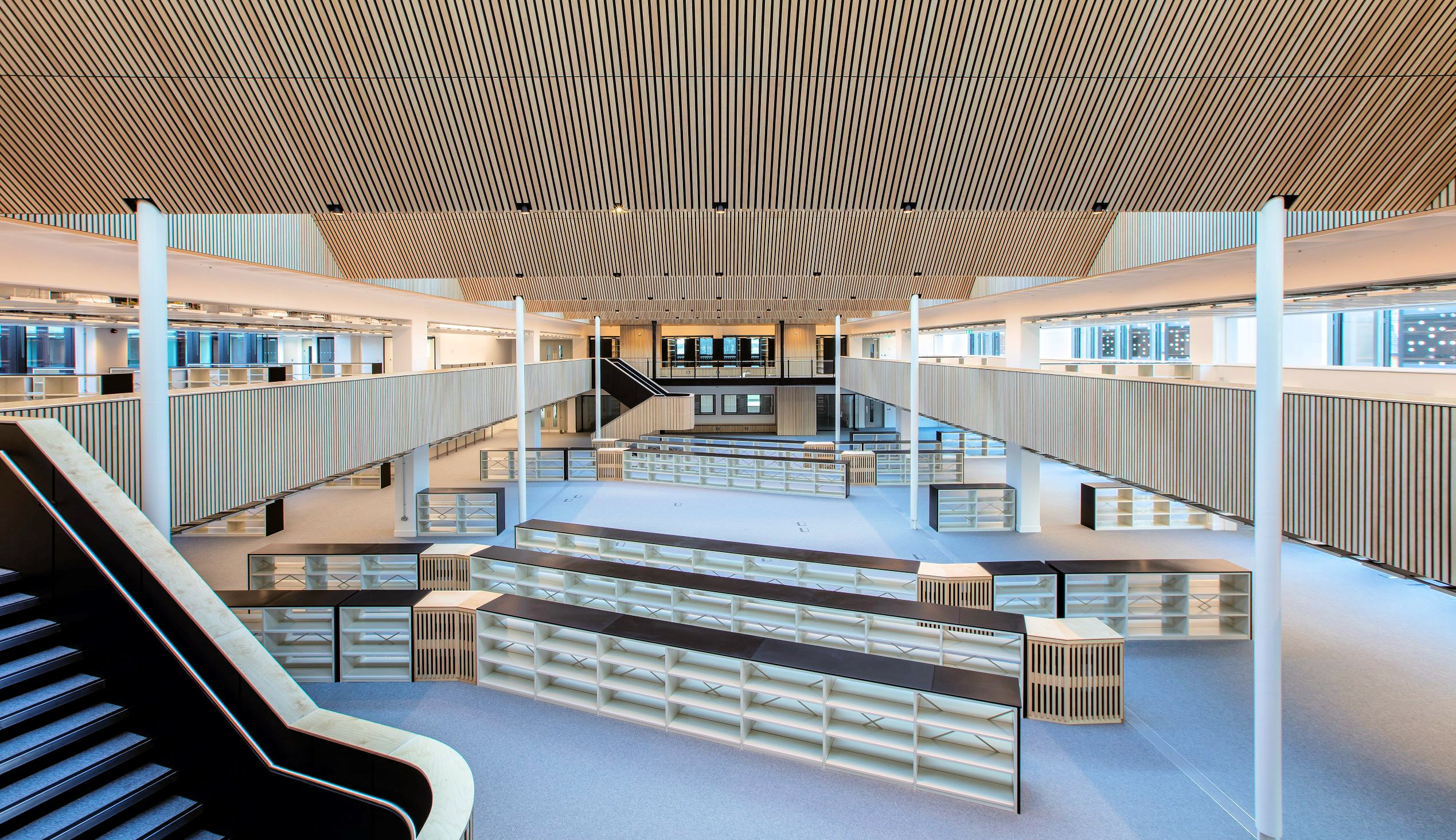 PROJECT HIGHLIGHTS
65 percent saving on embodied carbon
20% of university's total teaching and learning space
Opened for the 2022-23 academic year
PROJECT DETAILS
CONTACT US
The Bailey, 16 Old Bailey, London EC4M 7EG
EC4M 7EG
Tel: 020 7634 9600