One Gallery, The National Gallery
Refurbishing the iconic National Gallery
Our interior fit-out specialists have enhanced the visitor experience at the world-famous National Gallery on Trafalgar Square by refurbishing Gallery 32, the largest and most visited room.
Working closely with the architect, Purcell, Willmott Dixon Interiors' refurbishment has reinstated the original decorative scheme and given the room a complete lift from its last upgrade in 1991. Along the way, our team added new flooring, lighting, air conditioning, fabric on the walls and new external solar blinds. Some of the challenges included, asbestos beneath the floor, difference in floor level of 55mm from north to south, removal of central section of the floor and utilising the original floor duct.
This gallery has now been renamed The Julia and Hans Rausing Room and as the largest and most visited room at the National Gallery displays 17th-century Italian paintings by artists including Caravaggio, Artemisia and Orazio Gentileschi, Guido Reni and Guercino.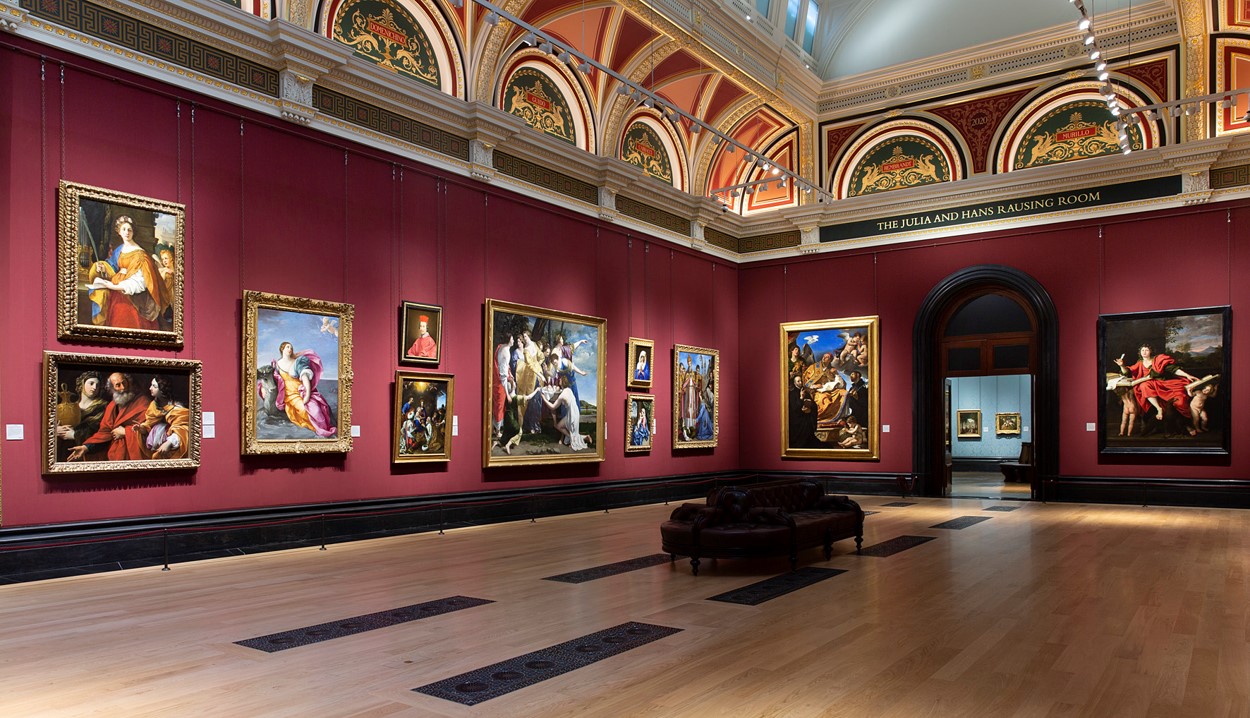 The refurbished Gallery 32, renamed 'The Julia and Hans Rausing Room', houses a collection of 17th-century Italian paintings
The National Gallery enables over 5.5 million visitors each year to see for free the work of artists like Leonardo da Vinci, Michelangelo, Rembrandt, Canaletto, Constable, Ingres, Monet and Van Gogh.
The plaster decoration was gilded with 23.5 carat gold leaf
Care and detailed work
This project required intricate work, including retaining and restoring the original paintwork which required a lot of research from a specialist conservator revealing the original paint detail. This helped to identify colours for detailed plasterwork, drawing templates from the original details which made it possible to recreate.
As well as reinstating the dark red cloth to the walls, the ornate painted frieze has been put back and the plaster decoration tip-gilded with 23.5 carat gold leaf as shown in the image above.
Flexible office space
The project also included refurbishing parts of the existing basement and ground floor areas. This new space delivers a modern, flexible working office environment for Gallery staff, with new meeting rooms and breakout areas, as well as changing the use of several back-of-house rooms.
It heralds an exciting new era for the National Gallery team at the historic Grade I listed building designed by William Wilkins in the 1830s. Willmott Dixon Interiors' project will be delivered in the extended part of the Gallery designed by Edmund M Barry that was completed in 1876.
Willmott Dixon Interiors managing director Graham Shaw said:
"We used our track-record of transforming historic buildings, such as the Commonwealth Institute, for the benefit of the National Gallery. Our team enjoyed enhancing another London landmark so it can be enjoyed by millions of people over the coming years."
PROJECT HIGHLIGHTS
Refurbishment of Grade 1 listed building
Transforming the biggest gallery
Adds to list of iconic buildings transformed, such as Alexandra Palace and Old Admiralty Building
Providing space for 246 members of staff
PROJECT DETAILS
CONTACT US
The Bailey, 16 Old Bailey, London EC4M 7EG
EC4M 7EG
Tel: 020 7634 9600