Riverside House Cat A fit-out
Delivering a Cat A fitout to an iconic London building.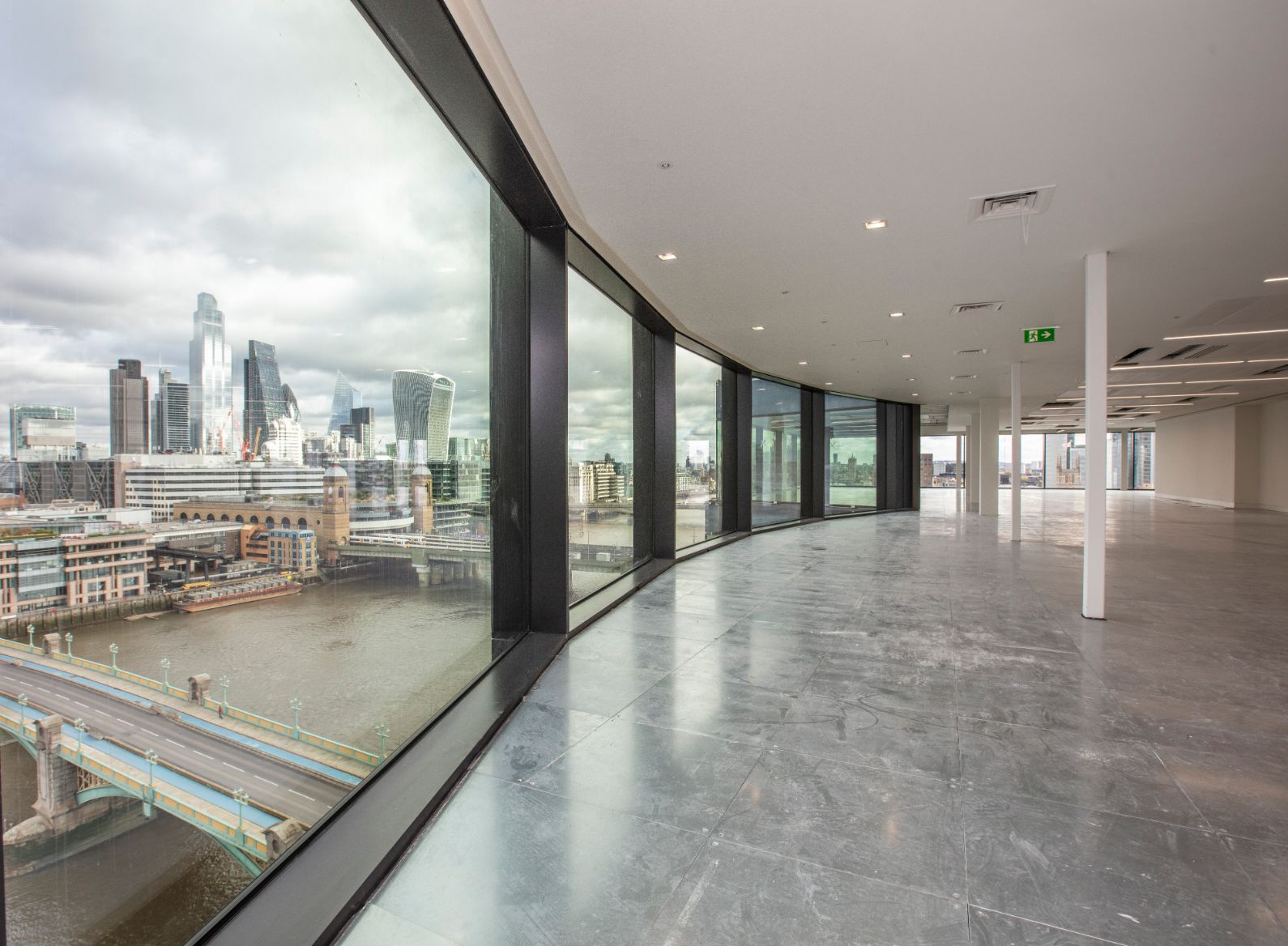 View towards the City from Riverside House
In December 2020 our Interiors business handed over the £30m Riverside House project in London.
Built in the 1960s, Riverside House is a huge London landmark on the River Thames thanks to its distinctive 'sail' which was added during a renovation in 2002. Twenty years later, owner Chiswick High employed our team to upgrade it a second time, adding extra floor space and making changes internally – with several tenants, including watchdog Ofcom, remaining in situ throughout.
Working in a live environment, the Cat A fit out and refurbishment project included the demolition of existing cladding, balconies and parapets before building on the extra floor space and installing new curtain walling. Internally, floors 5 to 8 gained additional space by infilling an existing atrium and adding a rear extension to levels 6 and 7.
Working safely during Covid-19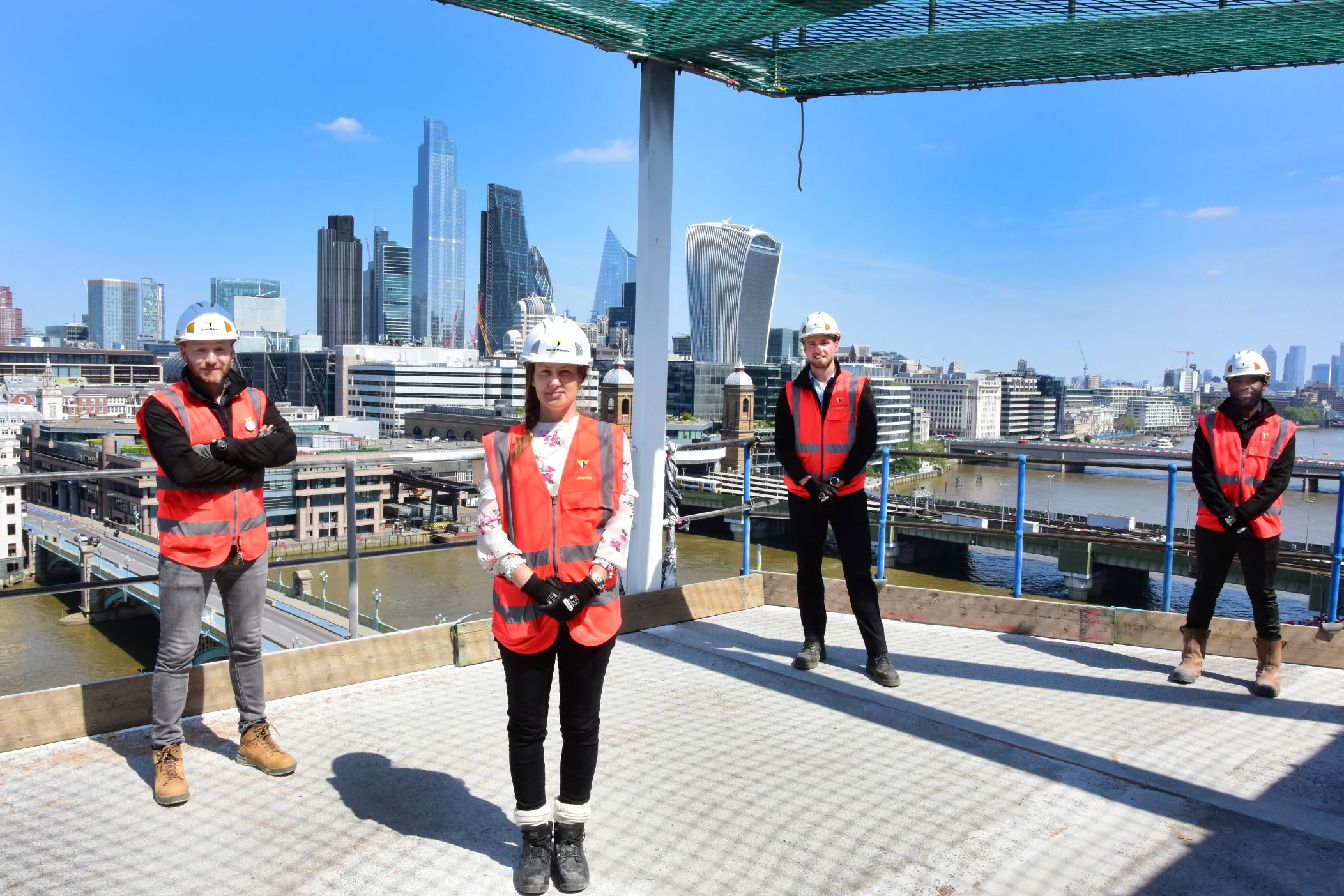 Our team behind the Riverside House transformation
The project started in June 2019 and reaching practical completion in December 2020. With this timeframe, the site team were required to embrace the Construction Leadership Council's Site Operating Procedures from March 2020 to implement Covid-19 safe working requirements.
2020 started well with completion of the demolition works to remove curtain walling, parapets and balconies on levels 8, 9, 10 and 11. By the end of February, a shiny new reception area complete with co-working lounge, was ready on the bridge level, and the first phase of lift refurbishment complete.
In March, the impending pandemic meant re-adjusting everything on site to ensure the project could be built safely, with social distancing in place. Construction manager Jocelyn Whittaker-Smith explained.
"We talked with everyone on site to reiterate that we didn't want anybody to feel uncomfortable. We talked a lot about health and safety and managing the site in a new way during the pandemic."
Covid-19 meant a change in the way the wider project team worked together. That saw Interior's commercial team work from home alongside the customer, the customer's project manager, building agent and designers.
Two of Jocelyn's team whose spouses were working shifts in the NHS worked from home a couple of days each week, while taking responsibility for their children. "We've learnt to be more open about different ways of working, not just to say 'no'," says Jocelyn. "Now flexible work is the norm. That's a big step forward."
Other measures to keep things running included specialist deep cleans, sanitation stations, one way systems and reallocating all roles that could be performed from home were undertaken to reduce the impact of the virus. The team also prioritised work working around the materials they had available after some suppliers closed during the Spring.
Completion
Jocelyn and her team achieved Practical Completion on 1 December, slightly after the planned date owing to delays to material deliveries and high winds stopping tower cranes, which led to an extension of time.
Jocelyn concludes, "Throughout the build, our customer has appreciated our resilience and dedication to delivering the project during the pandemic."
PROJECT HIGHLIGHTS
Cat A fit out and refurbishment project
Extensive demolition works
Safe working throughout Covid-19
Creation of a biodiversity wall
PROJECT DETAILS
CONTACT US
The Bailey, 16 Old Bailey, London EC4M 7EG
EC4M 7EG
Tel: 020 7634 9600