Tameside Wellness Centre
Tameside Borough Council's largest new-build facility to date
Our team of leisure experts delivered the exciting Tameside Wellness Centre for Tameside Council and developers Network Space.
The landmark project is at the heart of the regeneration of Tameside and the town of Denton. Designed by our partners Pozzoni Architects, it combines leisure, community and wellness facilities, all managed by Active Tameside.
Culmination of a long journey
The opening of the Tameside Wellness Centre in March 2020 was the result of a two-decade journey for Warrington-based developer, Network Space, to transform a derelict brownfield site and provide much needed regeneration.
It saw our team convert a former battery manufacturing plant into a facility providing accessible community welfare, combining a multitude of leisure, health and fitness, and wellness activities. It is Tameside Borough Council's largest new-build facility to date.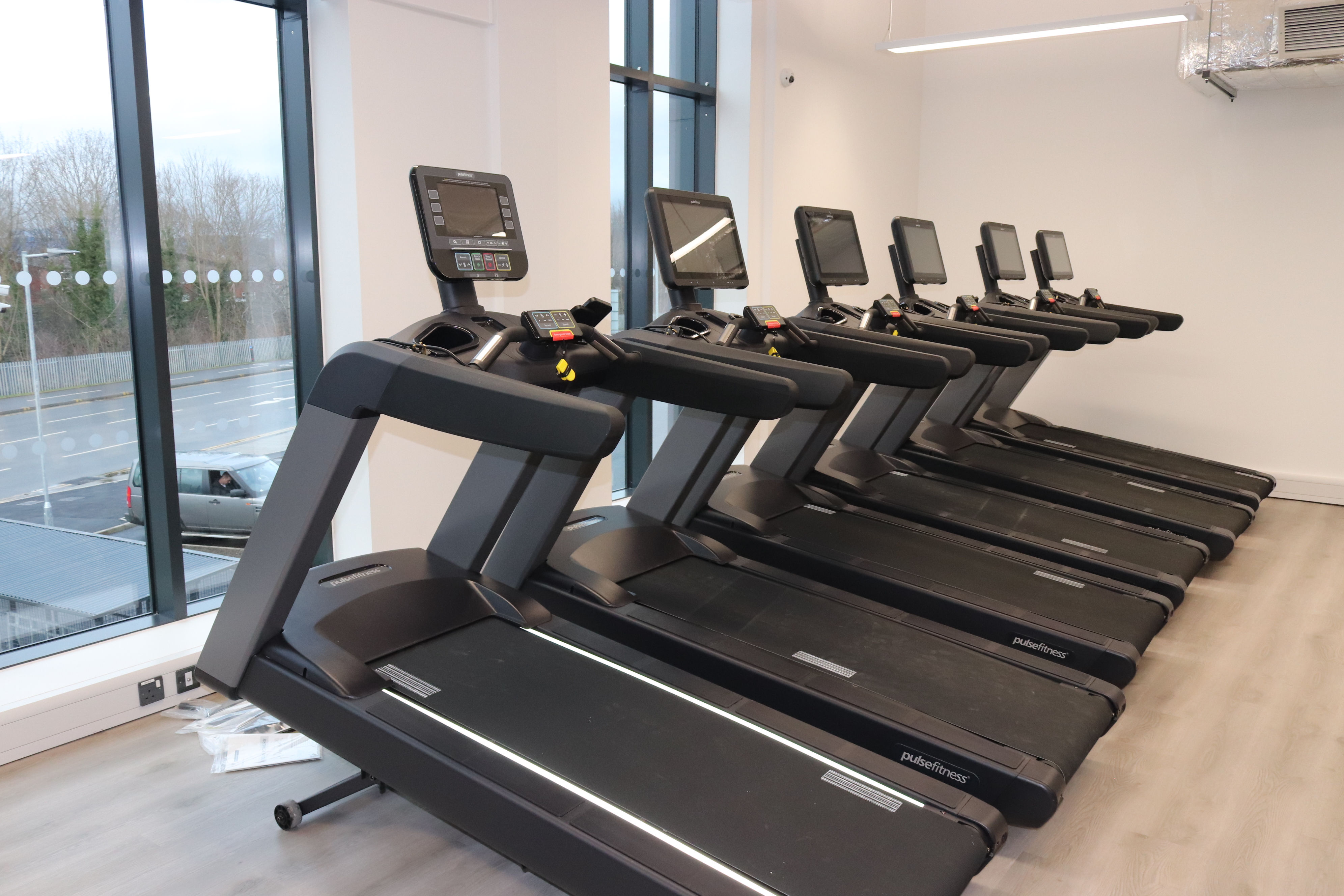 Tameside has a fitness suite with a 50-station gym
Vision
The vision for the Centre was simple; to deliver a space that focuses on public health while community engagement with a variety of flexible, multi-use areas. It has an eight-lane, 25m swimming pool that includes space for 150 spectators and an accompanying learner pool. A spa area includes a sauna, steam room, and other treatment and relaxation facilities, plus there's a fitness suite with a 50-station gym.
The wellness features include free wi-fi throughout, children's soft play area, multi-use studio spaces and a ten-lane ten-pin bowling alley. The roof space has been transformed into a mixed-use terrace that functions as a sensory garden, and supports a pop-up cinema, small theatre shows and an open-air exercise space.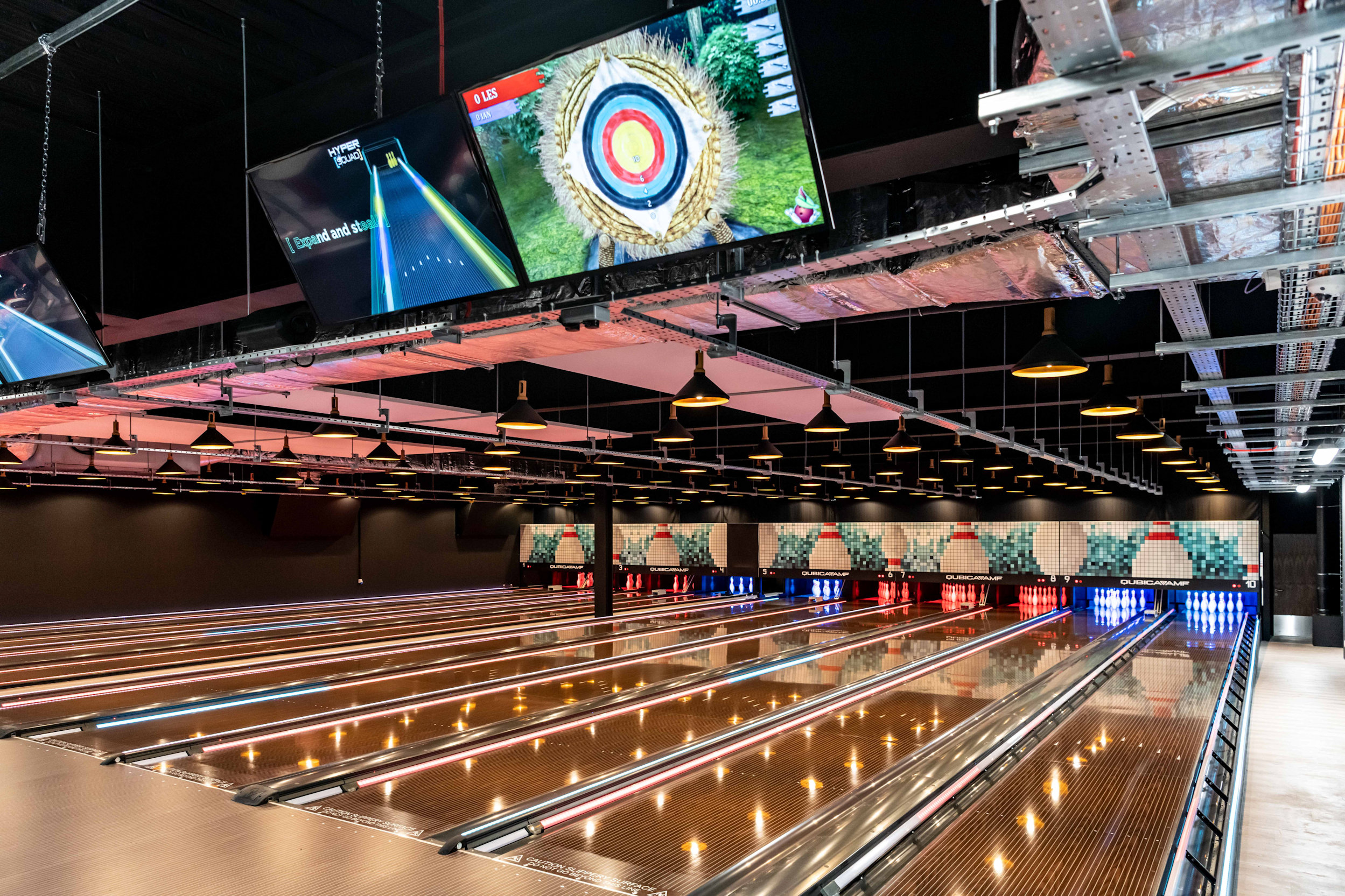 The centre includes a ten-lane ten-pin bowling alley
Social interaction zone
An innovative feature is the 'social interaction zone', a concierge-style approach replacing the reception desk to enable staff and visitors to interact in a more informal way. The wider space functions as a cultural hub that supports catering, while a performance space can hosts anything a music group and a talk, to children's 'Time for Rhyme' sessions.
Externally, the façade facing the high street uses strong colours with traditional materials and large glazing to present a welcoming entrance, while at the rear the building faces on to residential dwellings, so has been massed to reflect this smaller scale.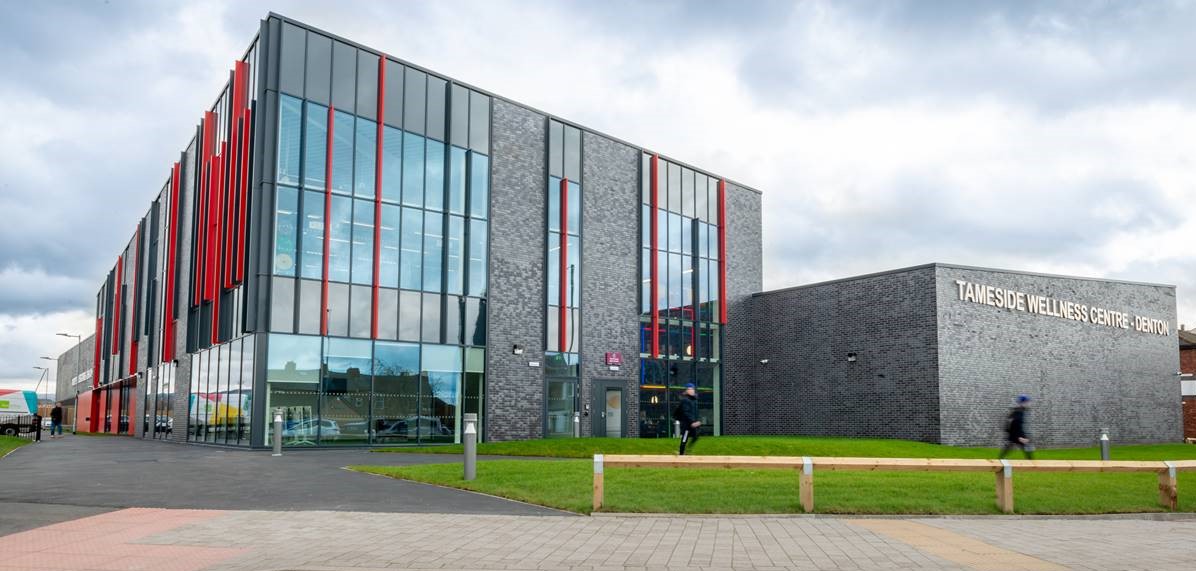 Early involvement
One of the key factors behind the project's early delivery was early involvement of our expertise, allowing us to deploy our experience of swimming pool installations to suggest a number of cost and time saving measures.
Efficiencies were implemented by using a prefabricated stainless steel structure imported from Italy, instead of building a traditional in-situ concrete tank for the pool. The super-large water balance tanks were positioned outside the building rather than under the pool surround which avoided a potentially difficult insertion operation. The pool slab depth was altered from 600mm to 225mm on top of piles, which not only saved costs and time, but reduced the amount of concrete and rebar required, and reduced potential risks on the waterproofing solution. Digital innovations, including virtual reality walkthroughs for stakeholders, helped the Centre to sell 800 memberships before opening.
In recognition of the Tameside Wellness Centre's impact on the community of Denton, it was named a 2021 Civic Trust Awards Regional Finalist, while the project manager won a gold medal at the Construction Manager of the Year awards for his leadership.
PROJECT HIGHLIGHTS
45,000 sq ft of space combining leisure, community and wellness facilities
Managed by Active Tameside
Giving generations of Tameside's children a place to learn to swim
Home to the sport of 'Octopush' underwater hockey
PROJECT DETAILS
CONTACT US
Hollinwood Business Centre, Albert Mill, Albert Street, Hollinwood, Oldham, Lancashire
OL8 3QL
Tel: 0161 947 3960
Fax: 0161 947 3961