One year on from Now or Never: Better Planet
Cathy Myatt, head of environmental policy and improvement, talks about leaving a better planet for future generations.
In September 2020, we launched Now or Never. Our decisive decade, Willmott Dixon's 2030 sustainability strategy.
Our industry-leading strategy is made up of three themes, Brilliant Buildings, Building Lives and Better Planet, and sets clear and stretching ambitions and targets.
Better Planet is all about putting the climate, biodiversity and resources crises at the heart of the way we do business, through four key ambitions: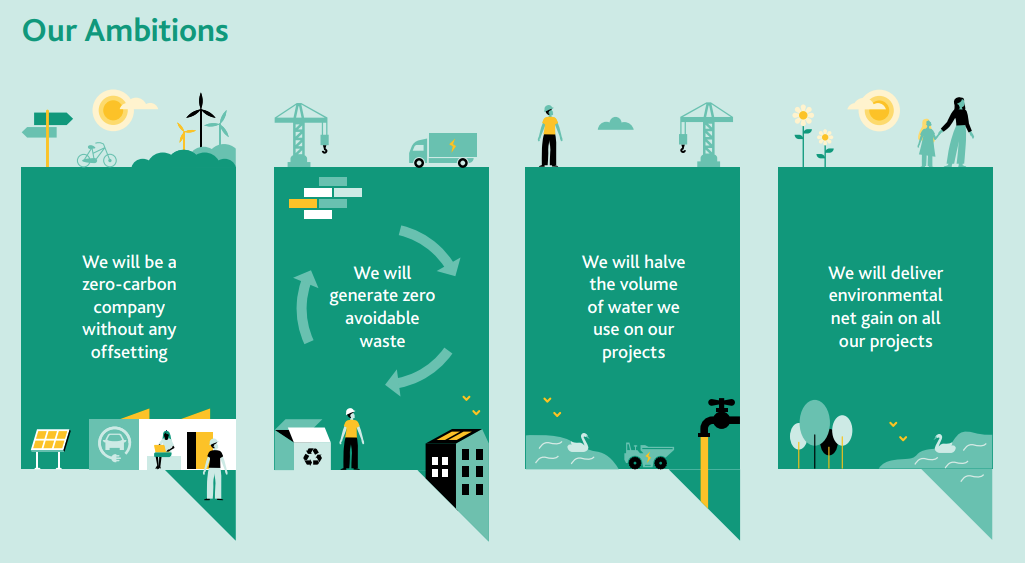 Below are a few highlights of the last year since our strategy launched.
Becoming a zero-carbon company without offsetting
We've signed up to some of the world's toughest targets, to ensure we're aligned with what our planet needs. For example, our approved science-based targets are aligned to 1.5°C – only 764 companies worldwide have done this. We were the 10th company globally to sign up to all three of The Climate Group's campaigns, RE100 EV100 EP100 – for 100% renewable energy, 100% electric vehicles and for 100% of our offices to meet the net zero carbon standard.
In January, we launched our innovative approach to agile working, homeworking and sustainable transport. It includes a new homeworking allowance, salary sacrifice support for all our people to access low-carbon lease cars and a new partnership with Rolec, as part of our commitment to install charging facilities at all our sites and offices. The new car scheme incentivises electric vehicles and the carbon emissions are capped, only allowing our people to choose efficient cars. Since launch, 97% of vehicles selected were electric or hybrid - over half were pure electric.
We are also focussing on electrification of all activities on our construction sites. We're trialling electric plant and machinery and continue to buy only verified renewable electricity. On those occasions where we do need to use generators on site, energy saving hybrid generators are mandatory and we're rolling out HVO fuel, which has 10 times less emissions than mineral diesel oil.
To provide assurance of our emission reductions, we work with The Carbon Trust. We were once again recertified to the Carbon Trust Standard this year, achieving the highest score in our sector. We were also the first in our sector to achieve Level 3 of the Carbon Trust's Supply Chain Standard this year, for reducing emissions within our supply chain.
All of this has helped reduce carbon dioxide emissions year-on-year and with the purchase of gold standard offsets, allowed us to be net zero in our own operations for the ninth year running.
Delivering environmental net gain
We're committed to leaving the environment in an improved state, through enhancing biodiversity on site, reducing water consumption and improving communities' access to nature.
Earlier this year we started our first biodiversity net gain project at Dorset County Hospital, where we are delivering 11.74% environmental net gain, with further similar projects in the pipeline.
We've made significant inroads on our ambition to plant 100,000 trees by 2030, taking a novel approach that focuses on environmental and social aspects, rather than solely the carbon benefits. We have partnered with a range of charities, social enterprises and community groups, located close to our construction projects to support surrounding communities. 
Generating zero avoidable waste
We continue to challenge ourselves at every stage of our projects to find ways to reduce waste, reuse and recycle our products. This year, we have adopted a single-use plastic policy for our offices, which identifies and eliminates single use plastic items from procurement. We are already planning to roll out this approach across other areas of the business. Another focus has been supporting our mandated goods supply partners to prepare a waste reduction plan.
Going forward
We know that our people are critical to our delivery of Now or Never. They do the right thing and seek innovative solutions; trialling new technologies to reduce carbon, repurposing and being creative with waste and enhancing green spaces for our customers and their communities.
We worked really hard to take our people on the journey of Now or Never and so, we were delighted when our recent people survey showed that 95% understood why sustainability is a business priority and 85% said they had helped improve sustainability performance in the last year. With this level of support, we're looking forward to more successes next year.