Chancellor of the Exchequer George Osborne came to see how Willmott Dixon is using its project to build a free school in Norwich to give work opportunities for unemployed people in the town.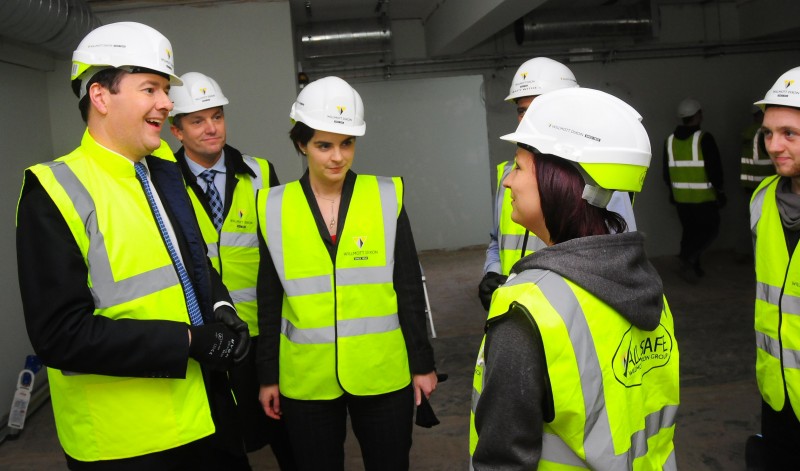 The company is taking the opportunity on its Scape procured scheme to convert a former fire station into a new home for Sir Issac Newton Free School to collaborate with Norwich's Jobcentre Plus on its 'Norwich for Jobs' campaign that is being led by local MP Chloe Smith. This sees Willmott Dixon provide placements with its subcontractors to young people currently unemployed who want to find work in construction.
Three people have already signed up to work at the project between 25-30 hours per week for up to eight weeks without any change to their benefits.
One person using the scheme is Luke Coker, 34 years old, who said, "I was a self-employed brick-layer, but two years ago I had some health issues and couldn't work. Now I am ready to go back to work, but it is difficult to find a job when you have been unemployed for this long. This project is helping me get back on my feet, and getting me used to being at work again."
Luke is working alongside the Willmott Dixon team, completing general duties, some brickwork repairs and infills, before being placed with the bricklaying sub-contractor when they arrive on site in a couple of weeks.
Another person to benefit is 19 year old Nicola Cole, who wants to use the project to get her first big opportunity in the construction industry. Nicola says, "My family have always been into DIY and I used to spend every weekend helping them on refurbishment projects around the house. It gave me a real desire to work full time in the building trade and I'm delighted to get my first chance here."
Willmott Dixon has placed Nicola with its decorating sub-contractor, a local company called Metric Painters. Senior building manager at Sir Issac Newton Free School, Matthew Withey, explains, "We're teaming up Luke, Nicola and another candidate called, Alex Jones, with different sub-contractors so they get first-hand experience and mentoring that will provide an important foundation for full-time work. We aim for their time here to lead to full-time roles within construction, possibly with the sub-contractors they'll work with."
All sub-contractors working on this project are being asked to sign up to Norwich for Jobs. Julia Nix, district manager for Jobcentre Plus in East Anglia said, "I am delighted Willmott Dixon has signed up to provide Norwich young people with work experience opportunities. This can really make the difference to a young person by improving their confidence and skills, all of which help them to get a job. It is also very pleasing to see that the company is encouraging their sub-contractors to do likewise."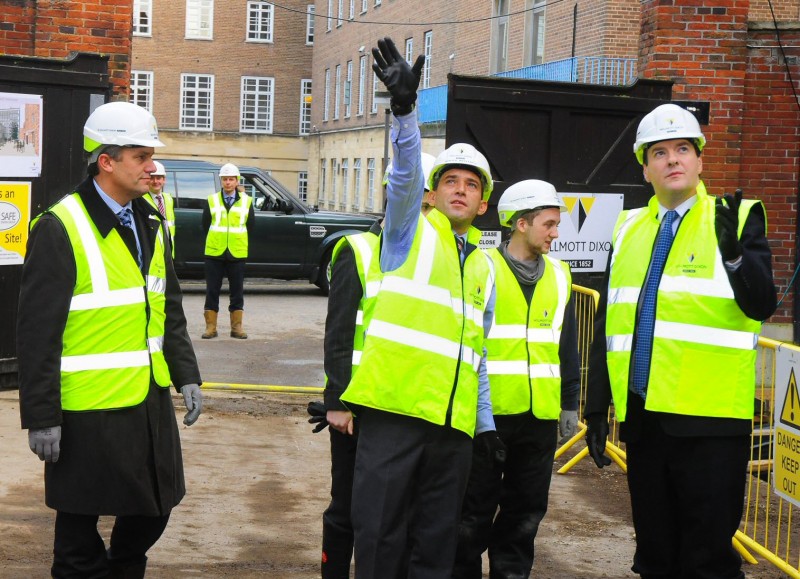 Chloe Smith MP said, "I really welcome Willmott Dixon's commitment to Norwich For Jobs and the difference they are making by asking their supply chain to join the campaign too. I urge local firms to consider if they too can be part of this exciting and successful campaign – you can see more and pledge at www.norwichforjobs.org.uk.
Together we really can halve Norwich's youth unemployment, with hundreds of jobs and apprenticeships pledged now."
Willmott Dixon's already has an award winning programme called Open Doors that provides 25,000 hours a year of work experience to 300 young people across the country. Its focus on skills development also sees it invest £500,000 each year in trainees and apprentices and the company recently invested £1 million in the 4Life Academy in Birmingham that provides training courses to over 2,000 people a year to learn key skills in construction.