Green Heart at Broadmarsh
Supporting Nottingham's urban regeneration through public realm
In 2022, we finished demolishing the old shopping centre on the site, opening up 20 acres of space ripe for regeneration. At this size, Broadmarsh is one of the largest development spaces of this nature in any core city in Europe.
We're now back on site delivering an urban regeneration scheme that will give the space back to the community; creating a green space and public realm in the heart of the city.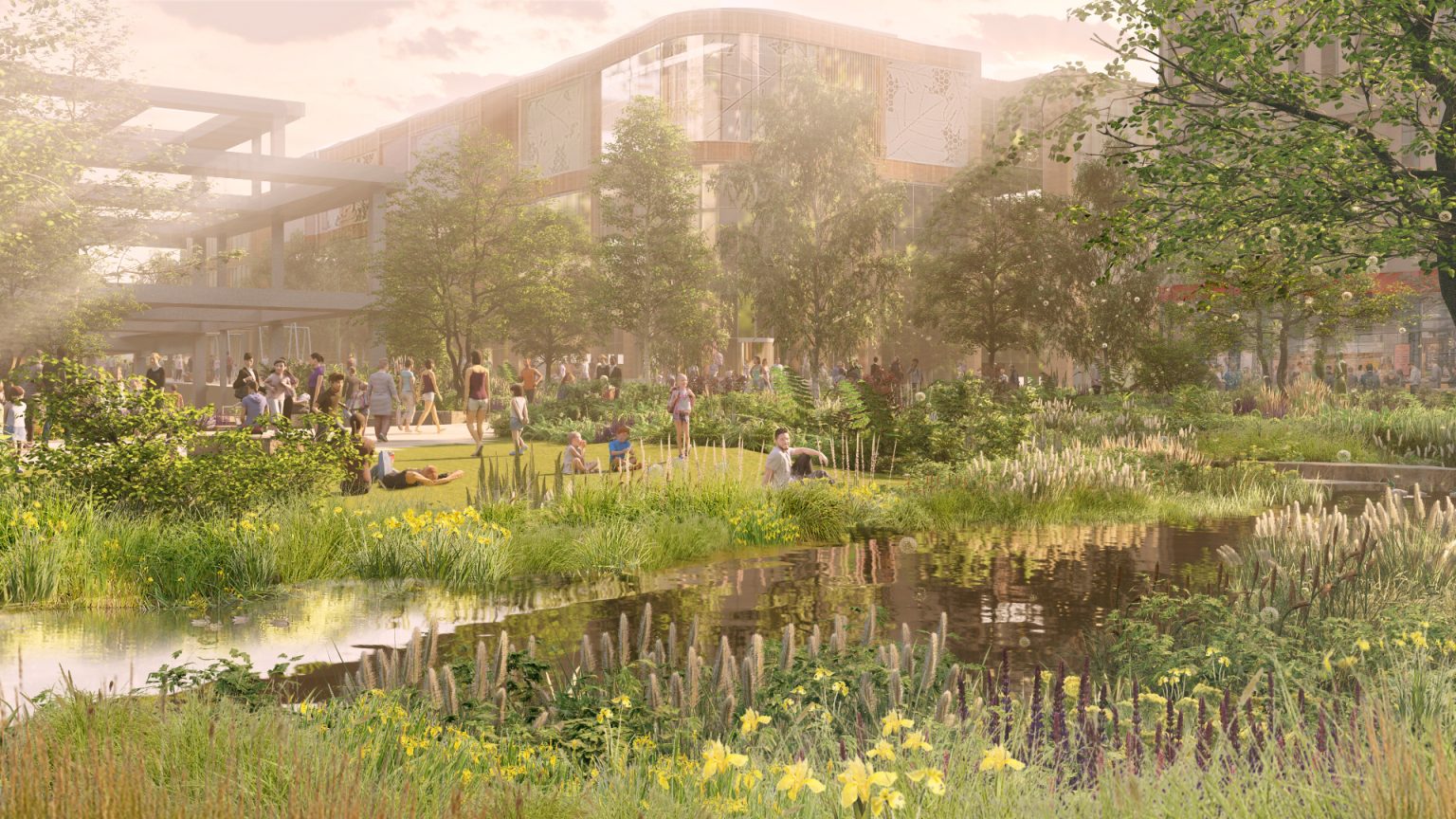 A space for the community to enjoy
The 'Green Heart' will provide a new public realm space, with nature and biodiversity being central to the transformation.
The natural haven will provide a range of areas for people to enjoy; whether its adults looking to find a quiet moment in the city centre, or children who want to explore and play in the area.
The history of Nottingham is also being captured in some of the features, with the paving and seating areas being carved from sandstone to mimic the feel of Nottingham's famous caves.
Driving connectivity in the city centre
Nottingham city centre is a hive of regeneration at the moment. Green Heart will sit in the heart of the city, playing an important role in driving connectivity between areas.
This new public realm space will open up thoroughfares that have been closed to the public, helping to drive connectivity, including connections to Nottingham Castle and the Island Quarter regeneration site.
Biodiversity and sustainability
Returning the area to its natural routes will have huge biodiversity benefits for the area. With ecologically rich planting and the reintroduction of the famous 'marsh', there will be a range of diverse natural spaces to provide habitats and food for wildlife.
Introducing this natural haven into an urban area will also bring additional benefits. Built-up urban areas often experience microclimates caused by the heat island effect. Having green areas such as this in close proximity can help to minimise this impact.
Finally, by reintroducing the marsh, there are wider environmental net gain benefits to be experienced. With our climate becoming more and more unpredictable, the urban wetlands could help to prevent flooding by capturing and holding rainwater.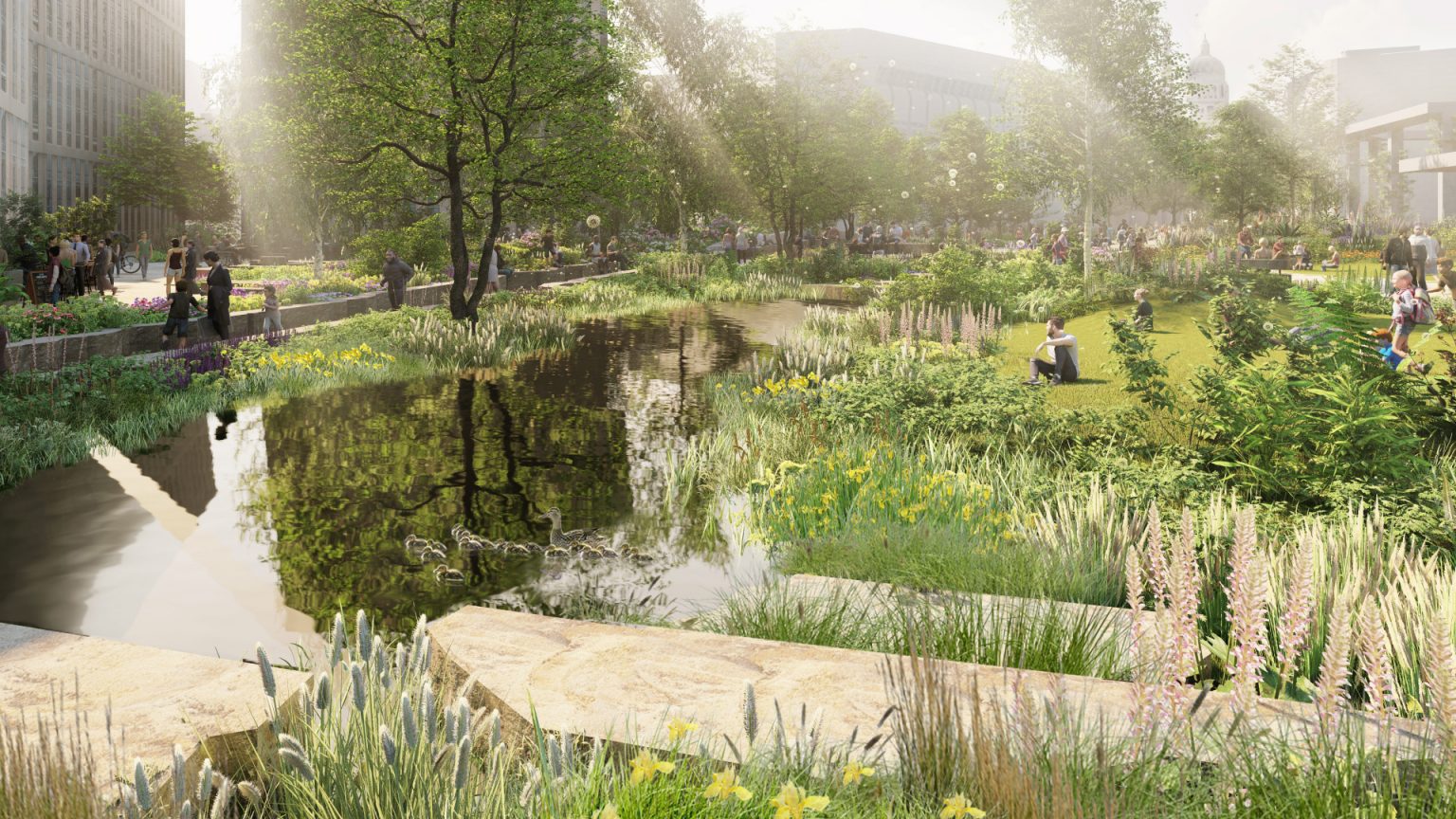 Nick Heath, director at Willmott Dixon, said:
"Nottingham's Broadmarsh Green Heart vision is a regeneration project with valuable green space at its core. Green space is important for the beating heart of all urban environments, and brings major benefits too, according to the World Economic Forum's 'BiodiverCities by 2030' report which looked at the importance of changing the relationship between nature and our towns and cities. Public realm space like this is also one of the key ingredients of Willmott Dixon's blueprint for urban growth
"Having been responsible for the original shopping centre demolition in 2021-2022 and sharing insight on this complicated, historic site with interested parties throughout the process, we're excited to be maintaining a role in the transformation and using our skills to deliver the next phase.
"As a local business with a strong Nottingham presence, we're looking forward to seeing an important area of the city re-emerge and provide benefits for people that live and work here – creating a new legacy to be proud of."
Leader of Nottingham City Council, Cllr David Mellen, said:
"More green space was by far the most popular response when we asked people what they would like to see happen around Broadmarsh as part of the huge Big Conversation engagement exercise the council ran a couple of years ago.
"Anyone who has visited the area recently will see how much it has changed with lots of greenery, pedestrianised areas and seating. The creation of the Green Heart will take the transformation of Broadmarsh a major step further and be a beautiful addition to the city centre which is unique to Nottingham. I'm particularly pleased that Collin Street will be a family-friendly space that people can enjoy right outside the new Central Library."
Mark Robinson, Group Chief Executive at SCAPE, said:
"It is fantastic to be supporting the next phase of this iconic regeneration scheme, with a nature-first design that will encourage rewilding and improve biodiversity.
"With a laser focus on sustainability, the Green Heart will create a vibrant, unique space that reflects the changing needs of society for urban, city centre locations. Providing accessible green space is not only essential for supporting the health and wellbeing of Nottingham's residents and visitors but it also plays a key role in helping Nottingham City Council achieve their target of becoming net zero by 2028."
PROJECT HIGHLIGHTS
Creating green, ecologically rich areas and diverse natural spaces for the local community to enjoy.
PROJECT DETAILS
CONTACT US
Ground Floor, Lock House, Castle Meadow Road, Nottingham
NG2 1AG
Tel: 0115 977 1322
Fax: 0115 979 7886