A new state-of-the-art sixth form centre in Northamptonshire.
---
HIGHLIGHTS
New state-of-the-art sixth form block in Northamptonshire – an extension to the original academy we built in 2012.
Compromising of three floors, including classrooms, a dining and common room, study spaces, library, café, lecture theatre and a full-height light-filled atrium.
200 sixth form places created.
The Construction Leadership Council's Site Operating Procedures were successfully embedding to allow for safe working practices during the pandemic.
---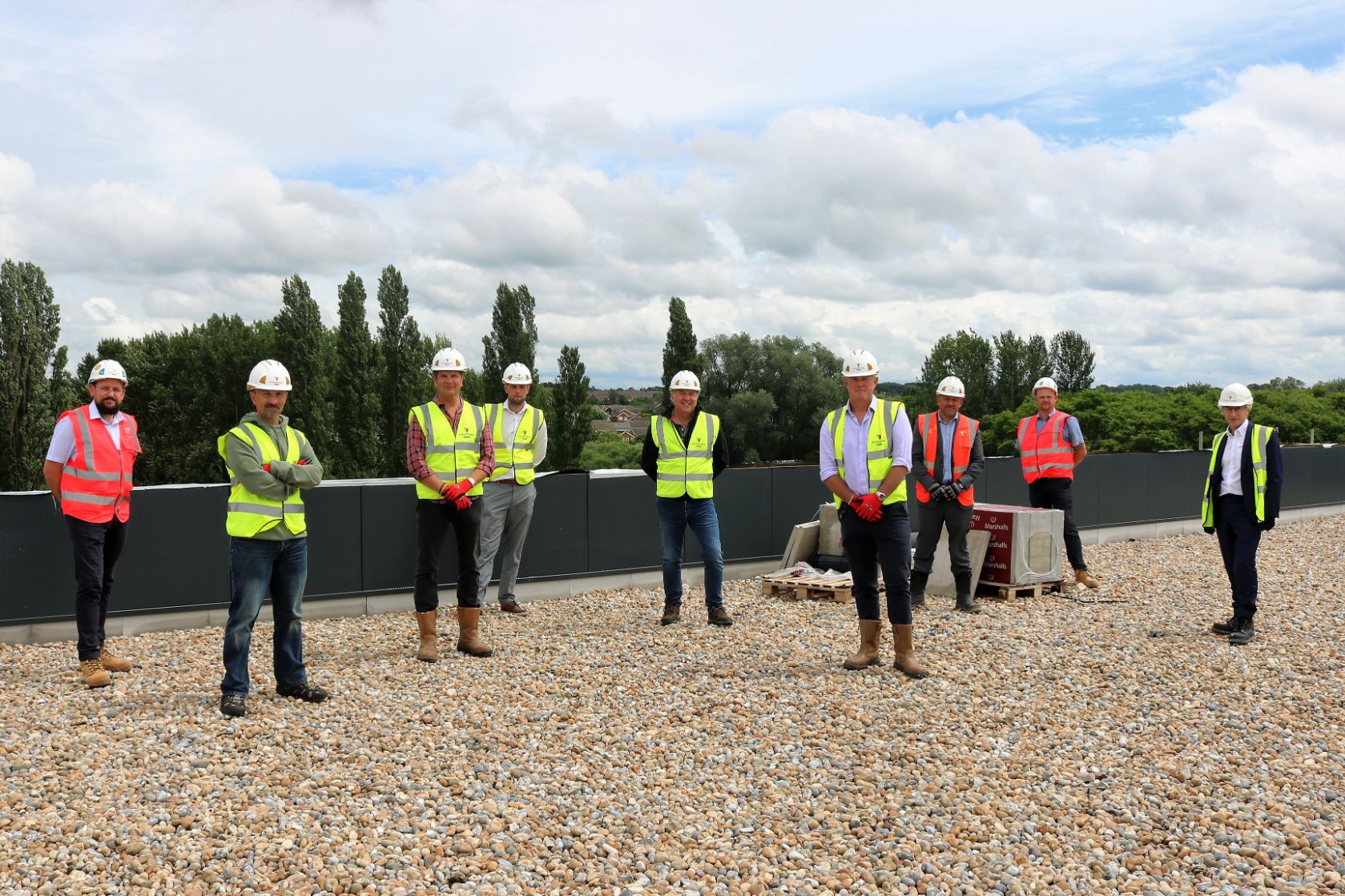 Our team in Northamptonshire have created a brand new, state-of-the-art sixth form block for Kettering Science Academy – building on the success of the main academy that we built in 2012.
Procured via the Scape Major Works Framework, the new block was designed to both enhance Kettering Science Academy's offering and support the growing need for school places post 16-provision in the county and beyond.
Designed by Pick Everard, the new three-storey facility consists of classrooms, open study spaces, dining and common room areas, a café, library and lecture theatre. It was modelled purposefully in the style of a university campus to prepare students for moving on after they complete their studies.
As a project successfully delivered during the Covid-19 pandemic, enhanced safe working practices and social distancing measures were put into place to ensure safe, seamless working on site.
Dr Andrew Campbell, Brooke Weston Trust Chief Executive, said:
"This is something of a miracle really and Allun O'Brien (Senior Build Manager) is very modest about the work that the team did, whether that is the county council support that enabled us to do the project or all the things that the team at Willmott Dixon did to make things happen.
"I do genuinely think that this is a triumph of teamwork at a time when lots of things were coming to a halt. We kept the project going when there were national shortages and the fact that we didn't falter is an indication of the thought and commitment everyone put in.
"What Willmott Dixon and everyone behind the project delivered, means really that the sky is now the limit. We couldn't have done any of this without your help and this building means that we can deliver the fantastic education and facilities that our sixth formers deserve."
Michelle Cotterill, Willmott Dixon Operations Director, said:
"The collaborative effort that our team, including partners and the customer, have put into keeping this project going throughout the pandemic has really demonstrated just what can be achieved.
"Although the handover was unavoidably delayed due to the result of the Covid-19 pandemic, we agreed with our customer that the quality of delivery was of more importance. We're thrilled that the students of Kettering have the high quality, inspiring learning environment that they deserve. I am very proud of the team that have made that happen and I look forward to us all working together again in the future."
Tony Segalini, Kettering Science Academy Principal, said:
"This state-of-the-art block is the jewel in the crown of our building and demonstrates the Trust and the Academy's joint commitment to provide the very best life chances and education for our students. This is also a huge asset for the community as a whole as it offers unparalleled post-16 education for our students who wish to join our modern and thriving facility."
Rachael Davies, Head of Sixth Form, said:
"The students have been incredibly impressed by the quality and style of their new learning environment. It is a truly inspirational place to work and study and gives the sixth form an independent identity whilst still being part of the school."
Petra Horvath, Year 13 Student, said:
"I love it, it is so modern, and it is just going to feel great to do work in here."
Connor Perks, Year 13 Student, said:
"It has a completely different vibe in here to the rest of the building and it has almost left me speechless!"