Silverwood NetZero SEND School
Creating a NetZero carbon school for 350 pupils with SEND requirements.
Our team of education experts are working with Wiltshire Council to deliver a NetZero carbon school at Silverwood School, which will create 350 SEND school places for early years, primary, secondary and post-16.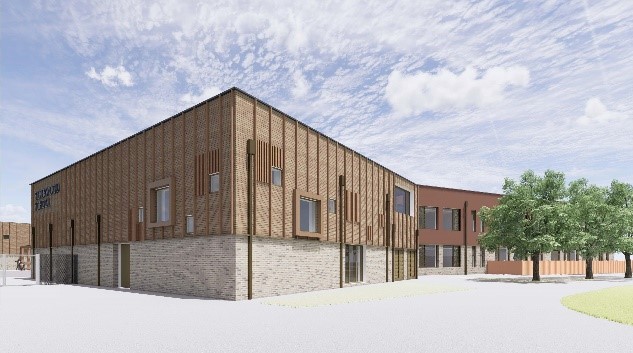 Being delivered using the SCF framework, the project will create a 'school within a school', with a community of small teaching clusters that will provide a range of specialist teaching spaces, therapeutic support, and quiet dining. Each cluster will be designed to offer plenty of space to move around while maximising natural daylighting and ventilation to create an airy feel.
Also planned is a hydrotherapy pool, a new all-weather sport pitch, new playing fields, landscaping, and ecological enhancements resulting in a biodiversity net gain of 14%.
To achieve net zero carbon in operation, the buildings will utilise biomass boilers and incorporate a large array of photovoltaic (PV) solar panels that harness renewable energy. The school will also use Willmott Dixon's EnergySynergyTM service, which models energy performance target data against actual 'in-use' performance for three years, ensuring energy use targets set out at design stage are met when operational.
The project will also deliver extensive ecological enhancements, including improved natural grassland to increase the foraging resource for bats and other species, while hedgerows will be increased by more than 200% as part of an overall biodiversity net gain of 14%.
Breaking ground in April 2022
Speaking after planning approval, Cllr Jane Davies Cabinet Member for SEND said:
"This is an important milestone in ensuring we have enough places to create a first class education for our SEND pupils. I'm delighted we can now start this important work. Our carefully thought out plans show how we will be mindful of the environment and rich nature on the site and feedback from our school community and wider communities.
"We will continue to keep everyone involved as we embark on this important work and I look forward to seeing this exciting project evolve."
Sean McKeown, Headteacher at Silverwood School said:
"This is great news for all pupils at Silverwood School – both those attending now and in the future. Our school community across all three campuses have been involved in shaping these plans and we all look forward to seeing plans on paper become excellent facilities which will make a real difference to all our pupils and help meet a real need for additional spaces for the future."
PROJECT HIGHLIGHTS
350 SEND school places for early years, primary, secondary and post-16
Leaving a biodiversity net gain of 14%
Maximising natural daylighting and ventilation to create an airy feel
Creating a 'school within a school'
PROJECT DETAILS
CONTACT US
25 Templer Avenue, Farnborough Business Park, Farnborough, Hampshire
GU14 6FE
Tel: 01252379380