Transforming offices for the Royal Borough of Windsor and Maidenhead
---
HIGHLIGHTS
Refurbished to CAT A specification
Green roof with photovoltaics to increase energy efficiency
---
Our team of refurbishment experts have transformed the Royal Borough of Windsor and Maidenhead's main office called York House. The existing building was a 60s built and very dated council office building. The existing façade was the be removed, an additional structure added and a new façade installed.
We were approached at an early stage in the project to provide consultancy services for the design of the project including:
Structural framings system to support façade finishes
Curtain walling
Windows
Revolving entrance door
Brick slips
Aluminium rainscreen
Stone entrance pod
Aluminium and stone copings
Insulated render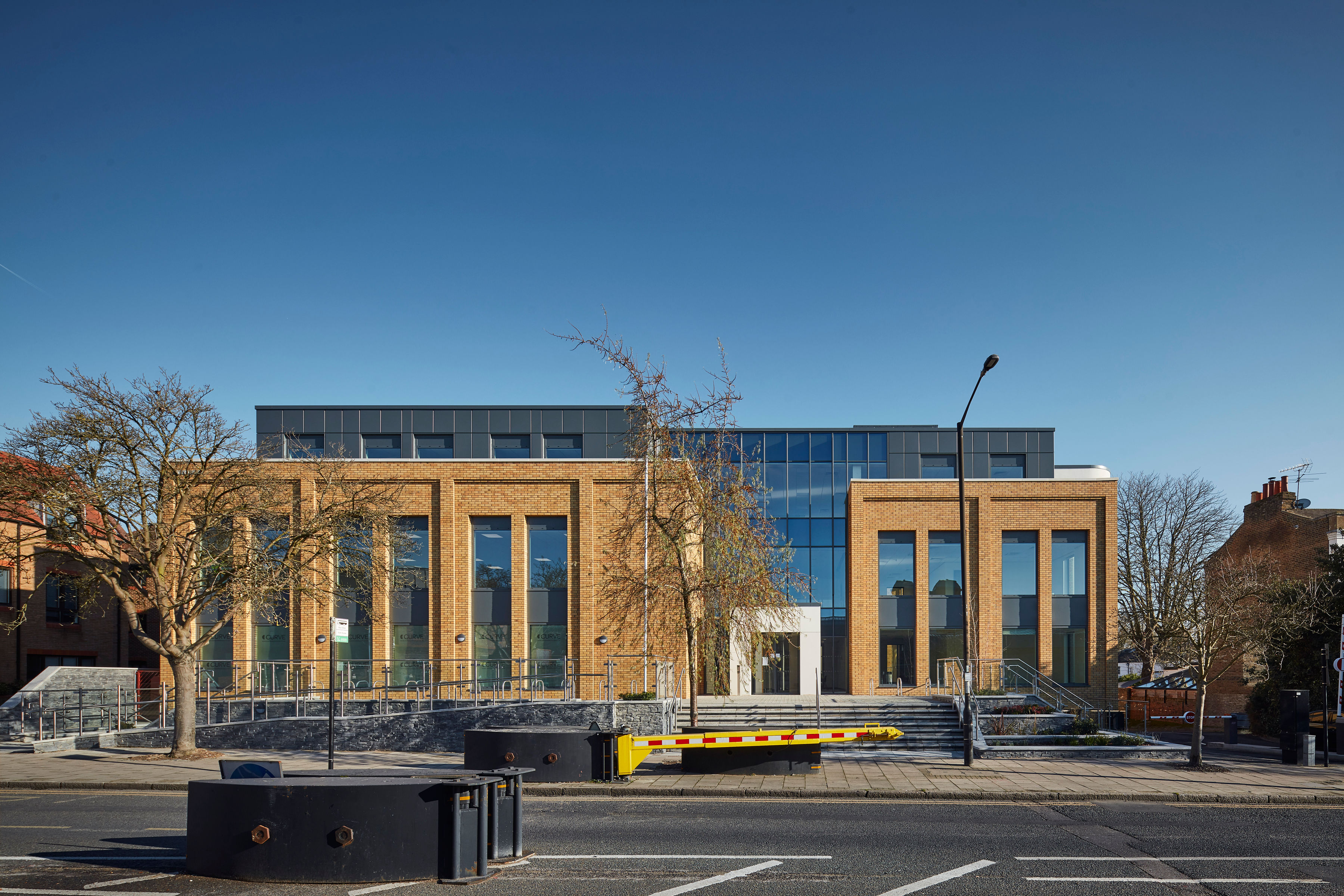 Following the tragic event at Grenfell Tower, the building owner was keen to ensure that the specification of the façade was correct. While the existing specifications were in line with the current building control legislation for a low-rise building, the client decided that no combustible insulation was to be used in the façade build up. To facilitate this change the façade was redesigned to accommodate the following changes:
Non-combustible rock wool insulation in place of the PIR Insulation
Change of brick slips system from a system that involved bricks set out in a PIR to a brick supported by a metal horizontal rail
All spandrel panels within the glazing has a rockwool core
Non-combustible rockwool insulation behind render systems
The success of our engagement was arguably demonstrated in the speed at which we progressed to site. A challenging 'cut and carve' project meant risk was inherent, but with the customer's desire to start works in six weeks, we immediately engaged specialist consultants and supply chain members, progressing a sequential release stage 3 design. This allowed us to commence almost six months quicker than a traditional approach.
The initial advice was to demolish and rebuild, but with exceptional planning issues and challenging neighbours we, along with our consultants, demonstrated exceptional levels of creativity as we maintained the majority of the frame and underground car park. Project management and understanding where the risk was ultimately drove the scheme to a place of success. At all times we had to be clear with our understanding of the project and areas that remained significantly unknown, this was particularly the case around the structure and the lack of as-built drawings. A difficult environment for all parties at times, the customer's desire to move fast yet deliver quality was always the top priority, and collaboration ensured this was the case.
Co-locating on site (prior to the demolition) was a useful way to overcome this, as we could move through the building together, discussing and quantifying risks in a far more tactile way than being behind a desk. The result was a transformation of the existing building, a redressing of the street geometry and the remodelling of the public realm, presenting a more inviting and appropriate setting with greater visibility for others.