Contractors join forces to help university students prepare for the world of work
Willmott Dixon's Bingham Arena team showing the students around site
Willmott Dixon and Morgan Sindall Construction have joined forces as part of their commitment with SCAPE, one of the UK's leading public procurement authorities, and Procure Partnerships to offer final-year university students invaluable support through a mentor programme that helps prepare them for the world of work.
Through the STEER programme, undergraduates at Nottingham Trent University visited two live sites in Bingham, Nottingham, to gain a greater understanding of the construction process and the diverse career opportunities available outside of the classroom.
Bingham Primary School, procured through SCAPE Construction – a direct award framework designed to drive collaboration, efficiency time and cost savings, is being built by Morgan Sindall Construction and designed and project managed by Arc Partnership, a joint venture between Nottinghamshire County Council and SCAPE, while Bingham Arena and Enterprise Centre is being constructed by Willmott Dixon for Rushcliffe Borough Council through the Procure Partnerships framework.
STEER Support & Mentoring CIC was founded in 2016 due to a lack of support in the built environment for undergraduates transitioning from education to industry. The programme seeks to ensure final-year students from all backgrounds are confident, connected, and feel part of the sector's community so they can forge fulfilling careers and contribute to a sustainable future.
The students are matched with professional mentors who have similar interests and through one-to-one sessions, mentees can discuss their CVs, potential jobs, networking opportunities and work experience. Crucially, mentors are selected from underrepresented groups in the industry, such as women, minority ethnic people, those with disabilities and the LGBT+ community.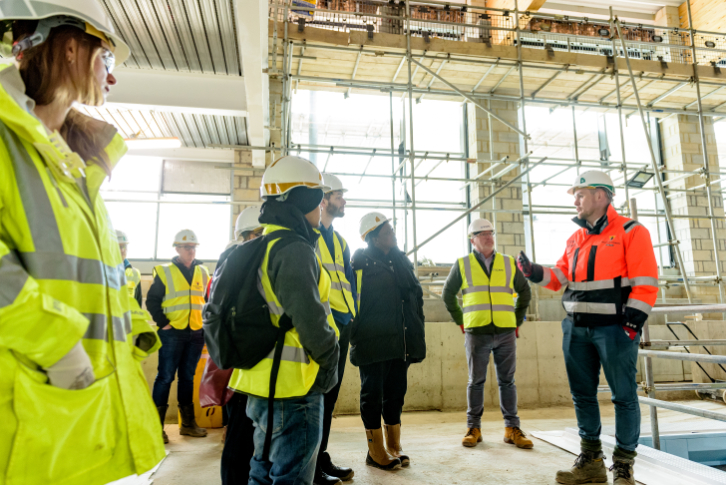 Josie Rothera, one of the directors at STEER and a chartered civil engineer, said:
"Leaving university and entering the world of work is a huge change. With the built environment offering a diverse range of careers, approaching graduation can be a daunting time when you don't know what you want to do.
"STEER seeks to improve students' understanding of the industry and give them a better idea of what they want to do based on their interests. Coming from under-represented groups, our mentors are able to offer relatable advice based on their personal experience, but ultimately it's the students who take the initiative and self-responsibility to act on this and open doors for themselves."
Nick Heath, director, from Willmott Dixon, said:
"Experiences like this no doubt leave a lasting impression on those involved and serve to break down the barriers that might prevent a young person from considering a career in construction. Of particular interest at Bingham Arena and Enterprise Centre was its sustainability credentials – this really captured the imagination of pupils, who are undoubtedly already very enthusiastic about this in their studies. We were delighted to come together with Morgan Sindall Construction on this programme to really showcase the sheer variety of opportunities available in the sector and enrich their education."
Richard Fielding, area director at Morgan Sindall Construction, said:
"Programmes such as STEER are incredibly important to the built environment and we are excited to continue our work with the programme as its values align closely with ours as we inspire and nurture the next generation of talent. Site visits offer an experience which cannot be gained in a lecture theatre, and we are always eager to encourage students to seek as much experience and understanding as they can."
Dan Maher, Managing Director at Arc Partnership, said:
"Continuing to inspire and educate the next generation of talent in construction is vital if we are to address the skills gap and ensure the industry is fit for the future. The STEER programme is a great opportunity for students to see first-hand how transformative infrastructure with a clear focus on social value can enhance local communities."