Hackbridge Primary School, in the London Borough of Sutton, was named winner in the non-domestic category at yesterday's UK Passivhaus Awards 2023.
Designed by specialist architects, Architype, for customer Sutton Council, the zero-carbon school is highly efficient, generates its own renewable energy, and provides a beautifully comfortable space to nurture inquisitive minds.
By seamlessly integrating Passivhaus principles of airtightness and insulation with additional renewable technologies, the school surpasses the RIBA's 2030 operational energy targets, generating more energy than the building consumes throughout the year.
Described as a 'modernist version of a log cabin', Hackbridge is constructed from a lightweight timber frame and filled with Warmcel recycled newspaper blown insulation. As a result, Hackbridge exceeds the LETI's 2020 embodied carbon targets, with the building using half the embodied carbon of a typical 'business as usual' building.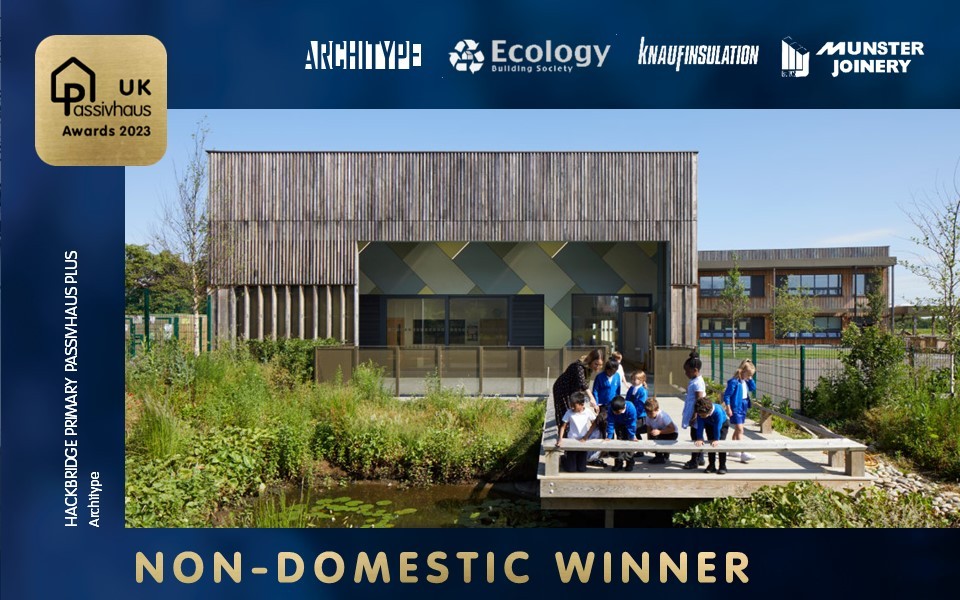 Notably, the timber structure supports a green roof, made up of a variety of plants including sedum, ferns and wildflowers, provides a natural canvas for the building's solar PV panels.
To ensure optimum performance, Willmott Dixon has monitored the building since handover in October 2019 using our Energy Synergy™ approach to ensure energy use is optimised and carbon emissions are further reduced. As a result, energy use has decreased by an impressive 10,000kWh/annum from its peak use, while energy generation has increased by 40,000kWh/annum from its lowest yield.
Doug Drewniak, Senior Building Performance Manager at Willmott Dixon, said: "Hackbridge Primary School has been built to offer best in class energy efficiency and be fit for a changing climate, providing a comfortable temperature at all times of the year. Our ongoing monitoring and analysis of the school's in-use energy performance is helping drive down the school's day-to-day operating costs.
"I'm really proud of Willmott Dixon's part in creating one of greenest, most efficient schools in the world, working in harmony with its natural surroundings creating an inspiring and healthy environment for children."
Adam Whiteley, Senior Project Manager, London Borough of Sutton, said: "This is a building that had to be an exemplar for zero carbon and sustainability. The project team rose to the challenge. The result is a beautiful school that celebrates our natural world and inspires children in their learning every day." The UK Passivhaus Awards are hosted by the UK Passivhaus Trust and recognise buildings that meet the highest standards of energy efficiency, comfort, and sustainability. Willmott Dixon is a Patron member of the UK Passivhaus Trust, with Doug Drewniak a member of the Educational Steering Group.