Building Lives Through Tech
Head of IT project services, Vicky Trowell, tells us how Willmott Dixon is supporting local communities by combining social value and technology…
In these current times, it has never been more important for businesses to step up and support their local communities in any way they can. For Willmott Dixon this is embedded in our DNA with social value a day to day part of our purpose beyond profit ethos.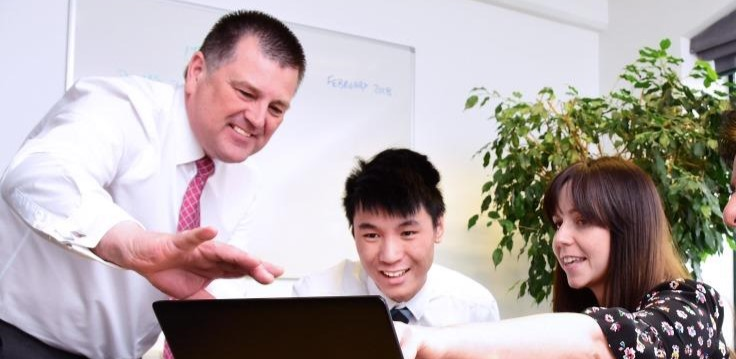 Helping people when they need it most
Delivering social value, on the scale we are used to, has certainly been a challenge throughout the pandemic, with face to face events not an option, we have had to think of different ways to support people when they need it most.
Working in Willmott Dixon's IT team, I've been thinking for a while about how we could help from a digital perspective – we're all relying on technology even more now in order to work and learn and not everyone has access to the right tools to do this.
The idea for Building Lives Through Tech, actually came about before the pandemic, from speaking with a couple of colleagues in the business while we were on a leadership course. We discussed how we could make a difference to our communities by combining skills from all areas of the business and combining this with technology. Surely by working with schools and through social enterprises we could help address the wider digital poverty issue?
More than just donating laptops
It was through these discussions that Building Lives Through Tech was born – the idea being to get a unified approach across our entire business of donating recycled IT equipment to under-privileged groups via schools, social enterprises, community interest companies, charities or other organisations. The focus was initially on donating laptops, as we know so many people are struggling to learn remotely, apply for jobs and the many other activities that are all reliant on being able to get online. But the aim is actually much wider than that; it's a whole programme to help social enterprises and community groups to develop and directly impact those they support. This includes working with groups on grant applications, account management, careers support and any other expertise we can provide to help them to help others.
This approach feeds in perfectly to our Building Lives pillar of our Now or Never strategy; supporting people and businesses in our communities to thrive.
Building on a legacy
We have actually been donating IT equipment to schools for quite a while in many different forms and although this has been very successful the power is really in working together across the business to make the biggest impact we can.
The pilot for Building Lives Through Tech took place early last year with the Midlands-based social enterprise Helping Kids Achieve. We donated 30 laptops so the young people involved could take part in online courses and then supported them with careers advise and coaching. The social enterprise has since been loaning out the laptops during the pandemic to kids with no access to a computer, allowing them to keep up with school and homework.
The feedback has been fantastic to hear and it's an initiative that is at its heart so simple yet can have a huge impact for people. It has now been agreed that all recycled Willmott Dixon laptops will be donated through our scheme which has the potential to provide 400 laptops a year to disadvantaged communities.
We have donated over 50 laptops already with another 100 laptops ready to be donated and many more on the way!