Making my mark!
Megan Kennedy recently won the Willmott Dixon Foundation Challenge by leading a team that made a difference to the lives of many disadvantaged people. Here she talks about her incredible experience…
I have to admit, at my all-girls school, construction wasn't promoted nearly as much as other careers.
Yet four years ago I decided to choose this industry to forge a career and what an experience it's been so far.
I've learnt so much working in the new business team at Willmott Dixon and winning the Foundation challenge at the end of last year was one of the best moments of my life.
I'd always been passionate about helping people less fortunate than me and after being given a leadership role on the Foundation Trainee Challenge, I wanted to seize this opportunity to make an impact!
So what was the challenge?
The Willmott Dixon Foundation Challenge is an annual event where trainees across the company lead teams on projects that create a lasting legacy in their communities. The bar is set high; we have to prove that people's lives have been positively changed through our work.
I was chosen to lead my local office's biggest trainee challenge yet, made up of three parts:
Building Me Better

, a skills course for women wanting a kick start to their career

Refurbishing five children's homes in Hertfordshire
Deliver a seminar for the care workers in the children's homes
I had to plan everything and work out the required budget; I really wanted to raise all of the money needed to undertake this challenge and to do this I needed to fundraise…so what better way to encourage people to donate than to jump out of a plane!
I raised over £6,000 with help from our Supply Chain Partners, friends and family and generous companies on social media so we were ready for the challenge to begin…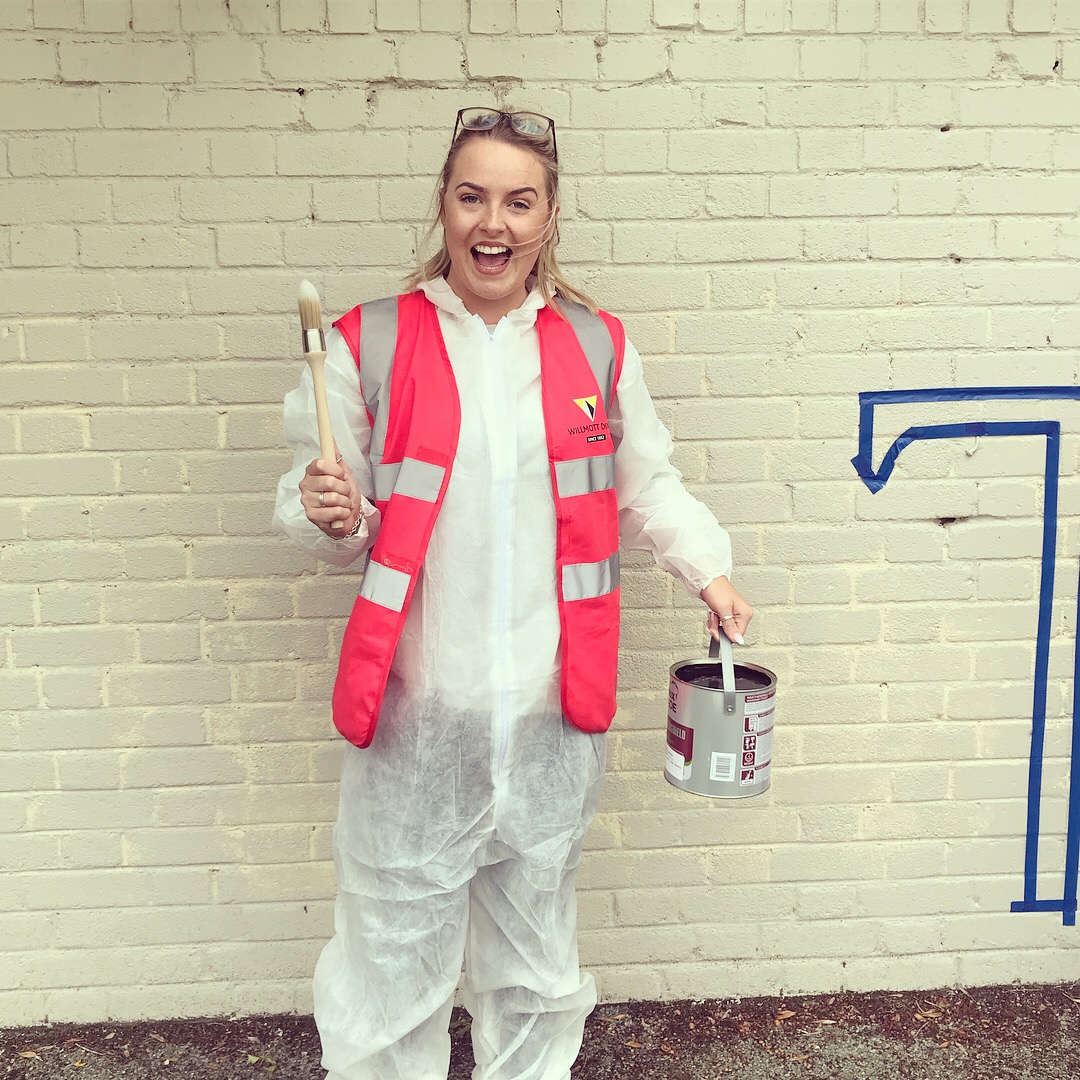 Above: Megan and the team refurbished 5 children's homes
A life changing experience
This was our most aspirational challenge yet and to be honest I wasn't prepared for the effect it would have on me; it has made me a stronger and more rounded individual.
It was challenging throughout, both professionally and personally.
The most important thing I learned was preparation. We have all heard the expression 'poor planning equals poor performance' but nothing made me realise this more than the trainee challenge.
I truly understood the benefits and saw the results from effective planning and I was lucky to have a talented team of trainees behind me, without whom this challenge would not have been the success it was.
I am a better person because of this – a better leader with stronger relationships with the people in my team and our supply chain partners. I have also learnt how to be organised, which anyone who knows me will know is the complete opposite of when I started out as a trainee!
Our Foundation challenge gives you an experience like no other, project management skills, relationship building, bargaining tools and importantly a different perspective on life. The young people in Hertfordshire Children's Homes opened my eyes to another world.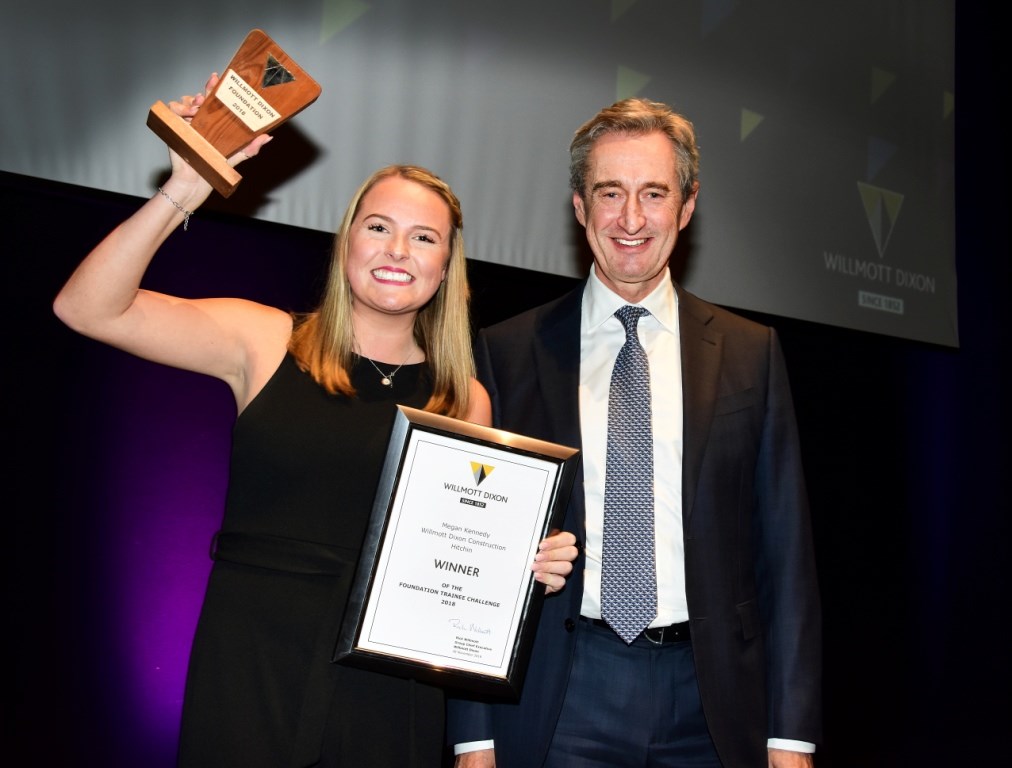 Above: Megan accepts her award from Rick Willmott
Making a difference
Through all of the tough days and early starts, nothing made it more worthwhile than watching the young people from the children's home run around in their new space we created with huge smiles on their faces.
The fact that we really made a difference means so much; the women we held the course for are all in jobs now, with skills they may never have had without the help from Willmott Dixon and the seminar for the carers in the children's homes has helped them to see new future paths for the young people, an invaluable tool which will benefit many over the upcoming years.
Social Value is a huge part of our business and our people, I would encourage anyone given this opportunity to grab it with both hands; winning the trainee challenge was by far, the proudest day of my life.