Trainee of the year!
Sophie Brooker, assistant project surveyor, talks about her journey as management trainee and being crowned 'trainee of the year'…
The construction industry can never be described at boring - each day on site is diverse and brings new challenges.
I had researched the rich career opportunities when I choose to work in construction and become a management trainee in September 2015, but that's not to say I didn't find the first few months challenging. I had little knowledge of construction processes and methods and sometimes it seemed the distance from the starting point to the end point was huge – however I really applied myself and was determined to learn as quickly as possible.
A learning experience
So how has my journey been so far?

I soon learnt that to get the most out of the trainee scheme you need to embrace it as a learning experience – so my advice is to focus on one day at a time. I was fortunate to be surrounded by supportive and encouraging people and I never felt I couldn't ask for help - questions were always encouraged.
I have found that construction is an industry where, if you show enthusiasm, you are rewarded by colleagues who want to share their knowledge and see you progress.
During my traineeship I got the opportunity to learn about social value and our commitment to leaving a legacy where we work – which was something I hadn't expected from a career in construction. My community liaison manager was fantastic; she gave me access to exciting opportunities which not only gave me additional responsibilities within challenging environments, but also gave me a real appreciation for the targets we set with our customers and the importance of social value. We make sure that all our projects give back to the local communities and this has been a really important area of inspiration for me.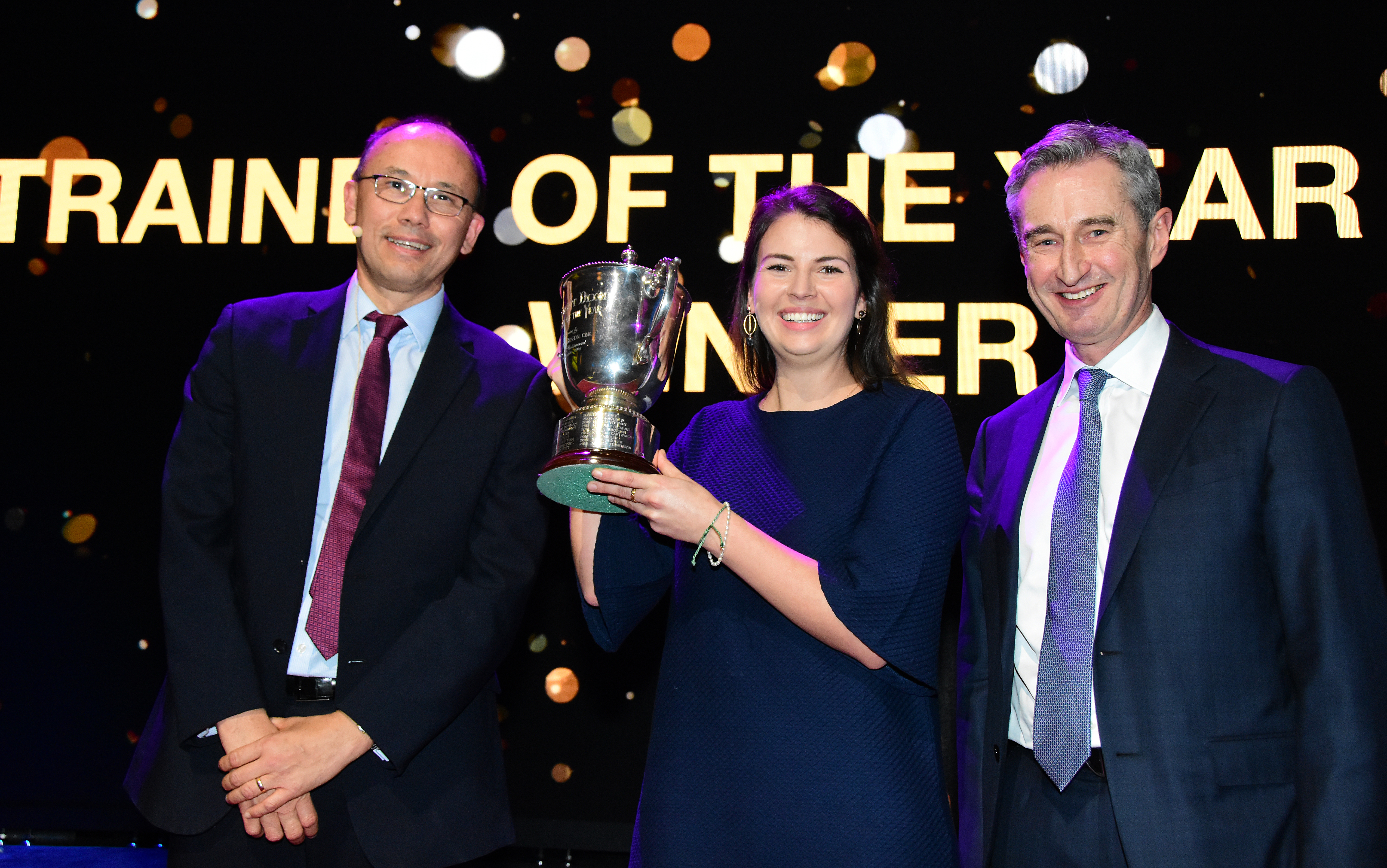 Sophie with Group Chief Executive Rick Willmott, right, and Chief People Officer Rick Lee
Getting involved
One thing that has struck me throughout the scheme has been all the chances to get involved in projects that are outside of the day to day role. Becoming a construction ambassador for example and talking to young people about the industry, as well as taking part in the annual trainee challenge, which sees selected trainees represent their region to run a social value project gaining invaluable skills along the way.
It is these opportunities that really helped me to excel within my role and have certainly fueled my passion for the construction industry!
Continued learning
I was fortunate enough to be enrolled onto my master's degree in my second year of the trainee scheme. At times, studying and working full time can be challenging, but as a trainee you are in a unique situation with a great opportunity to gain new skills. Willmott Dixon has a variety of support mechanisms in place and I found many of my colleagues had been there and were able to offer support and advice throughout.
I focused my dissertation on fair payment and the impact this can have on the supply chain. It is reassuring to work for a contractor who places such value on respect, fairness and collaboration, and is leading the way in payment performance.
Women in construction
I am often asked what it is like to be a woman in construction. Although it is still a male dominated industry at present, I am not treated any differently.
I am proud to work for a company which recognises that the gender imbalance within the industry needs addressing and consequently has taken a proactive approach.
Willmott Dixon is leading by example by setting ambitious targets and supporting projects such as Women into Construction and Construction News' Inspire Me campaign. Going to an all-girls school where construction was never suggested as a career has made me realise the importance of approaching girls at an age where they are beginning to think about their options and can consider the varied and rewarding opportunities a career in construction can offer.
Looking to the future I am excited about encouraging new people into the industry; it is one of the main challenges this industry faces, and the responsibility lies on everyone who works within this industry and is passionate about it to sell it as a career.