Ashmount Zero carbon School
The UK's first zero carbon 'in use' school
The replacement of an existing school in Islington has become one of the most significant projects ever for defining how to achieve zero carbon 'in use' property that shares energy with neighbouring facilities.
Scope
The range of work saw our team of zero carbon experts deliver:
New building to house Ashmount Primary School
Replace Bowlers Nursery
Remodel a disused sub-station to house new energy centre
Decentralised heat network for adjacent homes
Remodel and refurbish CAPE Youth Project building
Protection and enhancement of site biodiversity

Willmott Dixon MD Chris Tredget:
"The constrained nature of the site meant meeting the zero-carbon brief was a challenge, and one way we achieved it was to export energy offsite to a nearby housing estate, just one feature that made it BREEAM outstanding."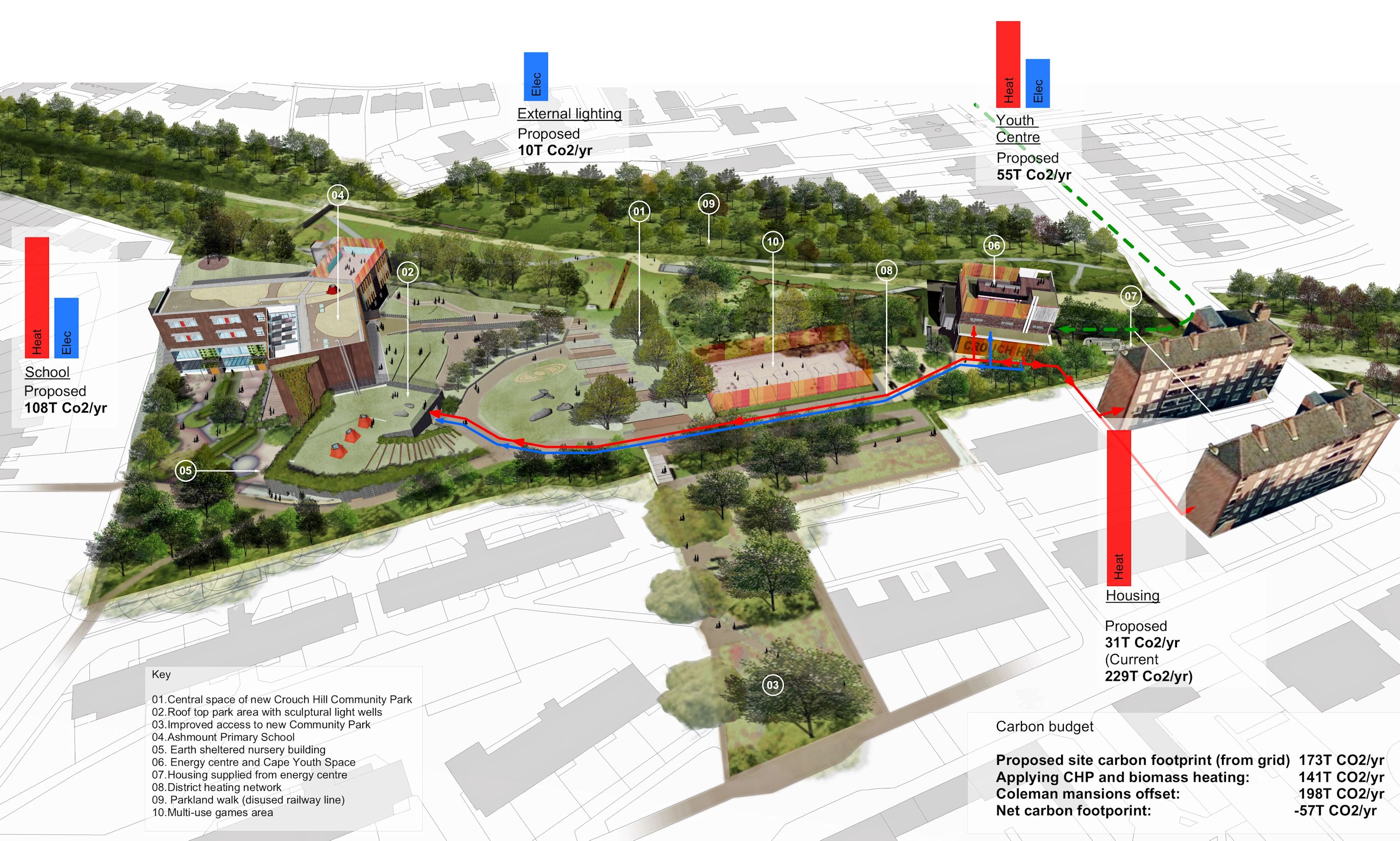 The lay-out including energy centre, school and adjacent housing
Zero carbon is use
The scheme is zero carbon thanks to combined use of Combined Heat and Power (CHP) plant and a 495kW biomass boiler, housed in the Energy Centre. Base heating provided by CHP and biomass with CHP also meeting electrical demands of the park lighting. Excess heat from CHP (70kWe, 104kWth) is delivered off site to neighbouring dwellings thus offsetting the site's own carbon footprint.

An E-Stack system uses low velocity fans to mix incoming and outgoing air in winter and a path for secure night-time cooling in the summer. Energy savings will be significant over a standard naturally-ventilated solution, savings £1,000 in costs per year.
It achieved a BREEAM Outstanding rating of 90.49%, and was won a BREEAM award for innovative approach to community energy distribution and approach to energy efficiency. It is the first school building to achieve BREEAM Outstanding.
RIBA award citation:

"This zero-carbon in-use, BREEAM Outstanding school and nursery draws inspiration from its site, with a scheme that carefully manipulates both its plan and cross-section to draw natural light inside, and constantly reveal views of the surrounding woodland. The combined heat and power plant is linked to neighbouring community housing and offsets the school's carbon footprint. This is an exemplary primary school."
Commenting on the winners, RIBA president Stephen Hodder said:
"The RIBA National Awards provide a unique insight into UK construction, investment and design trends. The UK is blighted by poor-quality new housing and dilapidated school buildings, so I am delighted that the notable trends amongst this year's RIBA National Award-winners are the volume of inspiring new housing and education projects."
PROJECT HIGHLIGHTS
UK first zero carbon in use school
Zero carbon emissions during operation
Virtually no waste during construction
Energy centre powers school and nearby housing estate
E-stack system helps save £1k a year in running costs
PROJECT DETAILS
CONTACT US
Willmott Dixon House, 80 Wilbury Way, Hitchin, Herts
SG4 0TP
Tel: 01462 442200
Fax: 01462 442204