Carr Lodge Academy, Doncaster
Doncaster's first new school in a generation; it used a Sunesis standardised design to deliver in 9 months
Doncaster Metropolitan Borough Council successfully used a Sunesis solution for its first primary school in 40 years, allowing Carr Lodge Academy to open its doors in September 2015.
The academy opted for a Sunesis Keynes model to provide 420 school places. With the demand for places proving a real challenge, the Sunesis solution was a key factor in making Carr Lodge Academy affordable and value for money for the council.
Sunesis, which provides local authorities with schools at fixed prices, has now been used to deliver over 25 schools across the country. In the case of Carr Lodge Academy, it was built in nine months, allowing Wakefield City Academy Trust to take on management of a school the council described as having 'excellent facilities and an education-focused design'.
See Carr Lodge built in two minutes!
Talking about using Sunesis, Adam Midgley, Doncaster Council:
"Procuring a Sunesis Keynes school from Willmott Dixon through Scape has been an overwhelmingly positive and painless experience. I don't believe any other option could have delivered so much for so little, in such a short time frame."
Why Sunesis?
For the council, the pre-designed solution for a fixed price gave them certainty and value in terms of cost. It was also quick; being procured through Scape, it cut 6-9 months off the procurement time-frame, allowing the school to meet the demand for places sooner by being built in less than a year from concept.
For Carr Lodge Academy, Sunesis meant the school building was ready in just nine months after work started, giving staff and pupils a bright and spacious building, thoughtfully planned with excellent facilities that have used the best design ideas from other schools.

Inside are purpose built rooms providing music, drama and dance studio; a food technology room and a spacious library brimming with books - all backed supported by the latest in ICT support. A central corridor provides excellent circulation space with lots of natural light also a key feature.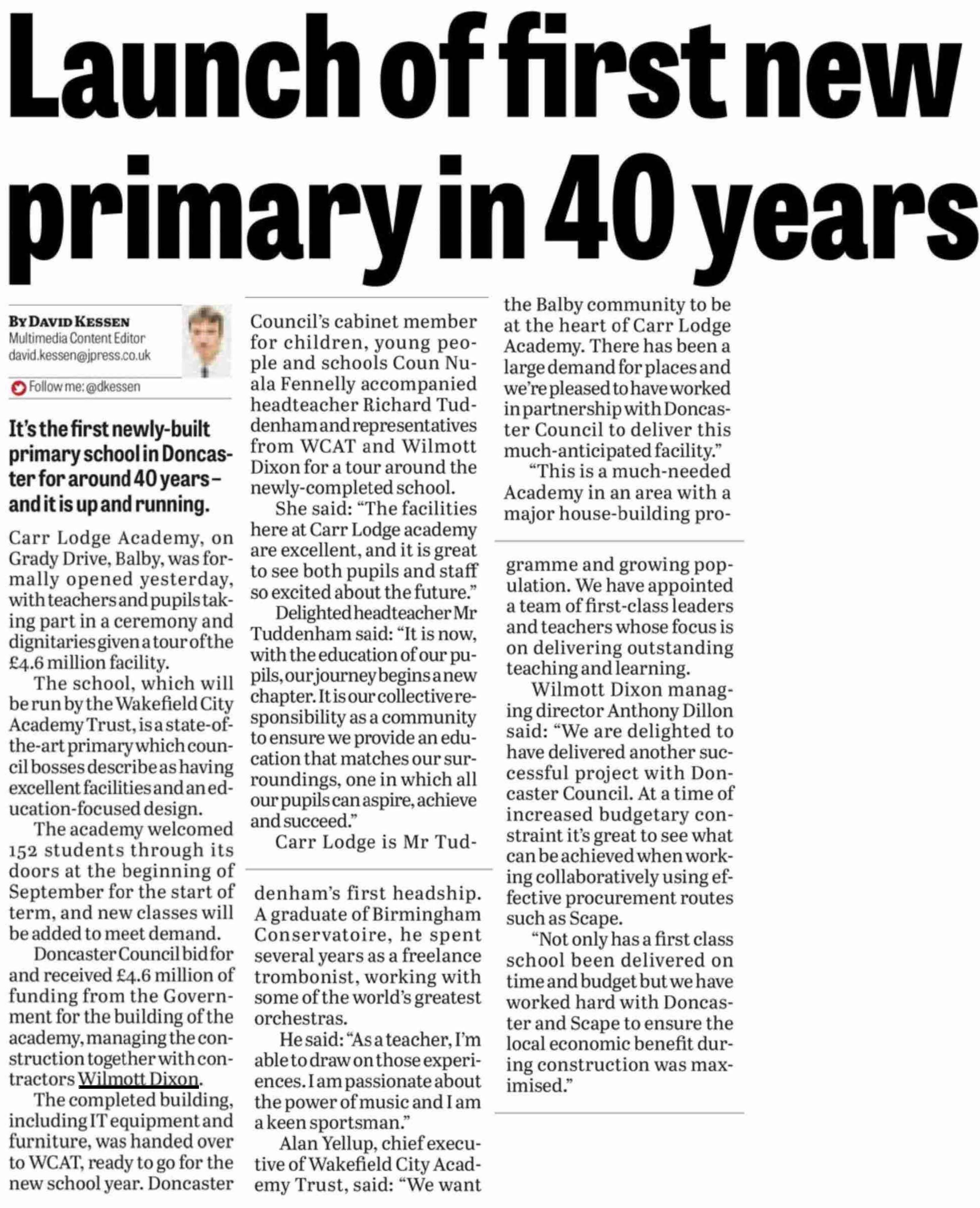 Delighted council, delighted head teacher
Doncaster Council's cabinet member for children, young people and schools Cllr Nuala Fennelly:
"The facilities here at Carr Lodge academy are excellent, and it is great to see both pupils and staff so excited about the future."
Headteacher Richard Tuddenham:
"It is now, with the education of our pupils, that our journey begins a new chapter. It is our collective responsibility as a community to ensure we provide an education that matches our surroundings; one in which all our pupils can aspire, achieve and succeed."
Alan Yellup, chief executive of Wakefield City Academy Trust:
"There has been a large demand for places and this is a much-needed Academy in an area with a growing population."
Beating the budgets cuts!

Sunesis has proved a popular way for local authorities to reduce the time and cost of building new schools. Since its launch in 2011, over 25 Sunesis schools have been commissioned by twelve local authorities to provide over 8,500 new school places, and recently, they are being used by developers, with Berkeley procuring Sunesis for its S106 commitments on a estate in Berkshire .
Want to know more? Contact Tim Carey
PROJECT HIGHLIGHTS
Doncaster's first new-built primary school in 40 years!

Using a Sunesis Keynes standardised design with set price

Accommodates 420 primary school pupils and 50 nursery children

Built in nine months

Enabled academy to be ready for first intake in September 2015
PROJECT DETAILS
CONTACT US
Willmott Dixon House, Cliffe Park, Bruntcliffe Road, Morley, Leeds, West Yorkshire
LS27 0RY
Tel: 0113 238 3283
Fax: 0113 238 0286