iMet Building
A specialist training and business development facility in Huntingdon
Our experts in science and technology have created a new facility encompassing innovation and training in advanced manufacturing in Huntingdon.
The new iMet building was built on Urban & Civic site at Alconbury Weald, the home of a former World War II RAF airfield. The area will be transformed to include 5,000 new homes and an enterprise zone with 3 million sq feet of business space.
The new iMET facility directly supports the growth ambitions of companies on the Campus and local area. Anchored by Cambridge Regional College and partnered with the LEP, Urban & Civic, Huntingdonshire District Council and Cambridgeshire County Council, iMET will play a robust part in driving manufacturing and engineering skills forward and improved productivity in industry.
iMET, a not-for-profit organisation, delivers new skills sets at the cutting edge of technological development. It works with employers to source and deliver the training they require, offering Advanced and Higher level apprenticeships, HNC/HND engineering courses, short specialist courses, digital technology training, sector leadership and management courses.
Modern space
The two-storey building brings together industrial style workshops, laboratories and collaborative work environments. The double-height workshops provide space for large-scale training and a further wing provides smaller scale delivery rooms and specialist laboratories. Between these a flexible collaboration space provides opportunities for informal group and project work as well as offering a venue for employer events.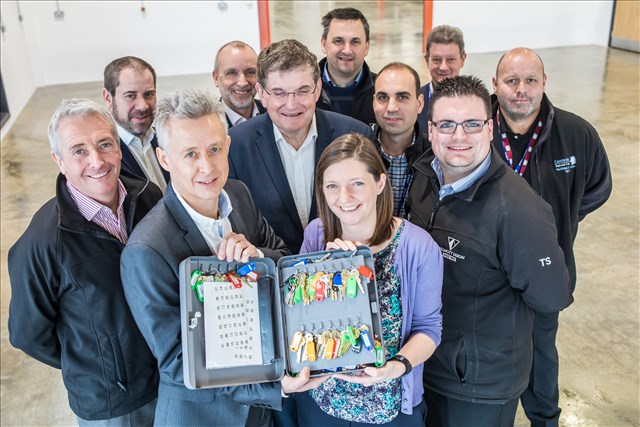 Our team at the completion event
Arriving at the main entrance, visitors enter into the double height 'heartspace'. This space is the flexible heart to the new facility. To one are large flexible workshops and on the opposite side of the heartspace are a series of more traditional smaller scale teaching and support spaces, including a testing/research laboratory, offices and teaching. A feature staircase in the heartspace leads up to the first floor. Overlooking the main approach is a teaching space and alongside this is a suite of large rooms overlooking both the workshop and heartspace. On the opposite side of the heartspace, a range of teaching and seminar rooms will offer more traditional teaching and meeting spaces.
The building includes:
flexible double height workshop spaces for hands on engineering skills training
virtual Reality Suites offering access to the latest technology and software to allow training on
processes
a science/testing laboratory including a radiation protection laboratory
IT rich design and modelling suites
general flexible training/seminar rooms for theory and traditional delivery
large informal group work/break out area that can also double up for larger corporate events, exhibitions etc.
tutorial rooms for one to one/small group support
preparation rooms to support the specialist laboratories
office and admin support and associated storage areas
Chris Tredget, managing director of Willmott Dixon in the Northern Home Counties said,
"We are extremely proud to have helped create the iMET Building, it is great to think it will have a lasting impact on the success of businesses in the surrounding area for years to come."
PROJECT HIGHLIGHTS
BREEAM 'Very Good'
Case study for BIM use
Supports growth of local businesses
PROJECT DETAILS
CONTACT US
Willmott Dixon House, 80 Wilbury Way, Hitchin, Herts
SG4 0TP
Tel: 01462 442200
Fax: 01462 442204