Stevenage Bus Interchange
New transport facilities in the heart of Stevenage
With Stevenage Borough Council, our new transport interchange is a key part of the town's growth.
It involved upgrading the existing bus station with a modern new facility that will speed up connections and provide seamless access to the nearby train station.
The new interchange includes an extensive canopy with a large glazed screen and automatic doors for easy passenger access. Passenger experience is a key focus, with modern facilities such as a climate controlled waiting area with seating, live passenger information boards, a fully accessible toilet and changing facilities, in addition to unisex toilets with baby changing facilities.
External works will include pathways to link the bus interchange, town square and the train station which will ensure a clear connection between the existing cycle network and the bus and rail networks and provide integrated links between Stevenage's main transport hubs.
This is part of a 20-year, £1bn regeneration programme currently underway in Stevenage.
Award winning
Designed by Stephen George + Partners, the Interchange was recently awarded 'Project of the Year' at the Hertfordshire & Bedfordshire Constructing Excellence Club Awards 2022.
Visitors to Stevenage will see an improved public environment with new granite planters, paving and additional seating areas, improving the walkway from the town centre to the Bus Interchange. This includes seating and newly landscaped areas with planted trees and wildflower meadow areas with bulbs to add colour, but also performing a vital role as part of a sustainable drainage strategy.
Cllr Sharon Taylor OBE, Leader of Stevenage Borough Council and Portfolio Holder for Regeneration, said:
"This is a really exciting development for Stevenage, offering our communities and visitors an improved bus experience right in the centre of the town. The opening of the award-winning Interchange brings with it modern facilities, an improved public realm and increased accessibility between our main transport hubs. Furthermore, this marks a pivotal moment in our wider regeneration programme, as we look ahead to a proposed new development at the soon to be vacant bus station site on Danestrete."
Adam Wood, Head of Infrastructure & Regeneration and Herts IQ Programme Manager at Hertfordshire LEP, said:
"We see this as a game-changer for Stevenage. The Bus Interchange marks the next major step in the reinvigoration of the town centre and demonstrates the importance of carefully targeted public investment to secure major private sector regeneration schemes. We very much welcome the improved connectivity that this new transport Interchange will bring to Stevenage, both for those already travelling around the town and to encourage more people to come for work and leisure."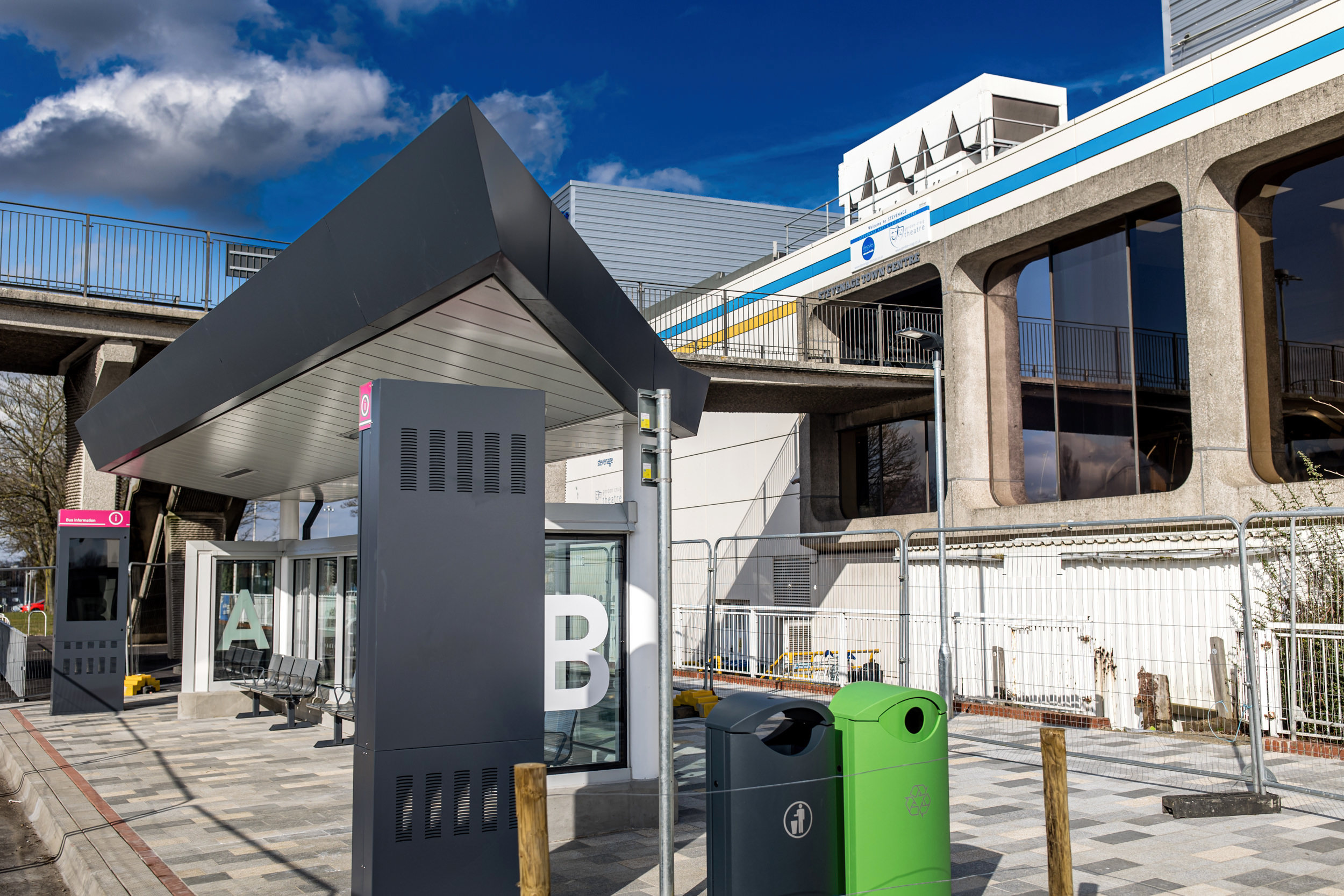 PROJECT HIGHLIGHTS
Significant upgrade on the existing bus station
Part of a wider 20 year, £1bn regeneration programme
Providing integrated links between Stevenage's main transport hubs
PROJECT DETAILS
CONTACT US
Willmott Dixon House, 80 Wilbury Way, Hitchin, Herts
SG4 0TP
Tel: 01462 442200
Fax: 01462 442204