University of Birmingham - Teaching and Learning Building
New flagship hub at heart of the University of Birmingham
This is one of five schemes for University of Birmingham in the past three years that has transformed the campus an underlined it's status as a world-class university with the very best facilities for students and academics.
Heart of campus life
The Teaching and Learning Building is a education hub at the centre of the campus designed to provide a flexible range of vibrant teaching, learning and study environments for collaboration and reflection.
It houses two impressive lecture theatres; one with 500 seats in traditional layout while the other offers a highly collaborative, interactive layout of 250 seats with the glow of daylight set within a Glulam roof.
This very much represents the university's ambition to create a modern learning experience, with Vice-Chancellor Professor Sir David Eastwood commenting that the project, 'prioritises academic and teaching facilities. I believe this is the kind of building in which people will discover their gifts and demonstrate their perseverance and confidence as they achieve their aspirations.'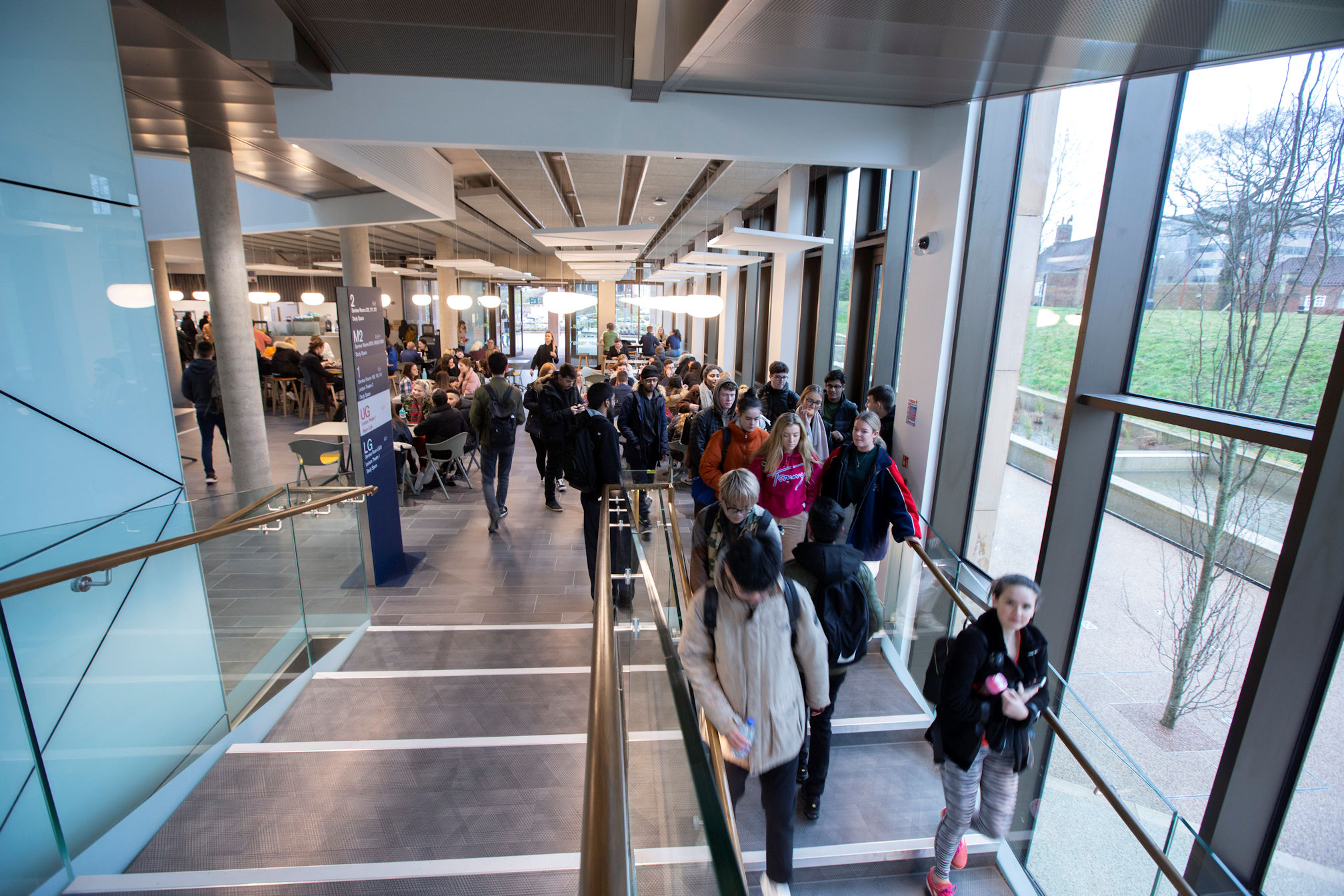 Busy environment
Located in the centre of a live campus, adjacent to the Library with high pedestrian traffic and facing out onto the recently developed landscape of the Green Heart, the constrained site and posed challenges for managing deliveries of large materials. To overcome this, we facilitated working groups with other contractors on site to mitigate logistical impact to the campus.
Completing the build while maintaining student access and engagement at the heart of the University campus was key. The building is adjacent to the Library which is a high pedestrian traffic route.
Digital impact
Use of digital technology providing more than a visualisation tool at the front end of the design process. It was integral to planning the project and ensuring quality. Undertaking construction rehearsals enable us to refine the sequencing of works. Without the federated model we would have not been able to procure all items in appropriate lead-times to successfully deliver the project.
The building will be IT and audio visual-rich, with excellent access for students with a diverse range of needs and preferences. It will consist of:
A 500-seater lecture theatre
A 250-seater interactive lecture theatre
10 seminar rooms for 30 students at a time
Learning spaces for up to hundreds of students, which will include areas for individual study, collaborative group work and creative break-out sessions
A café
Sustainable features
The new building is packed with sustainable features to ensure it has minimal impact on the environment. They include:
Reduction in building energy demand and associated emissions through provision of a 300m2 PV array, resulting in a saving of 21 tonnes CO2 per annum, use of low specific fan power and demand control ventilation, night cooling and photoelectric dimming where significant external glazing.
100% of construction waste was diverted from landfill.
97% of excavation waste diverted from landfill.
Use of robust materials able to withstand impacts of climate change over the lifetime e.g. the modular rain screen cladding panels can be removed for maintenance.
Use of responsibly sourced materials, specifying where possible materials procured from suppliers with accreditation.
Use of elemental life cycle costing to advices materials specification, e.g. the atrium balustrade fitted with a robust timber cladding material, reducing maintenance and replacement costs, and a glass balustrade specified for the main staircase minimising redecoration costs.
Energy sub-metering of building services and water consuming building areas allowing for utilities monitoring and reduction.
Peter Owen, managing director for Willmott Dixon in the Midlands said:
"The new building is a flagship educational facility for Birmingham."
PROJECT HIGHLIGHTS
500-seater lecture theatre
10 seminar rooms
Cutting-edge learning environment
One of five projects for university
PROJECT DETAILS
CONTACT US
One Snowhill, Snow Hill Queensway, Birmingham
B4 6GN
Tel: 0121 236 9668