Welcome back Susie!
Our 'Welcome Back' programme is designed to help people who've had an extended career break a route back into work via construction. Susie elaborates how she found the programme after a career break.
Susie Bradshaw joined Willmott Dixon as an operations intern, working on site with Willmott Dixon Interiors at their London Southbank University project. The opportunity was initiated through our 'Welcome Back' returners programme, following a career break to bring up her children.
Our Welcome Back programme is a 20-week programme on a fixed-term contract basis that offers work experience along with a coaching programme that includes refresher training and new skills development. For the right candidates, it could lead to the opportunity for a permanent role.
Tell us a bit about your background Susie…
I completed a Civil Engineering Degree in my 20's and at that time I didn't want to pursue a career in construction, so I moved into client facing sales and marketing roles.
Having enjoyed project managing my own extension and various a part time position as a Cad Technician, I embarked on a MSc in Building Surveying. Following graduating in the Masters Degree, I started looking for a new career. I had heard good things about Willmott Dixon in particular their commitment to gender parity by 2030 in the business, so I had a look at their website and was amazed that there was a returner programme advertised.
How long was your career break and for what reason?
In 2006, I left in order to have my first child and I hadn't worked full time since then although I was working in a part time position within the construction industry.
What did you do on the Welcome Back Programme?
In honesty, the first thing I did was worry! Worry about not being able to pick things up, the perception my colleagues would have of me, how going into a male dominated environment would work out and how the business would accommodate my need for flexible working. Thankfully, these concerns were unfounded.
Firstly, the programme incorporated four coaching sessions with other people in a similar situation. These sessions helped me manage my return to work, discuss any concerns with others in confidence and get the best out of the wider programme. It was great to meet other returners, in other areas of the business and be able to share thoughts and concerns together.
In addition to the coaching sessions, a range of people including colleagues, line managers and the people team have been fully supportive of my return. They have understood aspects that may have been challenging, for example being flexible with my working hours around childcare.
How did the Welcome Back Programme help you?
The returners programme has given me a supported way to get back in to work along with starting a new career. It has given me the opportunity to build relationships and learn company processes without anyone having high expectations. I now have a place in a company where I feel my confidence and ability to make decisions without deferring to others is developing every day.
For me, the main benefit of the programme is that because of the support given, it allows skills that I already had to re-emerge which would otherwise remain hidden behind a lack of confidence due to time spent out of work.
Speaking as a female in the construction industry, I'm happy to report a really positive experience on site. My colleagues and mangers should give themselves a well-earned pat on the back as they have gone out of their way to support me and when the occasional, inevitable 'out of my depth wobble' occurs. I only have to ask for help and it is there straight away.
Tell us a bit about your role now…
I am thrilled to say that following the programme, I was offered the position of Assistant Build Manager where apart from managing specific packages of work, I am taking a leading role in our site's sustainability and social value commitments. It's is challenging, but also diverse and rewarding, there is something new every day.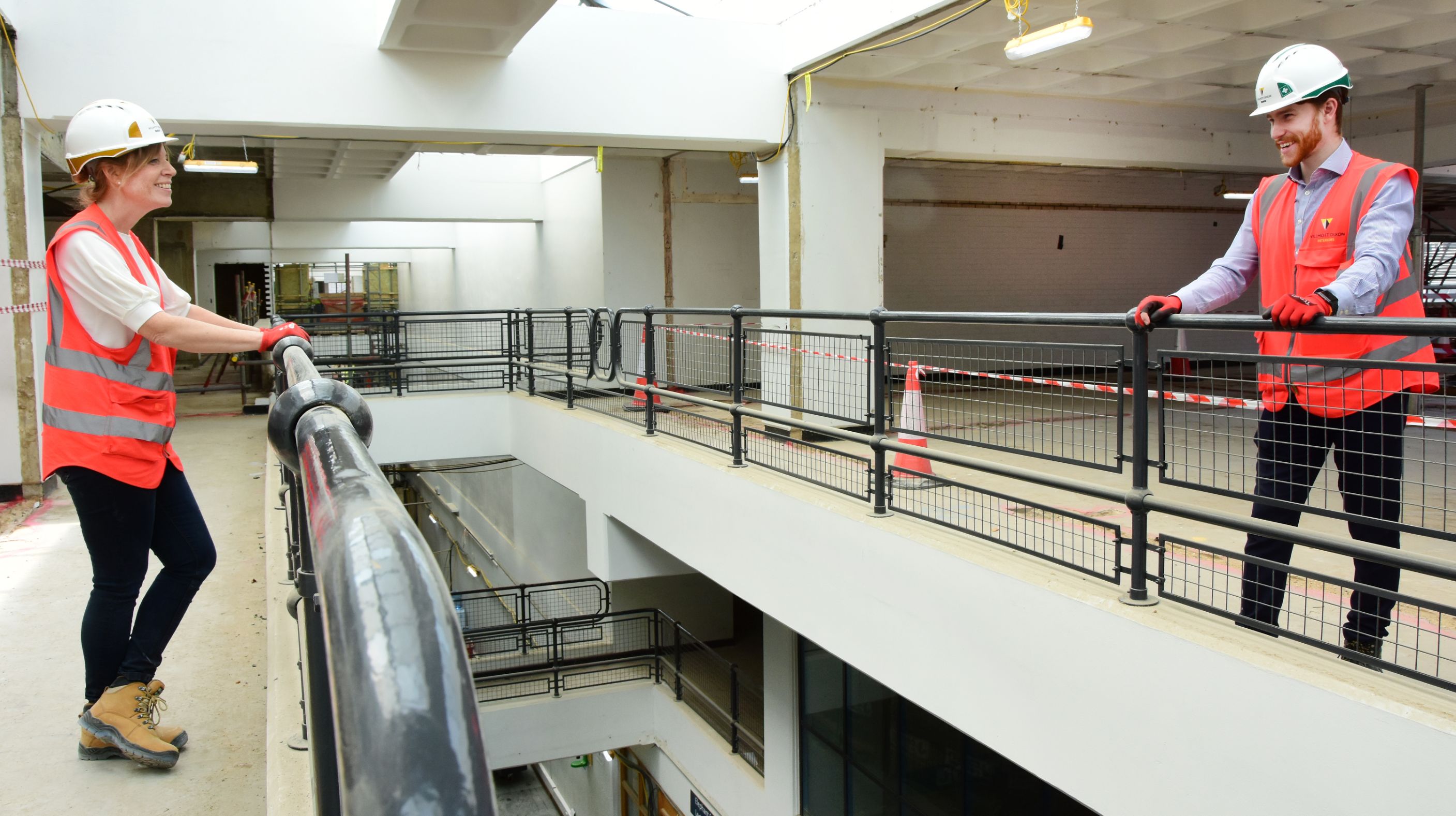 Susie on site at our project at London South Bank University
What advice would you give anyone who is thinking about applying for our Welcome Back Programme?
Have courage and go for it! There is a wealth of opportunity in the construction industry and the opportunity to have a rewarding career, it is far from the stereotype of being muddy and manual.
If you are new to construction then try not to assume you don't have transferable skills. You will get support from colleagues, managers and the business, which will allow you to develop your career and contribute to a great company.
If you know anyone who has been on a career break and looking to get back into employment – we have the right opportunity for them! Find out more here.