Invesco Real Estate (IRE), the global real estate investment manager, has made its first investment in the UK private rented sector (PRS) in partnership with be:here, Willmott Dixon's PRS company. Under the deal, IRE will acquire 118 PRS units for £32.5m in Hayes, West London, on behalf of a UK local authority pension fund.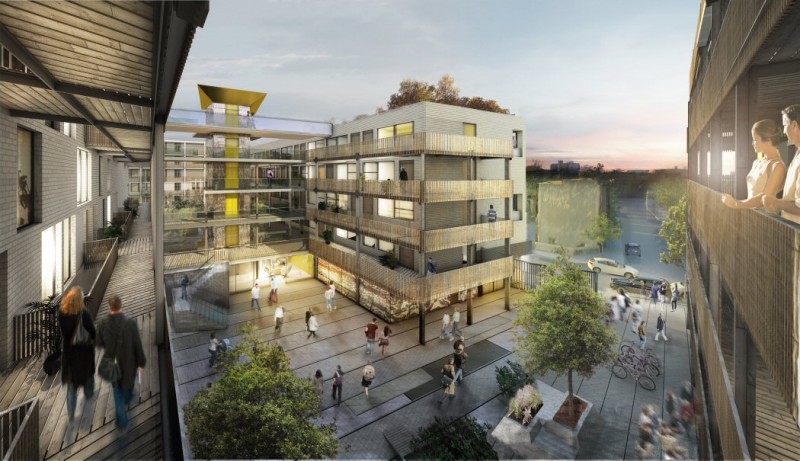 The transaction marks IRE's third European multi-family project since starting its residential acquisition programme in Q3 2013. It follows closely on the heels of IRE's two projects in Germany for £106m (c.€130m) and the appointment of John German, IRE's Director of Residential Investments, to spearhead the firm's expansion into the residential sector across Europe.
Under the latest acquisition, IRE's client will purchase the site's freehold from be:here and fund the development of the scheme, with be:here managing the units under its brand following completion in 2016.
John German comments: "We are delighted with this first step in providing the opportunity for an institutional investor to access this increasingly important sector in the UK. The project will provide institutional grade, purpose-built, market-leading rental stock in a strategic location with a proven demand for rental product.
"We believe it is paramount to form partnerships with developers who are able to create viable investment opportunities in this sector and we are therefore pleased to be partnering with be:here, an experienced developer, who has a strong track record of delivering similar high quality schemes in Greater London. be:here provides a "one-stop shop" from site sourcing and planning to development and, ultimately, property management of the completed building. We hope that this will be the first of a number of similar transactions with be:here."
Andrew Telfer, chief executive of Regen, Willmott Dixon's development division, comments: "Invesco Real Estate's link-up with be:here provides a further demonstration that the PRS will work for institutional investors, when the quality of product and service delivery is strong enough. The site is a good example of those that be:here is targeting in its pipeline, with a local under-supply of quality homes for young professional renters and being located by what will become one of West London's busiest Crossrail stations.
"We see this type of investment at scale as an essential part of creating a more sustainable housing market in the UK. It's also an important milestone for be:here in its plan to create over 5,000 PRS homes over the next few years, something we are well on track to accomplishing with this and further projects now in the pipeline."
"IRE believes that the Greater London residential market remains one of the most important real estate markets in the world for occupiers and investors, creating long-term demand and liquidity for high quality products. We expect investments in this market to out-perform the mainstream UK residential market," adds John.