Willmott Dixon continues to invest in the future of the construction industry with its repairs and maintenance company Willmott Dixon Partnerships inducting sixteen new apprentices at the 4Life Academy in Birmingham.
The 4 Life Academy will be the hub for their training on the company's new Skills 4 Life apprenticeship programme. It will support their studies in a variety of construction trades from bricklaying, plumbing and carpentry to electrical work as they progress towards a recognised qualification such as an NVQ that will pave the way for a career in the construction industry.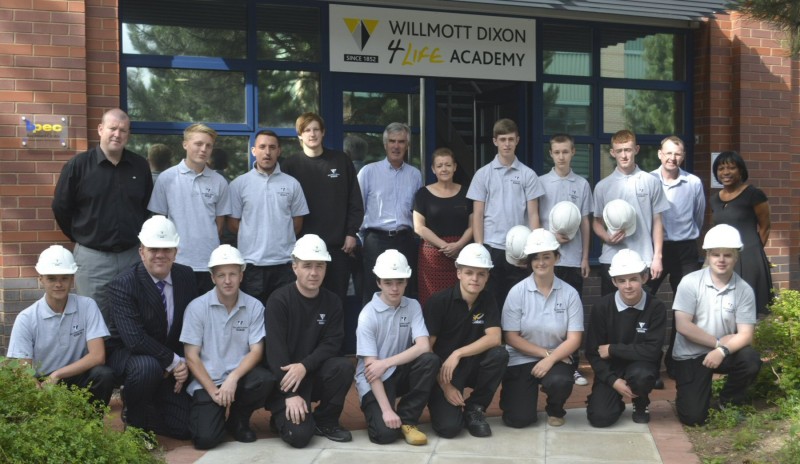 During their week-long induction the apprentices, aged between 18 and 38, took part in health and safety workshops, scaffolding building exercises and team competitions. They were also given an illustration of the company's charitable work by hearing a talk from volunteers at Dekamile, one of Willmott Dixon's sponsored charities that helps provide clean water, sanitation and improved infrastructure in Togo, Africa.
Chris Rowland, aged 38, from Shard End in Birmingham, is doing a carpentry apprenticeship with Willmott Dixon. He said: "I used to work as a baker, but I studied carpentry briefly when I first left school at 16 and have always wanted to get back in to it. This apprenticeship is the perfect opportunity for me to completely change my career path and earn qualifications that will provide me with a skill for the rest of my working life."
Willmott Dixon's Head of Customer Service and Training, Huw Evans, said: "We're very excited to welcome our first ever class of apprentices to the 4Life Academy. By using it as a hub for our apprenticeship training we want to bring all our trainees together under the new Skills 4 Life model, to make the most of the excellent facilities available here in Birmingham.
"We want to create a sense of pride and camaraderie among all our apprentices. The new Skills 4 Life scheme focuses on personal development alongside professional development, through community engagement activities and charitable fundraising. It is an innovative approach to apprenticeship training and embodies Willmott Dixon's ethos of giving something back to the local community."
Willmott Dixon Partnerships managing director, Mick Williamson added: "Our company is committed to leaving a lasting legacy in the communities where we work – and this includes helping to improve employability skills amongst individuals. Our apprenticeship programme allows people to gain access to training so that they can learn the skills required to gain experience and employment in the building industry.
"All of our staff are encouraged to undertake continuous development for the success of our business and ultimately the clients we work with. Of our 1600 staff, 164 of those not in apprenticeships are currently studying for an NVQ - which speaks volumes for the training investment we make in our staff. We believe that our apprentices are the greatest ambassadors for our company and will help support and grow the business in the future."
The Willmott Dixon 4Life Academy is a £1m investment in Birmingham by Willmott Dixon to provide training and lifelong skills to 2,000 people a year. It is a national centre of excellence for the company and provides training for people and businesses in the wider community. It has also been approved as a training centre for City & Guilds and the British Plumbing Employers Council.
Since opening in February 2013, the 4Life Academy has created 12 full time jobs and employed 45 part time instructors. It has already trained over 1,000 candidates across the West Midlands.