Construction firm Willmott Dixon has added substantial social value to young people at the University of Warwick, equating to £731,000 in monetary value.
Above: The Sports Hub team
Willmott Dixon is currently delivering the University's new Sports Hub and has used the project to enhance the life opportunities of young people and promote opportunities in the construction industry.
Willmott Dixon, in partnership with JTL and supported by University of Warwick, has pioneered the Government's traineeship programme with local young people, to help them prepare for employment. Six young people, who were not in employment, education or training, spent nine weeks onsite gaining valuable employability and life skills, which culminated last week.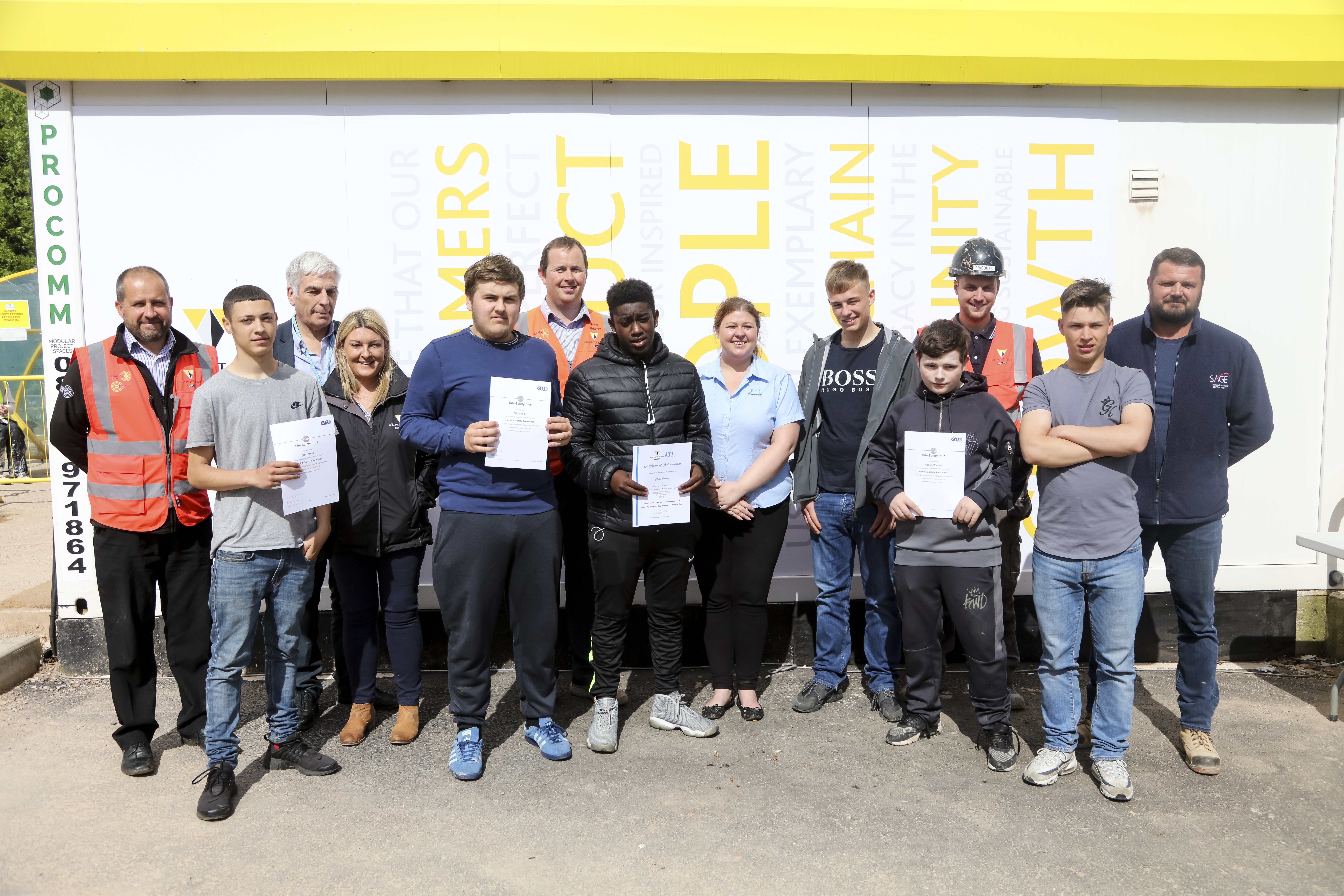 Above: Trainees with their certificates
The work the team is carrying out at University of Warwick played an important role in helping Willmott Dixon secure Queen's Award for Enterprise for how its people are enhancing the life opportunities of others. It's the second year for the new category and, so far, there have been only a handful of recipients. The team has hosted over 250 visits from local schools and providing 10 weeks of work experience at the project, with a further 50 weeks booked in.
Around 80 per cent of Willmott Dixon's people took part in some form of activity that left a positive social legacy last year. In the same period, almost 50,000 work time hours were spent on activities aimed at improving the life chances of people. This equated to over 1% of staff work time devoted to supporting others, equivalent to £900 invested per employee and £1.95m overall. Activities include mentoring pupils at schools, improving community facilities and working with disadvantaged people to get them into jobs.
Peter Owen, manging director of Willmott Dixon in the Midlands, said:
"We are extremely proud to have won the Queen's Award for Enterprise for Promoting Opportunity and it is fantastic to be able to celebrate this with our customers.
"We have a great partnership with University of Warwick who very much share our values of leaving a positive legacy in the local community and this all contributes to us meeting our target of enhancing the lives of 10,000 young people by 2020."
Lisa Dodd-Mayne, director for sport and active community at University of Warwick, said:
"The new Sports and Wellness Hub will be one of the finest facilities of its kind in the UK and, at the University of Warwick, we have a vision to ensure that we have the most active community in the UK.
"I'm delighted that through delivering on that vision the University of Warwick has been able to provide an opportunity for young people throughout the region to gain experience of the construction sector and that Willmott Dixon has received a Queen's Award for their work in promoting opportunity. Our facility will be one that our local community can use and enjoy once it opens next Spring. If people are interested in hearing more about it please register your interest at www.warwick.ac.uk/services/sport/hub."
A privately-owned company, Willmott Dixon has been reporting on its social value investment through the Foundation since 2011, and has contributed activities worth over £10m since then – verified by third-party organisation Bureau Veritas. Examples in 2017 include:
Providing mock interviews to 1,471 young people
Offering over 900 work experience opportunities
Delivering workshops to over 32,000 students
Working in prisons to upskills offenders
It's the second Queen's Award for Enterprise that Willmott Dixon has achieved; it won an accolade in 2014 in the 'sustainable development' category. Her Majesty The Queen publicly announced the winners on her birthday, Saturday 21st April 2018. The awards, which have been going since 1966, are awarded to businesses for outstanding achievements.