Willmott Dixon, the privately owned contracting, residential development and property support company, publishes its accounts for the 12 months to 31 December 2013.
Highlights:
• Profit before tax and amortisation £16.2 million (2012: 20.1 million)
• Turnover at £1.02 billion (2012: £1.03 billion)
• Net balance sheet of £147.7 million (2012: £147.3 million)
• Cash and liquid investments at £70.2 million (2012: £68.0 million)
• Gross profit margin at 8.5% (2012: 8.4%)
• Secured forward order book at £2.05 billion (as at March 2014)
• 91% of Group's budgeted work secured for 2014 (as at March 2014)
• Attracting institutional investment in PRS sector with Invesco the latest to invest in be:here scheme
Willmott Dixon's Group Chief Executive Rick Willmott says: "Our work volumes and turnover continue to hold up well, while our reduced pre-tax profit reflects a small number of projects now completed that did not deliver the margins we had expected. We are seeing more opportunities across our industry owing to greater economic confidence and a stronger housing market and we have focused our skill-sets and resources accordingly. Our frameworks and long-terms contracts continue to give us a robust pipeline of construction and support services work while our development business Regen, delivering both homes for sale and private rent, really 'came of age' in 2013 with a significant volume of development that will increase in 2014 and beyond."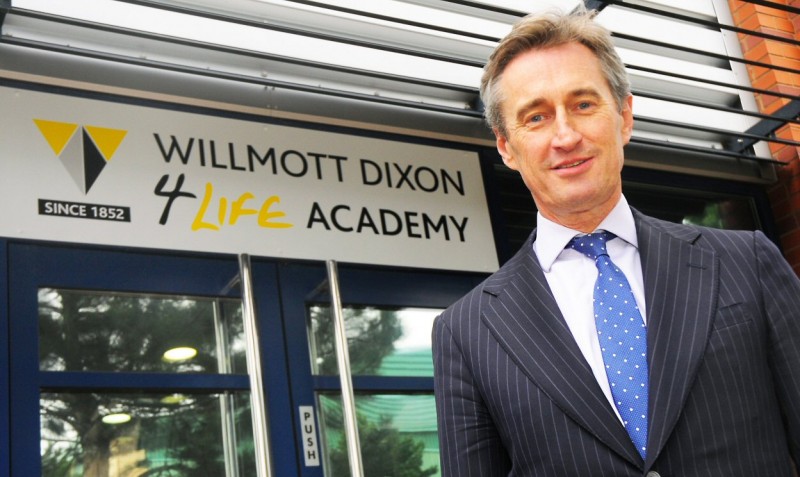 "We were delighted our commitment to being a sustainable and responsible company that invests over £1 million a year in our local communities was recognised with a Queen's Award for Enterprise, a great source of pride for our staff. Likewise, the emphasis on supporting our supply chain I mentioned last year has resulted in the introduction of our EarlyPay scheme, a voluntary arrangement that allows suppliers to access their payments two weeks before standard payment terms. In the case of suppliers that have 30 day payment terms, they will be paid after just 21 days and following a successful trial, EarlyPay is being introduced this month to our Cat A suppliers.
Talking about the three operating divisions, Rick says:
Capital Works
"Turnover fell fractionally to £899 million over the year (2012: £904 million), which is a resilient performance given the trading conditions. We've been able to insulate our business from the industry's reduced work volumes of recent years by retaining many loyal, repeat business customers who like the quality of our teams and service and can procure our company through the key frameworks we are on. Another key factor is our growing presence in the higher education, commercial, housing and retirement markets, which continue to increase capital spending, and the flow of projects being brought to site by our Regen development business.
"It's also been great to see our construction business involved in projects that are shaping and defining client demands for a low carbon built environment. This includes the new BREEAM outstanding UK headquarters for WWF in Woking and constructing the UK's first zero carbon 'in use' school, Ashmount Primary School in Islington.
"We strengthened our presence in higher education, including being picked for phase two of Birmingham City University's £180m estate masterplan and being appointed by University of Leicester for the largest non-residential Passivhaus project, the University's College of Medicine. We also completed one of the quietest buildings in the world, the Material Sciences and Metallurgy facility for the University of Cambridge.
"Likewise our housing company continues to build over 1,500 units a year, which is making a significant contribution to our country's need for homes. Notably, we have seen rapid growth in retirement accommodation, with sizeable retirement villages in Hampshire for Anchor Trust and Ascot for the charity BEN - the Motor and Allied Trades Benevolent Fund. We also continue to work closely with Housing 21 on several schemes in Warwickshire and Hertfordshire, and have expanded our house building presence in the Midlands and North, with a new Midlands office providing an excellent platform.
"Our Interiors company is also extending the scale and reach of projects it is undertaking, such the £19 million refit of the Cockcroft Building for the University of Brighton, while also working successfully on large refresh programmes for well-known brands like Barclays and Travelodge. They have really established an identity as a specialist provider of interior services, and given the market is showing positive signs of growth, it is looking to achieve a £125m million turnover within three years."
Regen
"Regen is involved in several large schemes and currently has a significant development pipeline of residential units both for the private rental sector (PRS) and private sale. We've created a solution where we can seamlessly deliver both these tenure mixes simultaneously within a larger master plan, supported by our PRS company be:here which was launched in 2013, plus the successful introduction of institutional funding from companies like M&G and Invesco.
"be:here will deliver a step change in PRS units, both in terms of quality of product and rental experience, and the unlocking of institutional investment. We aim to create 5,000 PRS units in the next few years and following our deal last summer with M&G to deliver 233 units at Aberfeldy, we have now finalised a deal where Invesco will acquire 118 PRS units from us in Hayes, West London, for £32.5m on behalf of a UK local authority pension fund. This will see be:here responsible first as developer and then operator under its brand when the units are complete in 2016.
"Our ability to combine be:here with our homes for sale company Prime Place to rapidly create a community and sense of 'place' will be evident in the delivery of Brentford FC's homes and stadium master plan, on which we were appointed preferred bidder at the start of the year."
Support Services
"Turnover was up to £121 million (2012: £110 million), reflecting steady growth at Partnerships, our repairs and maintenance company, and new income streams from the Energy Company Obligation (ECO) activities of our Energy Services company.
"Our long-term repairs and maintenance contracts give us scope to offer real investment in local communities as defined by our Transforming Communities report on social investment, which is focused on creating a tangible legacy for clients. To reinforce this, I'm delighted that we are one of a select few companies to be invited to sign Birmingham City Council's Business Charter for Social Responsibility, which adopts requirements for supply chain practice that will become prevalent among many more local authorities.
"While our Energy Services company has been operating in a market that's seen a reduction in ECO targets, we're still making progress. This includes being the National Assembly of Wales' managing agent for its "Arbed" programme in North and mid-Wales, working to improve energy efficiency at homes on six projects.
We also made progress by being appointed to Places for People's "Green Services Hub" with Energy Services to supply and install all projects procured through this OJEU compliant framework. The first, Leeds Federated Housing Association, will see energy improvement work to 400 Victorian-era terraced properties, while also in Leeds, our work with Leeds City's "Wrap Up Leeds" ECO Programme is seeing our engineers installing insulation and boilers into dozens of homes to help residents struggling to pay their fuel bills."
Looking to the future
"I said in a trade publication in 2011 that our industry was set for a pro-longed recession and this has been borne out. We're coming out the other end now and the pent-up demand we are seeing for capital projects means the key challenges we face alongside maintaining a pipeline of work is a growing pressure on material and trade prices, staff recruitment and supply chain capacity. These are key factors we will focus on managing this year as clients' capital investment continues to gain momentum."