Our ambitions to 2030
All our new buildings and major refurbishments will achieve net zero operational carbon
All our new buildings and major refurbishments will be future-climate ready and optimise user health and wellbeing
Willmott Dixon is adopting the UKGBC Advancing Net Zero Framework approach to net zero operational carbon, which includes high-level principles for net zero operational carbon buildings, and targets for new buildings to meet this standard by 2030. We have set the ambition that by the end of 2030, all of our new buildings and major refurbishments where we have early design responsibility (at RIBA stage 2 or earlier) will achieve net zero operational carbon. We have also set the ambition that by 2030 these new buildings and major refurbishments will be future-climate ready, and will optimise user health and wellbeing.
Achieving net zero on our projects
We will deliver buildings for our customers that eliminate carbon emissions and help them play their part in responding to the climate crisis by minimising global warming. We will work with our customers to make sure that our buildings are highly energy efficient, perform as designed when occupied, and maximise renewable energy generation, thus enabling them to be net zero carbon in operation.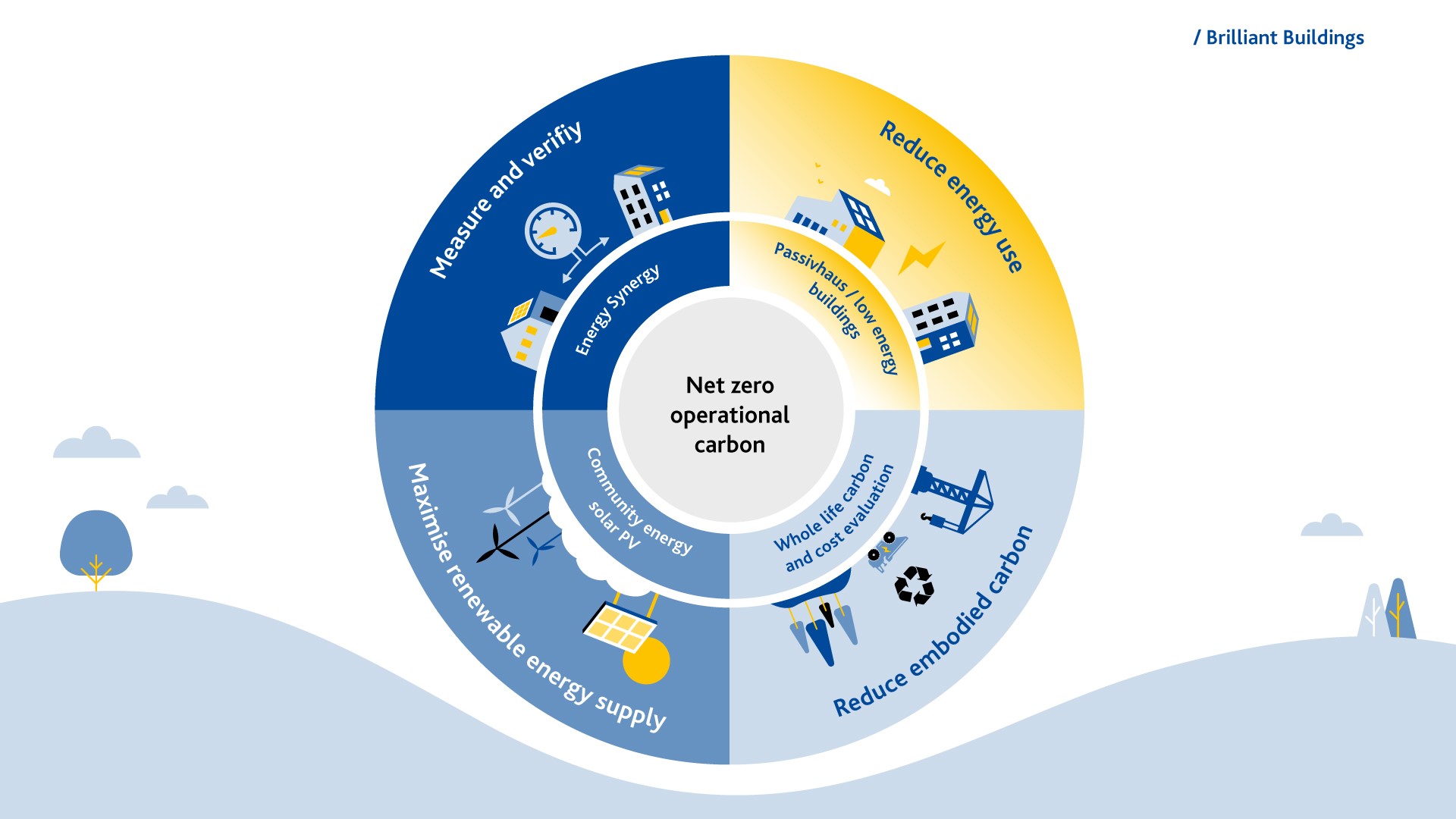 [Above: Our approach to achieving net zero operational carbon]
Delivering buildings that are future-climate ready
We will ensure our buildings are truly fit for purpose both now and in the future. Projections from the Met Office show that summer temperatures could be almost six degrees centigrade higher by 2070. Rainfall patterns will also change resulting in drier summers and wetter winters.
Whether it is better insulation, increased ventilation, improved water efficiency or flood resilience, we will work with our customers to understand how people interact and use buildings and how that changes over time so that we can create spaces that improve productivity, support better learning outcomes, encourage rest and recovery, and promote social connection.
The UK's first net zero operational carbon school
Hackbridge Primary School - the UK's first Passivhaus 'plus' school - is an excellent example of our approach. Firstly, the building reduces energy use through its sustainable Passivhaus Plus design, which creates a tight envelope around the building, keeping it warm in winters. Ground source heat pumps help the building remain cool during hot summers.
The building also maximises renewable energy supply, with the roof featuring extensive photovoltaic solar panels, of which the school only uses 75% of the of the 100% renewable energy that it generates on the site. The remaining 25% is exported to the grid, saving in the region of £800 a year, resulting in net zero operational carbon in line with the UKGBC framework approach.