Sapphire Ice Rink and Swimming Pool
Romford's Sapphire Ice and Leisure Centre will inspire new regeneration in Havering
Declared the best civic building in 2019 at the SPACES awards, this exciting and unique addition to Romford provides a leisure facility complete with ice rink on top - one of only a few such facilities in the UK!
Our team of leisure specialists delivered this complex build as a catalyst for new regeneration in Romford, part of Havering's plans to encourage more inward investment.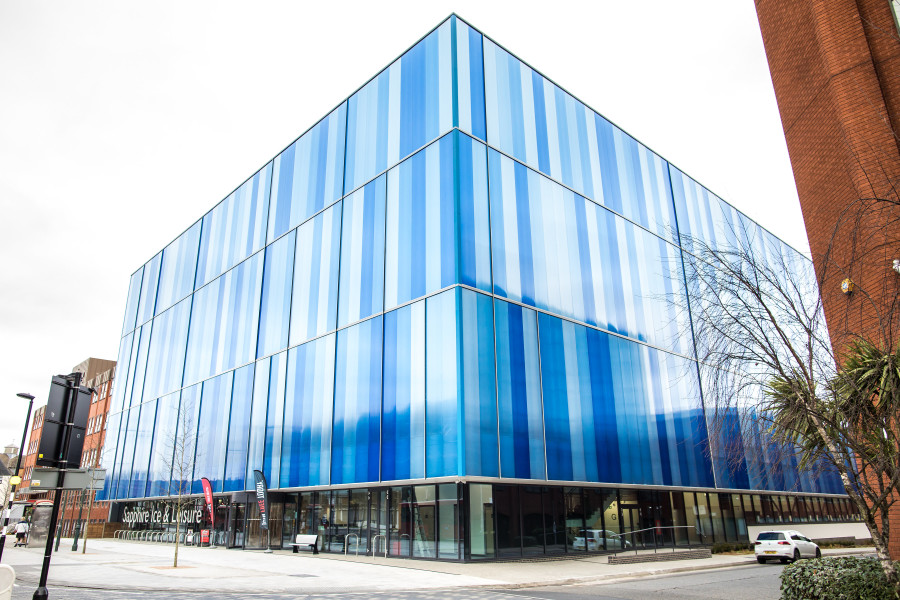 Role of Willmott Dixon
The London Borough of Havering chose our team for the £25 million flagship complex, which is also home for top ice hockey team the London Raiders. The facility includes a 900-seat spectator area for fans to watch the Raiders and enjoy top class ice hockey.
The ice rink sits on top of a suite of modern leisure facilities which includes an eight-lane competition swimming pool, fitness suite and 56m x 26m ice rink in the heart of the town centre.
Watch our film on why local authorities are investing in leisure like at Romford
Complex challenge - delivering a suspended Ice Rink
A robust and stable structure was required to accommodate the ice rink, and as it was above the swimming pool on the ground floor, this had to be achieved without the use of internal columns. There were very detailed workshops between the designers and specialists to agree issues such as the allowable deflections of the ice rink floor and also temperature/vapour control between the ice rink and swimming pool below.
The swimming pool area is heated to 30ºC and has a relative humidity of 80%, while the ice rink above needs to maintain a temperature of -5ºC. This required a high level of insulation and extensive steelwork protection to help future-proof the structure for years to come.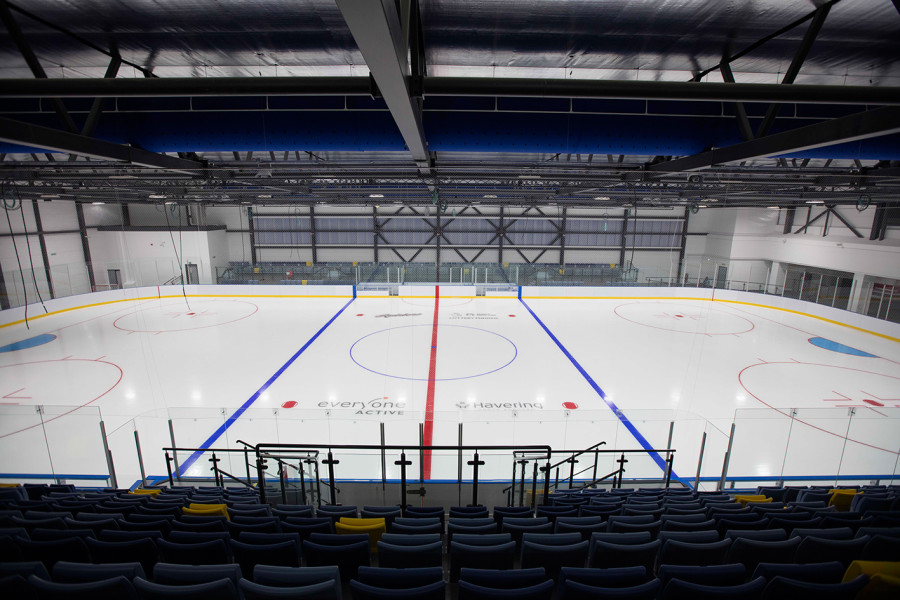 Sapphire
The Sapphire Ice and Leisure is named after the sapphire reign of Queen Elizabeth II, the longest-ever serving British monarch and the first to celebrate a sapphire jubilee.The multi-million pound scheme is one of Havering's most ambitious developments to date.
Having an ice-rink above the swimming pool makes this only the third of its kind in the UK. The centre includes:
a 25m eight-lane lane main pool
a 15 x 8m learner pool
an ice rink with capacity for hundreds of skaters
a fitness suite area with 100 stations
a large dance studio
a spinning studio
Councillor Roger Ramsey, Leader of the Council:
"This project has been at the forefront of this administrations ambition and I'm very happy that thousands of residents join us to celebrate the opening and that they were all impressed by the facilities available at Sapphire Ice and Leisure. I hope that all residents across the borough make good use of this complex to help maintain and improve the health and well-being."
Famous link
The long-planned development will assist the cultural renewal of Romford, famous as being the home of snooker legend Steve Davis.
Our work will make a huge impact on the local economy by attracting new inward investment. The new rink will also be home for the local ice hockey team, London Raiders, which relocated to Lea Valley when Romford's former rink closed in 2013 and will return to the new facility ready for the 2018/19 season.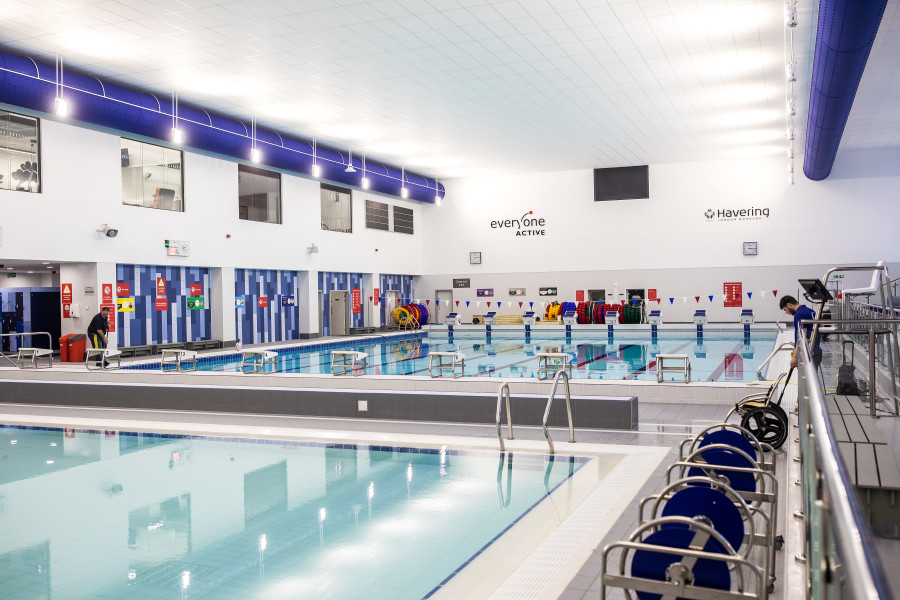 Strong team
We worked with the architect Saunders Boston on this scheme. Chris Tredget, managing director of Willmott Dixon in North London and the Home Counties:
"This was a fantastic project to work on and will leave a real legacy in the local community. We have seen how much effect leisure schemes have on local prosperity and also generating income for councils as people flock to use the facilities. This will bring huge opportunity to Romford and we are delighted to be working for the council to deliver this scheme."
Leisure track record
Following the Wycombe Sports Centre with 50 metre pool (below), our team has completed over £400 million of leisure facilities since 2013 as councils invest in replacing public assets no longer fit for purpose. Alongside Wycombe Sports Centre, it refurbished Fairfield Pools & Leisure Centre for Dartford Council, delivered two large leisure centres for Oldham Council and is on site with Scarborough Leisure Village.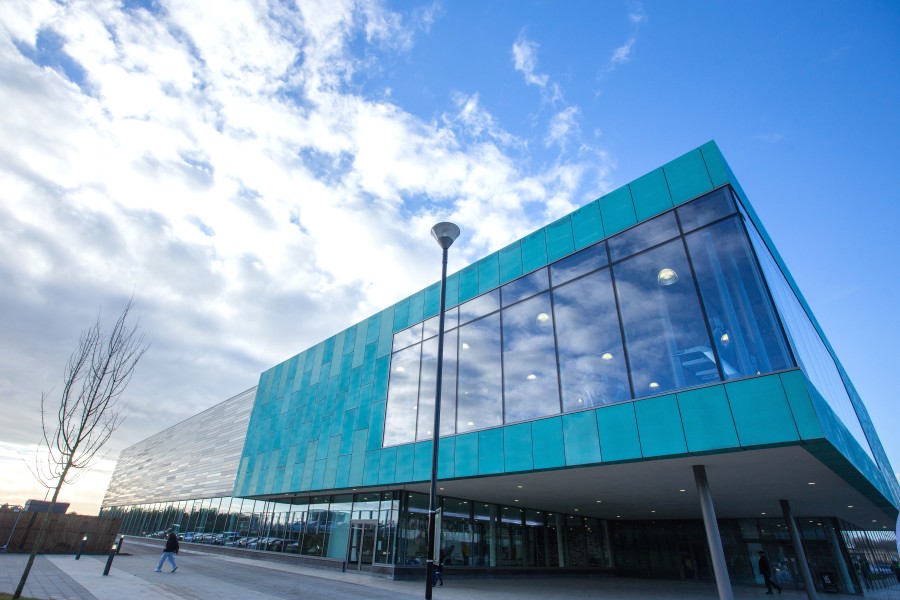 PROJECT HIGHLIGHTS
Catalyst for regeneration of Romford centre
New home for hockey team London Raiders
Ice rink sits on top of leisure centre
Over £100m of leisure work secured in 2016
PROJECT DETAILS
CONTACT US
Willmott Dixon House, 80 Wilbury Way, Hitchin, Herts
SG4 0TP
Tel: 01462 442200
Fax: 01462 442204