Radiant Cleaners is a commercial cleaning business focused on building lives, through employing people facing barriers to work.
Willmott Dixon started working with the Nottingham-based social enterprise in 2018, on our project at Nottingham Science park. Through this project, we built a relationship with Radiant Cleaners, whose mission we firmly support. Since 2018, they have been our preferred cleaning company on all sites in the Nottingham area.
Our partnership has created work for people facing barriers to work, like Karen.
Karen, who is in her late 50s, was unemployed for 18 months when she met Radiant Cleaners. She was struggling to find employment during the pandemic and started to lose hope of ever working again.
After securing a contract to work on our site at Bingham Leisure Centre, Karen was able to become employed and started working in our cabins 15 hours a week.
Surrounded by a supportive team, paid the real living wage and working daily, Karen has found a renewed sense of purpose and hope for her future.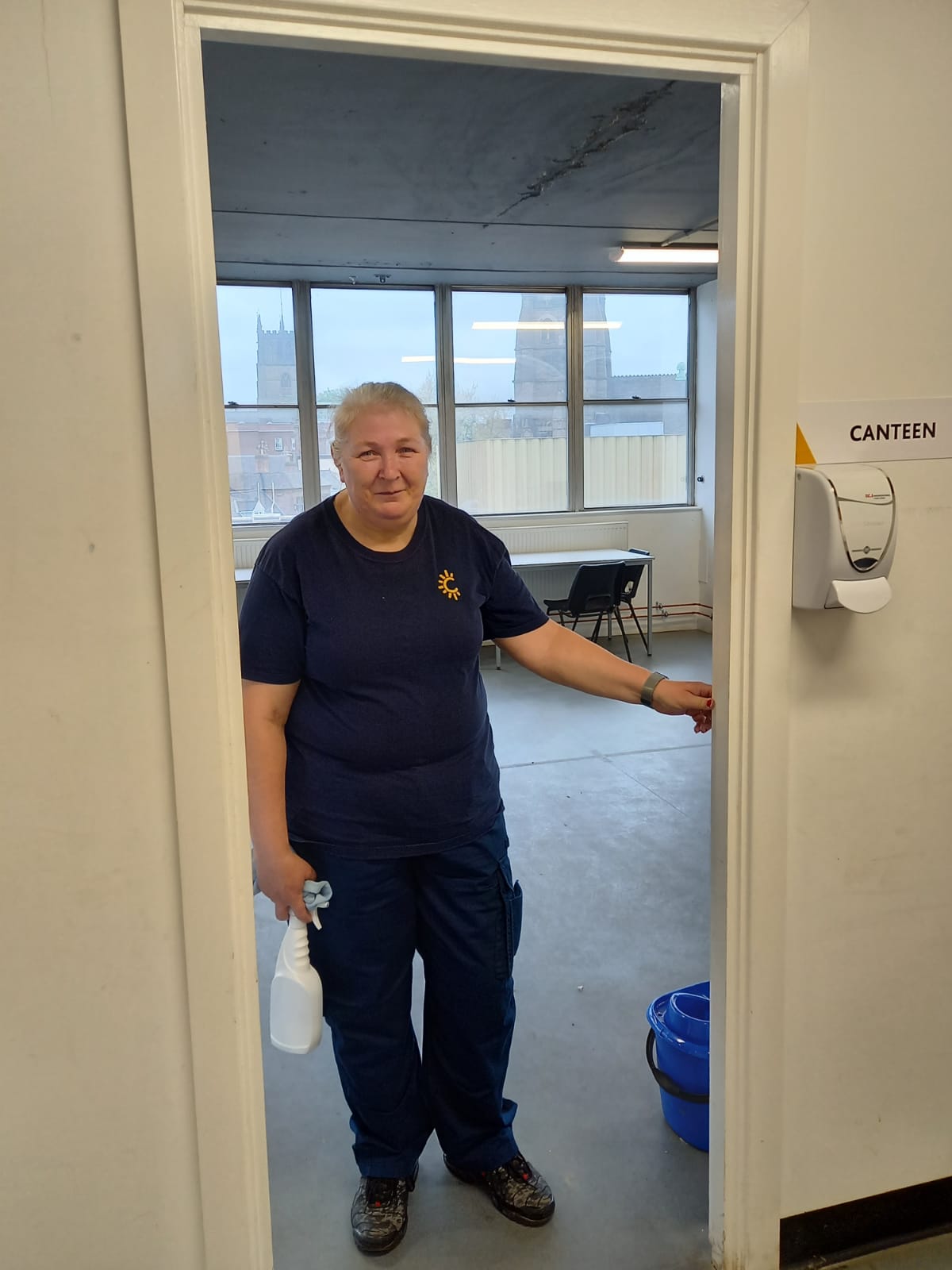 Karen said of the opportunity: "It's been fantastic. I never thought I'd get a job before I retired. This has given me purpose in my life, and I feel much better in myself, in terms of mental health. I feel uplifted.
"It's been great working with the team, having a bit of banter with the lads. The management staff are brilliant too. They've made life much so much easier for me – they've even bought me a Henry Hoover!"
She has since secured extra hours across other projects in the region.
Karen's story is an excellent example of the impact procuring through and partnering with social enterprises can have on both individuals and local communities. By working with the right partners, we can help individuals gain access to good and sustainable employment which they may have not previously been able to access.
As part of Now or Never, our 2030 sustainability strategy, we have committed to increasing our social enterprise spend year-on-year and create long-term relationships with businesses with a social purpose.
Zoe Anastasi, our Social Value Manager in the Midlands, who has worked with Radiant Cleaners for the past three years, said: "What resonated with us about Radiant Cleaners was that they already had a strong reputation for the support they provide local people - helping them overcome the barriers they face to employment. They provide non-judgmental support and an opportunity that can help people transform their lives.
"As a fellow real living wage employer, Radiant Cleaners also share our core values and vision to enhance the life chances of local people and positively impact communities. The quality and standard of their service is fantastic but their people are also always professional, reliable and friendly. Through supporting local social enterprises like this, we can all contribute to making the world a better place."