Every year, each office elects a final-year management trainee to plan and deliver a community project, with just £500 seed money. Our trainees engage with local stakeholders and charity partners, galvanising our people and supply chain partners to support.
Read more about what our Interiors business delivered...
The team from Interiors worked with social enterprise, Clarity & Co. to improve employment opportunities for people with sight issues and raised awareness amongst our people of how having a disability can lead to social exclusion.
The challenge focused on supporting Clarity & Co., a social enterprise that produces eco-ethical bath and beauty products and creates employment opportunities for people with disabilities, including those with sight issues.
With a team of our people and supply chain partners, the team organised a refurbishment of Clarity & Co.'s factory. They renovated meeting rooms, installed a new ramp and disabled access points to the canteen. They also installed a new oven and counter top cookers in the canteen, which are being used by Clarity's employees for cooking classes.
Nigel Lewis, CEO, Clarity & Co. said:
''Willmott Dixon Interiors' Trainee Challenge is a huge opportunity for Clarity & Co. We've got a big factory in East London in need of a facelift. When you are busy growing a social enterprise and trying to put everything you can into employing people with disabilities, some things go further down the list."
Making the most of their colleagues' skills, Clarity & Co. were invited to join Interiors' Farringdon Friday Customer networking event, following it up with a promotional campaign for the social enterprise, to help raise awareness and attract new business.
They also hosted a range of events to help his colleagues understand how difficult it can be to live with a visual impairment. Including a fair, where attendees had an opportunity to experience visual disability through simulation glasses, eye covers and visual restrictors. The Interiors team even had a go at playing football wearing the restrictors.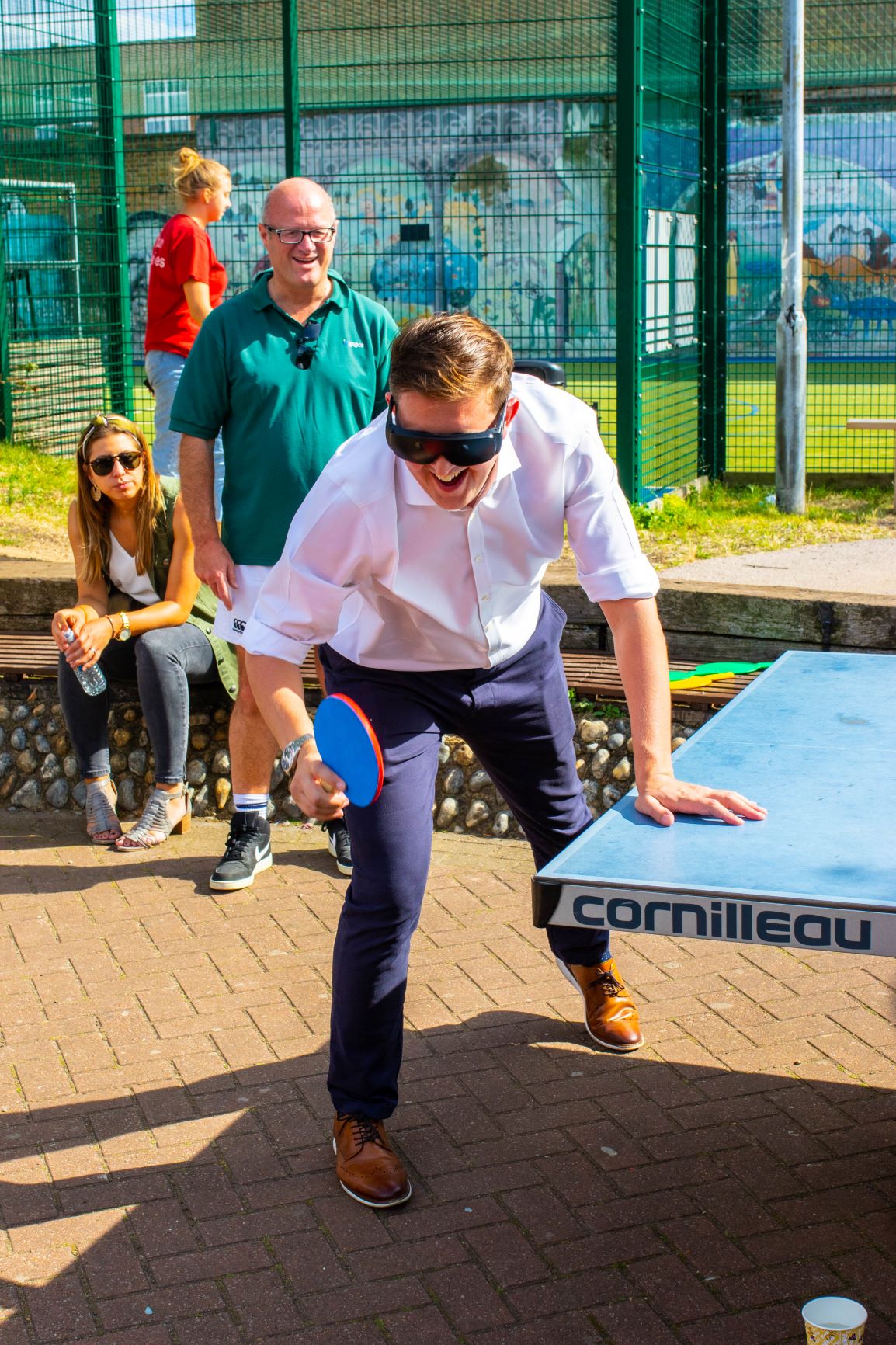 The team continue to work with Clarity & Co., helping them to develop a new product range aimed specifically at the construction sector.
Camilla Marcus-Dew, head of sustainability, Clarity & Co. said:
"We are so pleased that Willmott Dixon Interiors have stepped up to the challenge of helping us create a factory and office environment, ready for our growth.''
In 2018, there were approximately 360,000 registered blind and partially-sighted people of working age in the UK. However, they were significantly less likely to be in paid employment than the general population, or other disabled people. 83% of Interiors people are now more informed of the challenges visually impaired people face.