Planning go-ahead for new Brentford FC stadium and homes
Prime Place and Be:here, the residential development arms of Willmott Dixon, and their development partner Brentford Football Club have secured detailed planning consent from Hounslow Borough Council to deliver a new 20,000 capacity football stadium, together with 648 new homes, in Brentford.
The redevelopment of the site is in line with Willmott Dixon's strategy of identifying opportunities to cross-fund major community projects through providing large-scale residential developments in a range of tenures.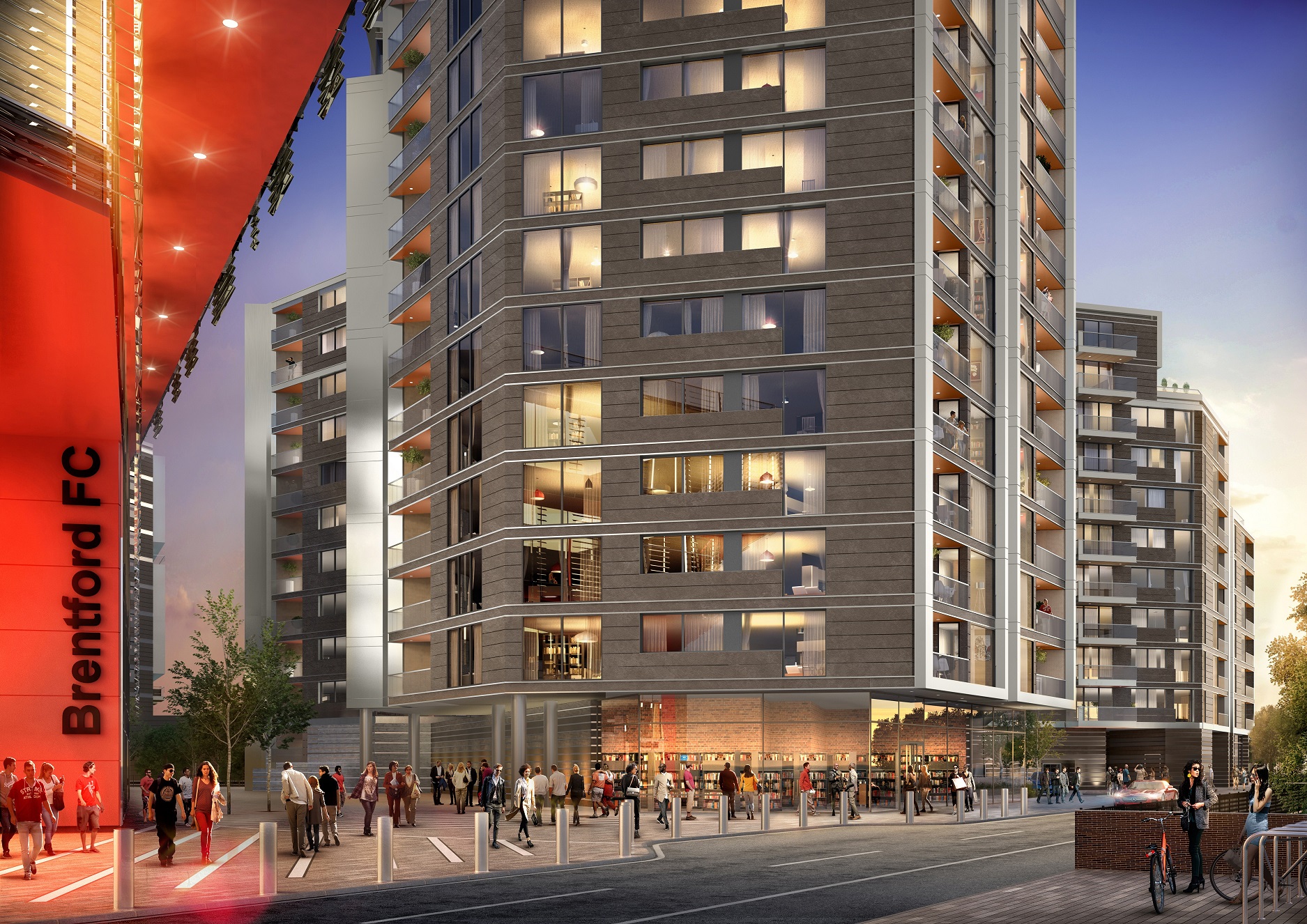 The new stadium and seven new residential buildings will be located on a ten-acre site on Lionel Road South, close to Kew Bridge, with 304 homes provided for private sale and 344 for private rental through Willmott Dixon's Private Rental Sector company Be:here.
Branded Prime Place, Kew Bridge, the homes will be in a mix of one, two and three-bedroom apartments and will offer high quality hotel-style living with facilities including a concierge service, private lounge/library and dining room, cinema, gym, and private landscaped gardens.
Substantial improvements to the public realm will include extensive landscaping and greenery across the site, new pedestrian and cycle routes - including dedicated and widened routes along Lionel Road South - retail outlets and on-site car and cycle parking.

On completion of the new stadium, Brentford FC – nicknamed 'the Bees' - will relocate from Griffin Park. Prime Place has already secured full planning consent to develop a further 75 two, three, four, and five-bedroom family houses for private sale on the Griffin Park site, including a memorial garden to celebrate the history of the football ground.
Brian Brady, managing director of Prime Place:
"We're delighted to get the green light from Hounslow Borough Council and are looking forward to working closely with Brentford FC to deliver a superb new stadium for the Bees and badly-needed housing in a superb location that will meet the strong demand in Brentford for high quality homes for rental and private sale."
Chairman of Brentford FC, Cliff Crown:
"This is another step towards realising our dream of playing in a new community stadium. We are very pleased to be working with the Prime Place team who have a proven track-record of delivering high quality housing within a wider regeneration project. As well as creating a brand new stadium for our supporters and an attractive environment for visitors and local residents, this project will create jobs and opportunities for local businesses. We have an exciting future ahead of us."
Prime Place, Kew Bridge is the latest addition to Prime Place's growing portfolio which includes a regeneration project to provide more than 1,100 homes at Aberfeldy Village in Poplar E14; the conversion of the former Tubbs Hill House in Sevenoaks; a partnership with Cheshunt School in Hertfordshire to deliver 88 new homes; 135 apartments and family houses in Godalming town centre, and a joint venture with Westminster City Council to deliver a state of the art new leisure centre, sports facility and 156 new homes.