Willmott Dixon, the construction company restoring the Globe Theatre in Stockton-on-Tees, is doing everything it can to answer Christmas wishes and make a small difference for disadvantaged children in Stockton-on-Tees.
In partnership with Stockton-on-Tees Borough Council and its Social Services team, Willmott Dixon are sending out Christmas cards to local children, who may otherwise not get a present this year due to circumstances completely outside of their control. The cards asked children to write down what they would like for Christmas.
In total, 91 children wrote back to the team and their wishes were hung on the Willmott Dixon elves Christmas tree on site. The team, with the help of the Council, Social Services and its own supply chain partners then set to work to make sure every child received their perfect present.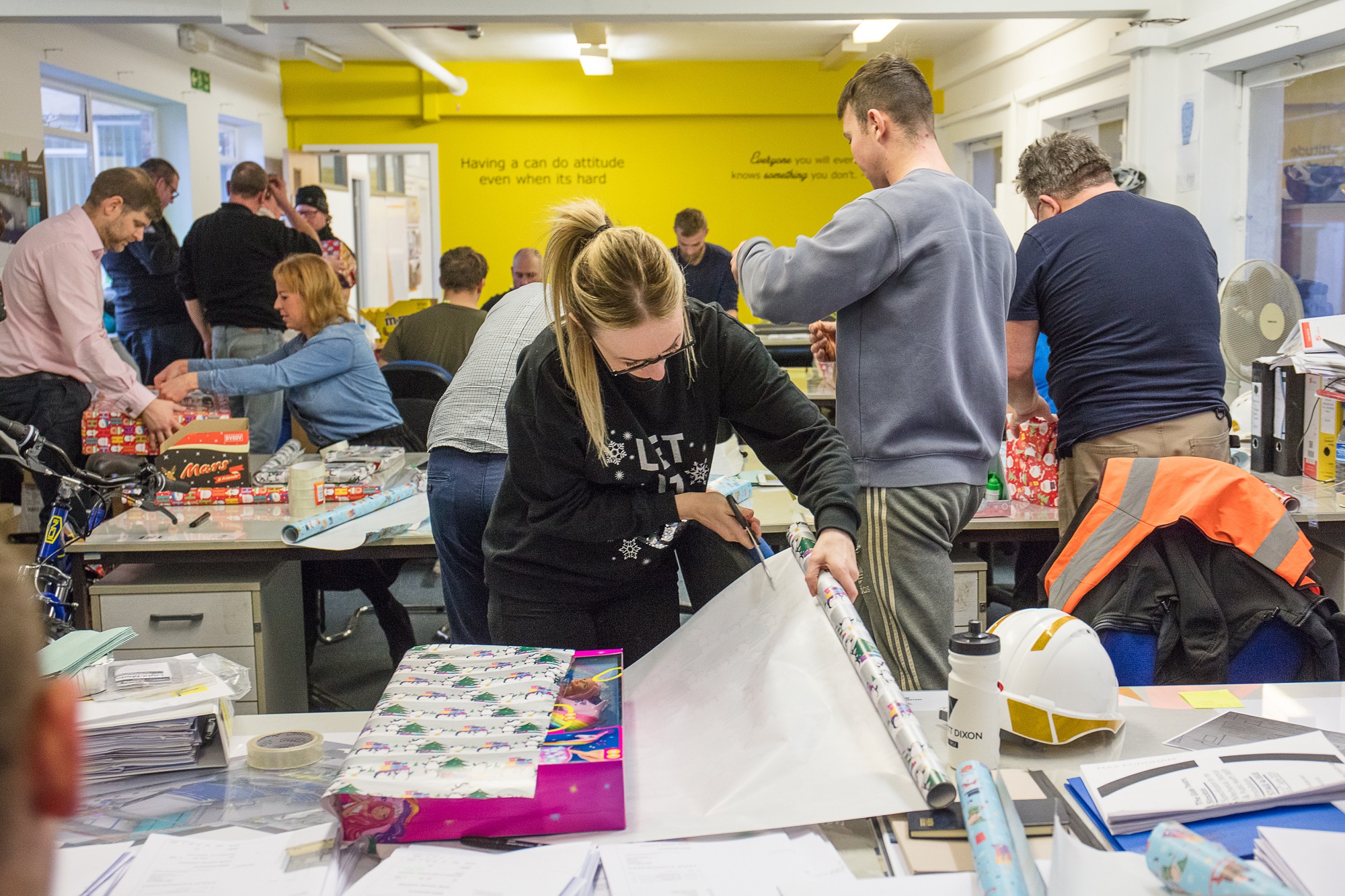 The team spent their own time on Wednesday evening wrapping gifts for every one of the 91 children before handing them over to the Council to be delivered by Father Christmas.
Construction manager Mark Wolverson explains:
"For some children in our communities there won't be any presents to open on Christmas morning.
"Society tells children that Santa doesn't visit if you've been bad. This message leaves kids who may have already been removed from their friends and family and put into the care system thinking they must have been naughty as Santa hasn't visited them.
"There are some truly amazing children that have written back to us and with the help of our fantastic team, we are really proud to be able to make a small difference to their lives this Christmas."
Willmott Dixon is well known for its work in local communities and believes it has a purpose beyond profit. In 2018 the company was awarded the prestigious Queen's Award for Enterprise in the category of Promoting Opportunity through Social Value.
Mark Robinson, Scape Group chief executive said:
"Giving back to the local community is at the heart of Scape frameworks and I couldn't be prouder that Willmott Dixon have taken this to their hearts and will be making a genuine difference for the children of Stockton-on Tees this Christmas."
Willmott Dixon's experts in heritage and iconic community buildings are currently restoring the 1935-built Globe Theatre. Our team are transforming and revitalising the Art Deco landmark so that this high street venue, which used to host acts such as The Beatles, will again soon be welcoming top names of theatre, music and comedy.
To be operated by the Ambassador Theatre Group for the next 25 years, the project was procured through the Scape Major Works framework which has been superseded by Major Works England and Northern Ireland, part of the National Construction framework and is due to complete in Autumn 2020. It has also received a £4.5m National Lottery grant through the National Lottery Heritage Fund's Heritage Enterprise Scheme.