Five youngsters from across Cumbria have been given a helping hand into employment thanks to Willmott Dixon's unique Opening Doors programme.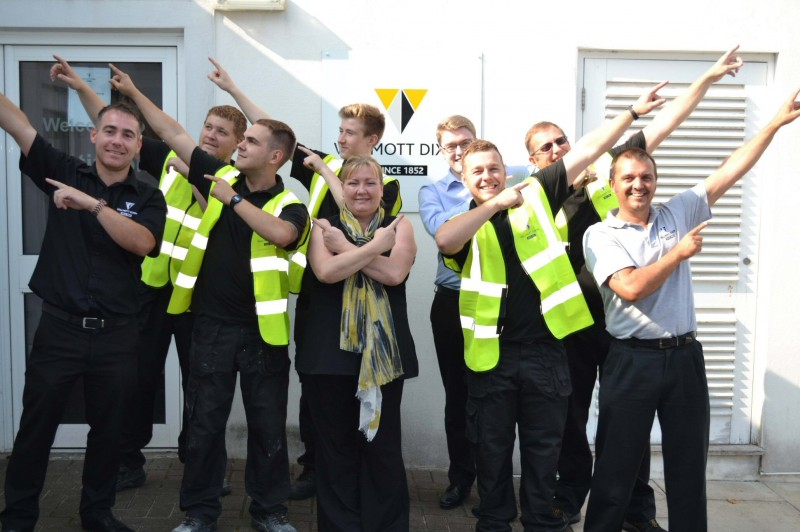 The young men have all joined Willmott Dixon's local Home Group North West branch in Cumbria where they will complete an apprenticeship with the company – gaining qualifications whilst gaining invaluable on-the-job work experience.

Willmott Dixon Partnerships' Opening Doors scheme provides training and development to employees, tenants and other local residents, and gives local students the opportunity to experience working in the construction and maintenance industry.

Over the past year Willmott Dixon's local community team has worked closely with its client Home Group, Jobcentre Plus and other local organisation to identify suitable candidates for Willmott Dixon's apprenticeship scheme. Originally planning to employ two trade apprentices, Willmott Dixon was so impressed with the high calibre of candidates it doubled its intake to four apprentices this year.

The company has employed Anthony Bruce and Brent Hood as apprentice plasterers whilst Ben Robinson and Carl Harrison have joined as apprentice plumbers. All four will work to complete NVQ's in their chosen trades whilst working alongside Willmott Dixon's team to deliver its repair and planned works programme to properties across the North West.

As well as the trade positions, the company has also employed Cockermouth's Thomas Clare, 19, as an apprentice customer and community partner. Thomas said: "After completing my A-levels I was keen to secure an apprenticeship in the field of business with a large company. I got a job in a convenience store but was determined not to give up on my dream."
Thomas applied for the company's Opening Doors scheme after seeing an advertisement in a local newspaper. He continued: "I am thrilled to be working with Willmott Dixon and am excited about the opportunities it will bring. This is a year-long scheme and I will come out of it with a huge amount of knowledge and experience, as well as an NVQ 2 in Administration – I couldn't ask for more."

Thomas will work alongside the company's community team, liaising with customers and working to deliver its extensive community benefits programme.

Willmott Dixon Partnerships works with Home Group, one of the UK's largest social housing providers, to deliver responsive repairs and voids maintenance along with planned works and gas inspections to nearly 17,000 properties in the Central and North West regions of the country.

Jill Blight, Willmott Dixon's customer and community partner, said: "We are delighted that the young men have joined us through Opening Doors. We are keen to ensure that we look within the communities we serve to help young people gain work experience and give them the best possible start in their working lives, whilst also helping to ensure that there is no lack of local skilled tradespeople in future years. They are all enthusiastic and keen to learn that I'm sure they will make the most of this opportunity which will be beneficial in their future careers."

Willmott Dixon's North West team maintain 9,700 homes primarily across Cumbria and the Lake District, whilst the Central team cover 7,000 properties from North Yorkshire to Milton Keynes.

This comes after the community actions of Willmott Dixon staff received a Royal seal of approval, with the company achieving a Queen's Award for Enterprise in Sustainable Development. One of the areas highlighted by judges in making the award was the £1 million worth of community investment made by the company and staff each year to local good causes. The company has also received recognition after scooping gold in the 'Excellence in Social Responsibility' category of the prestigious Investors in People awards, whilst also recently receiving Business in the Community's CommunityMark with commendation for its societal benefit programme.