Willmott Dixon posts rise in pre-tax profits for half year and unveils new structure for 2017
Willmott Dixon, the privately owned contracting, residential development and property support company, publishes its accounts for the six months to 30 June 2016.
Half Year Highlights:
Profit before tax and amortisation £12.0 million (2015: £8.1 million)

Turnover at £598 million

Shareholders funds of £181.9 million

Cash and liquid investments at £80.7 million

Secured and probable forward order book at £1.15bn

85% of budgeted workload identified and secured for 2017

Residential development and support services companies to move from Willmott Dixon 'umbrella' to become 'sister' businesses

Willmott Dixon posted a 48 per cent rise in half year pre-tax profits compared to the same period last year as it outlined plans to give its three business strands – contracting, residential development and support services – greater operational, financial and strategic independence to pursue their individual growth plans.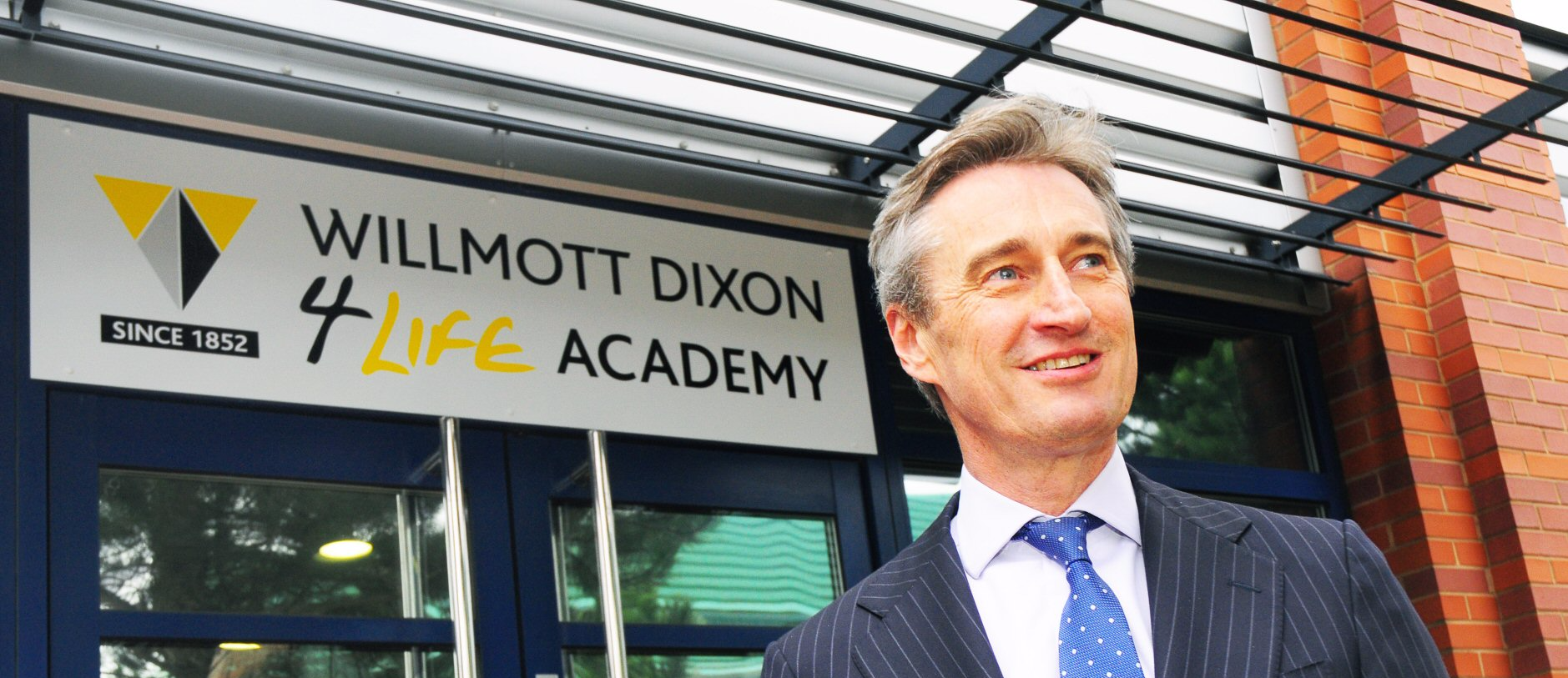 Rick Willmott
Group chief executive Rick Willmott explains, "This year has seen some important developments to support our growth ambitions. In May, we formed Willmott Residential to combine the capabilities of Prime Place, Be:here and Homes within one company. This has already opened up many new opportunities for sharing skills, identifying new land opportunities and bringing a more holistic approach to house building for our partners and customers.
"More recently, we rebranded our support services businesses as Fortem to grow a strong new brand utilising the technical strengths and capabilities that exist in our people to create a business with greater access to a variety of markets outside its core housing sector."
With Willmott Residential and Fortem making good operational and strategic progress, Willmott Dixon will now implement plans to strengthen both companies further by allowing each to benefit from greater independence to pursue their individual, and different, growth plans.
In 2017 this will see them move out from under the Willmott Dixon 'umbrella' to become 'sister' rather than 'subsidiary' businesses to Willmott Dixon, whilst remaining owned and controlled by the same shareholder family.
Three Sister Companies
Willmott Dixon Holdings with two subsidiaries: Willmott Dixon Construction and Willmott Dixon Interiors

Willmott Residential with three subsidiaries: Prime Place, Be:here and Willmott Partnership Homes

Wimpole Equity Holdings with one subsidiary: Fortem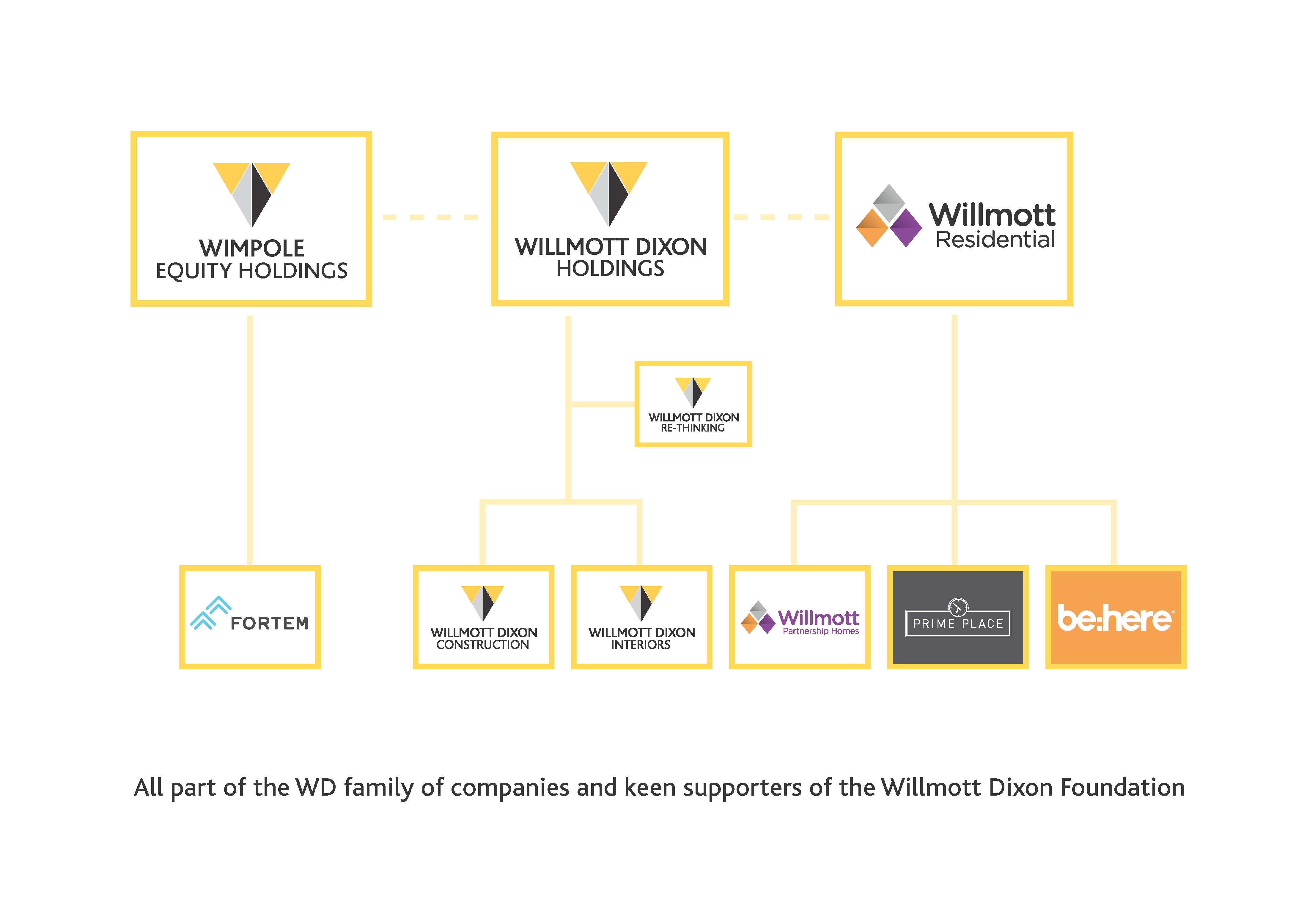 Willmott Dixon's structure from 2017
Rick explains the rationale for the new structure, "This very much recognises each company's specialisms and it gives senior management greater freedom and flexibility to shape their businesses to pursue specific growth agendas for their markets; but with strong cultural, leadership and ownership continuity. The revised structure also supports our wish to give top management in each of our three core businesses a more direct share in their company and in the success they help create.
Importantly, it underlines our core belief that sustainable growth is secured by focussing on those specialisms and an obsession with procuring 'quality' ahead of 'quantity' of workload. To do so presents the best opportunity in today's market of delivering outstanding service to customers by a confident, secure body of staff and culturally aligned supply partners."
Talking about how each sister company will work together and share skills, Rick continues, "We'll ensure our sister companies continue to work together and benefit from combining complimentary skill sets when providing a real 'value added' proposition. An example being Willmott Dixon's core contracting role supplemented by Residential's development and home-building skills, which is working well in Westminster to deliver a major new leisure centre and over 160 homes on two complex sites in a complex local authority asset backed deal."
An exciting future
Talking about the future, Rick says, "Willmott Dixon will remain a billion pound plus company in 2017 and we'll focus on our core strength of contracting, both new build and fit-out, with 85% of budgeted workload identified and secured for 2017. At Construction our growing geographic reach was again recently underlined by the recent opening of the Farnborough office to complement the existing five local company offices together with their satellite locations.
At Interiors we continue to grow in scale and scope with an excellent forward order book, some important contract commissions in the pipeline and some notable successes; the recent completion of the famous Design Museum in London being a prime example.
Willmott Residential
Willmott Residential now has a considerable pipeline of 7,500 homes in planning or in development through both Prime Place (private homes for sale) and Be:here (private homes for rent). And, Willmott Partnership Homes has a robust forward order book and the real opportunity to grow further by embracing an innovative development orientated operating model aimed at working in partnership with local authorities and housing associations to maximise economic value and social benefit from publicly owned land.
This planned transition to becoming a sister company will also allow us to begin the process of recapitalising Residential's balance sheet, attracting additional funds to buy more land and to support its next phase of planned growth.
Fortem
Fortem is also now poised for an exciting phase of expansion. It already provides repairs and maintenance services to local authorities and housing associations across the country, with its team of over 500 directly employed engineers undertaking over 400,000 repairs each year. This will grow as it seeks to become a leader in property maintenance and energy improvement services across all sectors, including opportunities in hotels and education as well as housing.
Of course each Company will continue to access the benefits and support provided by our Re-thinking team who provide strategic advice and support to help us to demonstrate sustainable development leadership whilst establishing a competitive advantage; and our Foundation will continue to develop, monitor and measure the community investment activities of its three principal sponsors Willmott Dixon, Willmott Residential and Fortem and to maintain our strong commitment to social value.
We see these changes as key steps in our continued evolution and ideally position our companies to support their customers."