Dudley House
Westminster's flagship development is bringing affordable homes to the heart of Paddington
Dudley House is a blueprint for how the public sector can harness its strengths to deliver affordable homes and community infrastructure within a constrained urban location.
Rather than a commercially centred scheme typical of many town or city centres, this local authority-led development is focused on one thing - investing in creating a vibrant and successful neighbourhood community.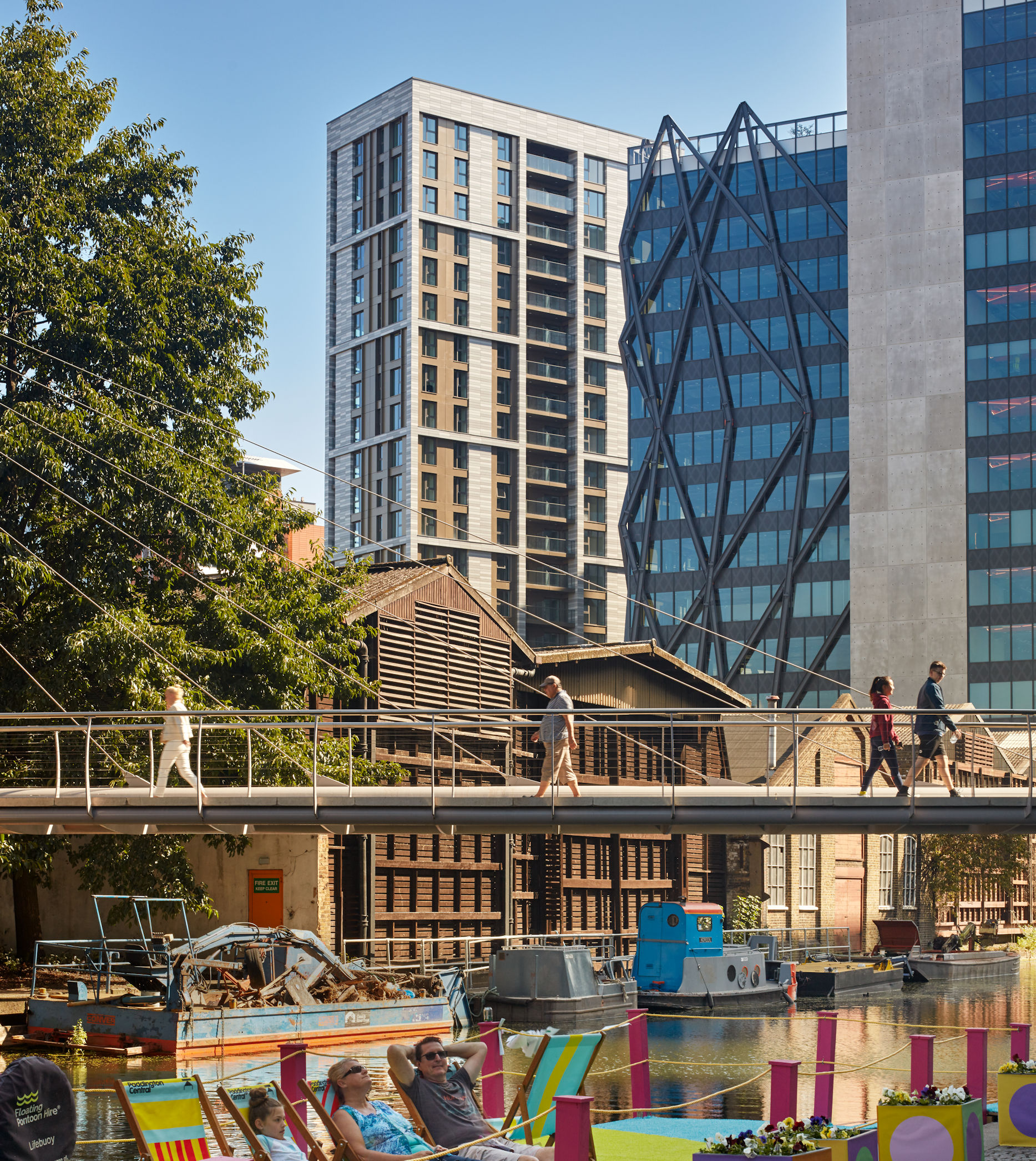 Dudley House is in the heart of Paddington Basin
Every inch of available space has been maximised within this 22-storey residential tower to provide 197 much-needed homes at intermediate rent for people living or working in Westminster. For Westminster City Council, this is a template for a new generation of homes that serve the residents who are essential for maintaining the local economy's vitality.
However, Dudley House is more than new homes. Neatly designed within this small urban footprint at the centre of Paddington Basin is a 7-storey secondary school - a permanent home for Marylebone Boys' School, which had spent its first four years in several temporary locations.
The ambition does not stop there. Also, the facility gives a new lease of life for the local Central Pentecostal Church, replacing an outdated and inefficient building, as well as new retail units.
Dudley House is a key ingredient of the council's 'City for All' programme to connect communities, and it's a vision realised by Willmott Dixon with the support of CGL Architects.
Space for a school
One of the more innovative aspects of Dudley House is what the development packs into a relative small footprint. That includes a state of the art school providing valuable learning space for Paddington Basin growing community.
Marylebone Boys' School already needed a permanent home as it had outgrown its temporary site. However, creating a new school in central London is not easy with the severe site constraints.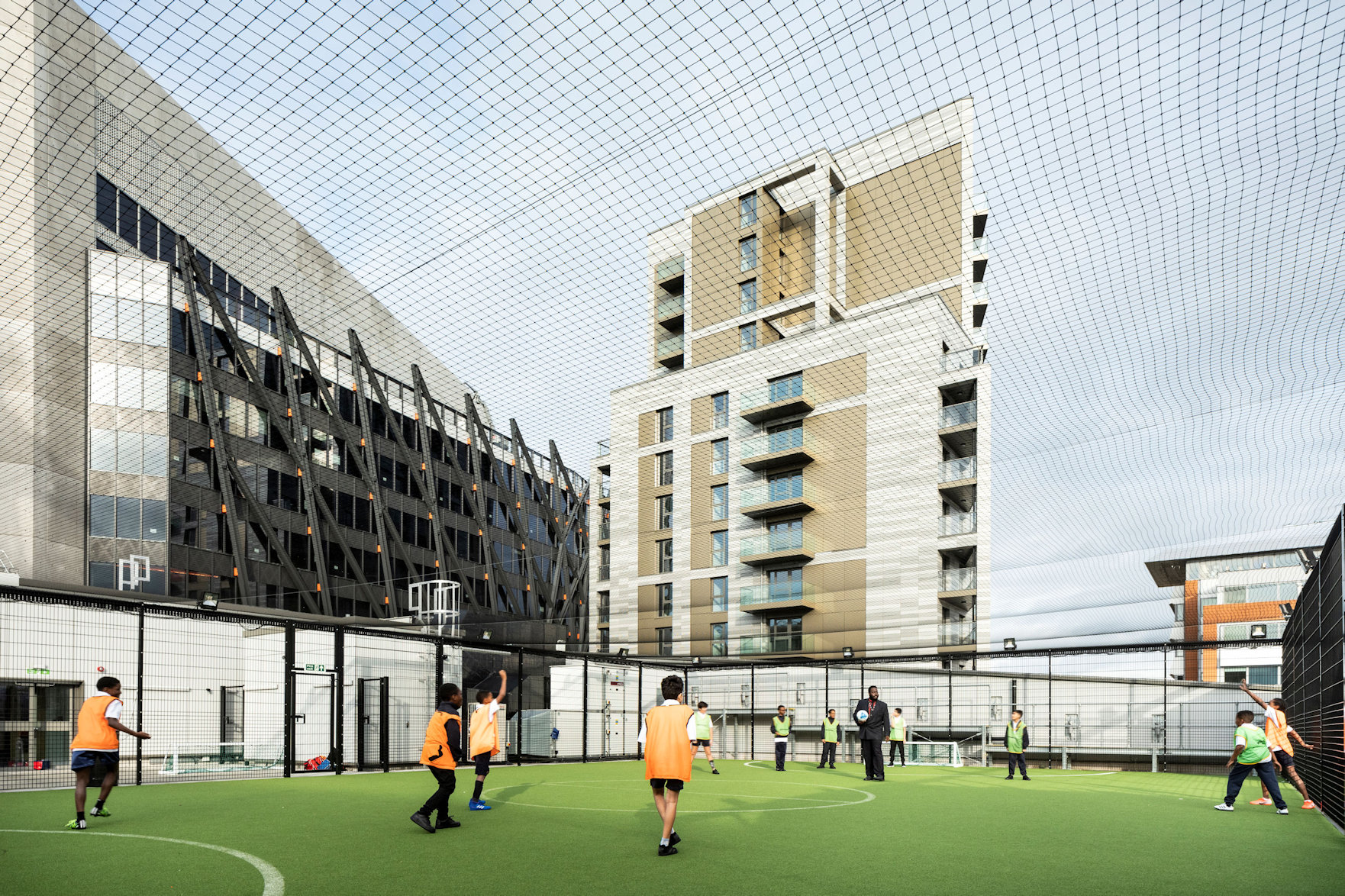 Outdoor space on the roof in the shadow of Dudley House
This was a challenge Westminster City Council neatly solved by including provision for an 840-place school within the Dudley House footprint.
Designed within its urban context to make the most of available space, the school optimised the space constraints by being clustered around a bright central atrium adjacent to the residential tower. With the roof cleverly adapted to provide outdoor space, it's a modern vision of how to provide facilities for music, drama, art and design, food technology and a library within flexible space that's easily adapted for different uses.
The school was to be the first key element of Dudley House. While constructed concurrently with the homes, it was delivered one year earlier, in time for the 2018 academic year, to the delight of the head teacher Richard Ardron, who said, "It means a lot to be in a permanent home. We are able to plan more effectively, which enhances education, and the students have familiar systems and routines, which is better for their welfare and wellbeing."
The school is also designed to meet future needs for secondary school spaces which includes a sixth form, which it hadn't had before.
"This is a fantastic school for Westminster, and really works," Richard continued. "It's giving our pupils the best opportunities and environment, and plays a crucial role in their development, education and life success."
High quality homes
With the school opened, attention was fixed firmly on finishing the second stage, 197 homes, church and retail space, ready for a mid-2019 completion.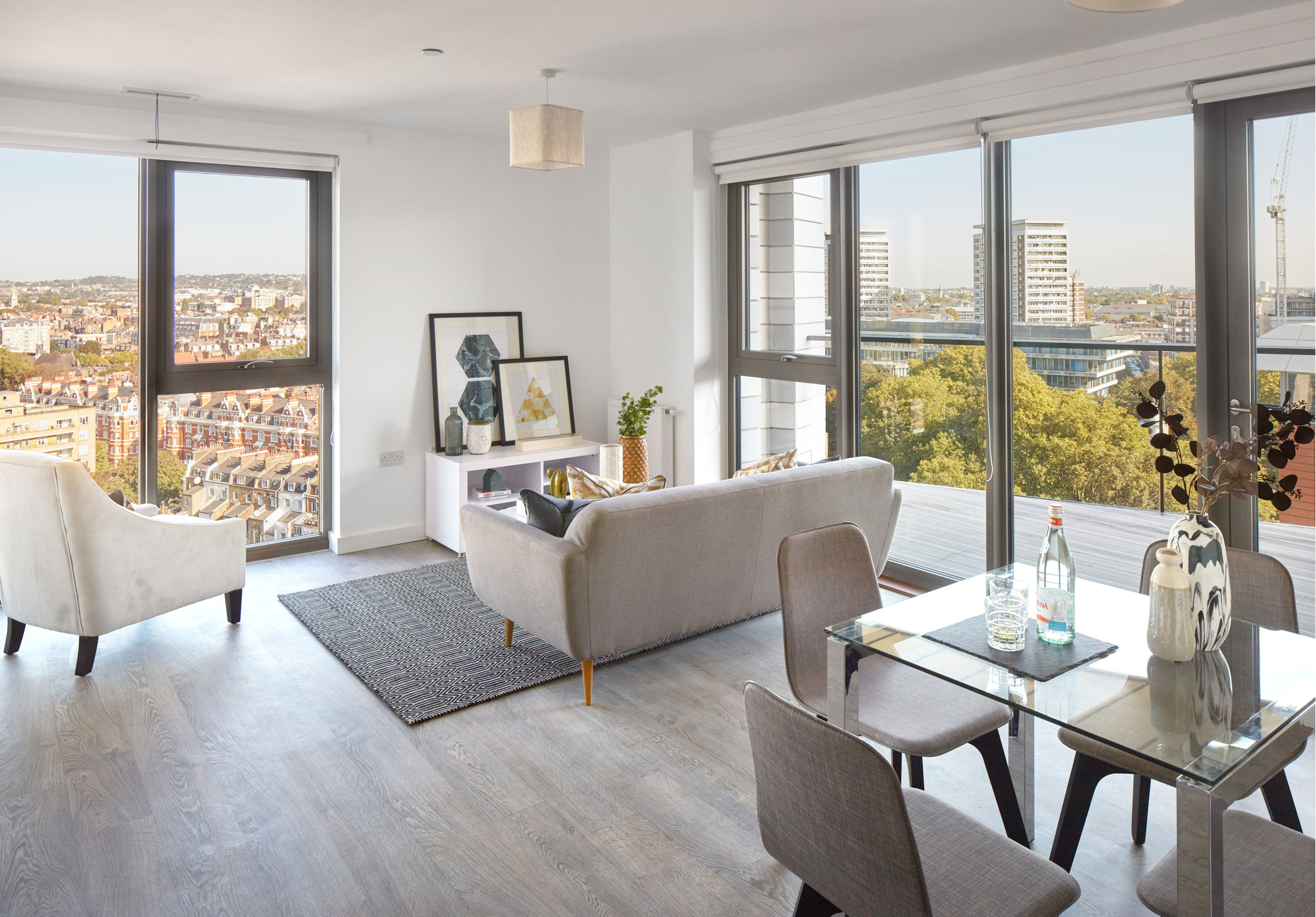 The homes were arranged in a mix of studio, one and two bedrooms, with storage good space and equipped for the demands of tech-savvy living. This is council-developed housing for the 21st century. Each home enjoys generously proportioned space, with high ceilings and an abundance of natural light.
Given the busy location, next to the A40 flyover, acoustics were vital. To get this right, Willmott Dixon fitted-out a dedicated prototype flat and tested the acoustics and airtightness over time. With every element checked and rechecked and refinements made where needed, the blueprint was applied in the fit-out of all the apartments in the building.
The result was that external sounds are completely blocked out.
Considering Grenfell
During construction, the tragic fire at Grenfell Tower broke out. Dudley House's cladding design and specification had been passed by building regulations; however given the harrowing events just two miles away, Willmott Dixon decided to take action.
Project director Mark Chamberlain explains:
"We carried out a complete review, going through every element with a fine-toothed comb. To make sure that the insulation behind the cladding was 100% non-combustible, we decided to change the specified solid insulation to mineral wool; all done without cost or programme implications."
To maintain the spotlight on quality, Mark's team also introduced a raft of ultra-robust checking and quality assurance processes, including having every step inspected, verified and certificated by independent external specialists and consultants.
Meeting urban challenges
Constructing a 22-storey tower in this dense, extremely busy area on a very constricted site was a huge challenge. Surrounded on all sides, the site is bordered by North Wharf Road and the heavy-traffic Harrow Road. With an established residential block, nursery school and retail units next door, plus high numbers of pedestrians and cyclists using the immediate area, the potential for disruption was high.
In addition, two other projects were being built simultaneously on neighbouring sites, with all three contractors sharing a single, one-way road for access and deliveries.
Live environment
Once the school was open, the crucial last 12-month programme for the residential, retail and church sections saw construction within a live environment. To add to the challenge, all of the scheme's buildings are in very close proximity to each other, and in some places physically linked, which increased the potential for impact.
The basement level plant room, which serves the entire Dudley House, was already fully commissioned and operational so the new buildings had to be connected to it without affecting services to the school. This required very precise and careful planning.
Safeguarding the children during this time was an absolute priority and saw stringent, continually monitored measures to keep them protected and secure. Providing the school with a clear route for emergency access and deliveries was also vital, which further constrained the already tight site.
Willmott Dixon continually communicated and liaised with the school. If activities were likely to cause disruption, the contractor scheduled them for out of school hours or at weekends.
"We always felt they understood any concerns that we raised and they responded straight away", said Richard Ardron. "We were particularly worried about noise around GCSE exam times so they made sure of silent work only during that period. They were friendly and approachable and a great company to work with. We were delighted with them."
PROJECT HIGHLIGHTS
High-rise residential tower in Paddington
Includes school, church and retail space
Combines construction and residential skills
London's first council BtR development
PROJECT DETAILS
CONTACT US
Willmott Dixon House, 80 Wilbury Way, Hitchin, Herts
SG4 0TP
Tel: 01462 442200
Fax: 01462 442204