Mary Hare School is the largest school for the deaf in the UK. Based in Newbury, the school educates around 250 pupils from year 1 to 13. The school does not teach British Sign Language. Whilst many students use it, they feel this better prepares students for the world beyond their standard education.
In April, our Winchester Sport & Leisure Park team welcomed nine sixth form students from Mary Hare Secondary School on site.
The students, who are all studying City & Guilds qualifications, visited the site, where they were given an induction by our site manager, and enjoyed learning more about the use of copper pipework for the Crush Café's signage, the swimming pool, gym and plant room. A number of students are studying plumbing, so the plant rooms and roof plant provided a great learning platform, enabling students to apply what they had learnt.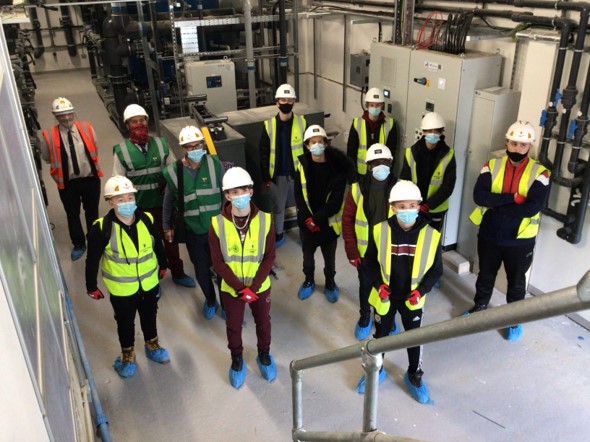 One of the Students, Reece, said of the visit: "I liked the team from Willmott Dixon. They all demonstrated very good deaf awareness by talking clearly and using good body language to show us around the leisure centre. They showed us the facilities, my favourite was the gym area, it was amazing. I also liked the hydrotherapy pool, and the swimming pool because the floor could be raised and lowered by a cable pulley system.
"I enjoyed the trip because, as a plumber, it opened my eyes to the opportunities and kind of projects, I could be a part of in the future. I just want to say thank you very much to the Willmott Dixon team - it was splendid trip which I really enjoyed."
The site visit was followed up by a presentation about the project, our team members, their job roles and careers, which helped to educate students on the paths into construction.
The visit was the third activity our team have hosted with the pupils. The team are looking to run virtual work experience with the school later in the year and host a further site visit to Lucy Faithful House in October.