The Willmott Dixon team behind Hebburn's new community hub invited local councillors to see the first steelwork put in place.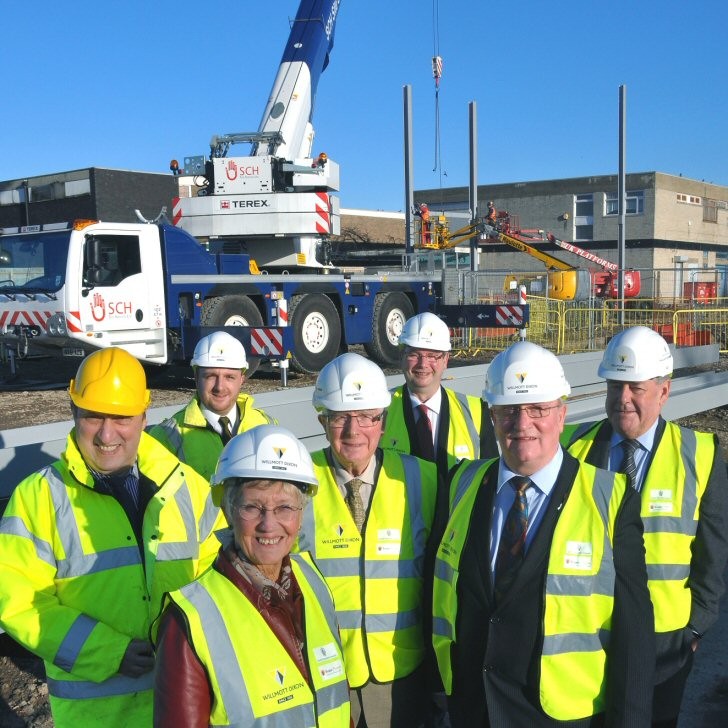 The £12.8m building, which includes two swimming pools, sport and fitness facilities and a new library, is a key part of the town centre's renewal and Councillor Richard Porthouse, Chair of Hebburn Community Area Forum, said: "This is a really exciting moment for Hebburn. We have been on site carrying out essential work for three months, but now for the first time you can see the building coming out of the ground. Local people can expect to see rapid progress as the steel frame goes up over the next few weeks and beyond. Over the past two years we have taken down 15 outdated maisonette blocks to pave the way for regeneration, and now people can see the future starting to take shape."
Construction on the project began at the end of November with a visit from TV star and outdoor enthusiast Julia Bradbury, and early work has included filling in old mine workings, laying the foundations and installing two giant attenuation tanks to manage water levels under the two swimming pools.
Anthony Dillon, Northern Region Managing Director of Willmott Dixon, said: "It's fantastic to see the steelwork arriving and the building starting to take shape. The arrival of 400 tonnes of steel is a visible sign of the investment South Tyneside Council are making, and we are extremely pleased to play our part in giving Hebburn the landmark building it deserves. Willmott Dixon has a strong commitment to supporting the local economy and we have already created six new jobs for local people. So far over two-thirds of our construction budget has been spent within 20 miles of the site. This is important to us as it is another way to ensure the project benefits local communities."
The two-storey building will include a 6-lane swimming pool, a learner pool, fitness suite, sports hall, dance studio, soft play area, library, learning centre and cafe, as well as meeting rooms and a customer service centre.
Councillor Eddie McAtominey, Chair of Hebburn Regeneration Board, said: "This is a fantastic moment for Hebburn and something we have worked towards for several years. The new Hub will be a shot in the arm for the town centre and make it far more likely to attract future investment from the private sector. This will be a first class facility for the community, and a flexible building that can be easily adapted to meet changing needs."