Birmingham once again hosted Willmott Dixon's annual celebration of the achievement its apprentices make to the business.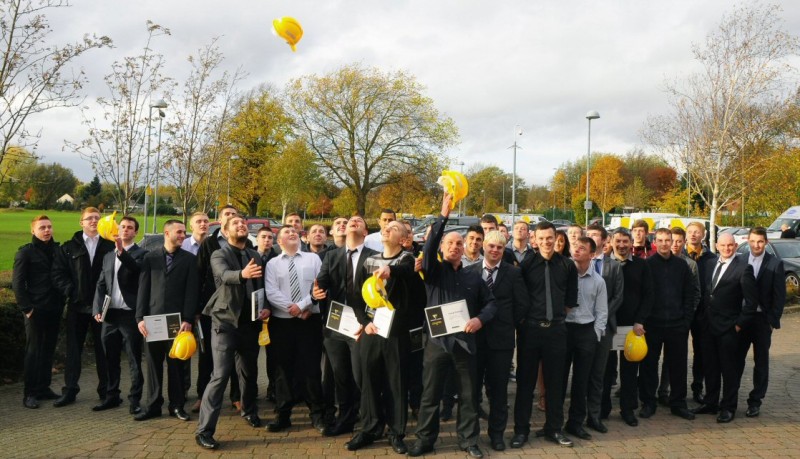 Apprentices get recognised at the Willmott Dixon's Got Talent awards
Nearly 60 apprentices joined senior management from the company, along with local MPs Khalid Mahmood, Shabana Mahmood and Gisela Stuart, plus Birmingham City Council's cabinet member for development, jobs and skills Cllr Tahir Ali for the Willmott Dixon's Got Talent awards at The Pavilion on Moor Lane.
Now in its fifth year, Willmott Dixon's Got Talent saw 13 apprentices graduate, including eight from Birmingham, with NVQs in a variety of trades like plumbing, bricklaying and building maintenance. Other awards handed out included 'Apprentice of the Year' and the title of Willmott Dixon's Got Talent for those who have shown outstanding ability and potential.
This year's stars were Jordan Phillips from Galatia in Lincolnshire (our joint venture with ACIS Group) who was named Apprentice of the Year, while Daniel Booler from Rotherham and Chris Williams from Cumbria won the Willmott Dixon's Got Talent accolade. As Got Talent winners, Daniel and Chris are now enrolled on the company's management trainee course to further their leadership development with degree-level qualifications.
Apprentices were also given a motivational talk by world champion hurdler Colin Jackson, who talked about the lessons learnt by not winning a medal at the 1992 Olympics and how he used that to inspire him to win gold at the 1993 World Championships, breaking the world record along the way.
The awards are the company's latest statement of intent to boost skills in Birmingham. Earlier this year, Willmott Dixon invested £1 million to create the 4Life Academy at Electric Avenue in Perry Barr. The academy has already provided training to over 2,000 people since February.
Electrical apprentice Matthew Roach, aged 23, from Great Barr was one of the eight Birmingham apprentices to graduate, obtaining an NVQ level 3 in electrical installation. He is based at Willmott Dixon's North Birmingham branch, working as part of the team to repair and maintain 60,000 properties for Birmingham City Council.
Matthew said: "Having a qualification like this has really set me up for a career in construction, and I know that Willmott Dixon will keep investing in my development and learning so I acquire new skills to help progress my career into more senior positions."
Willmott Dixon invests £500,000 each year in developing and training apprentices to NVQ level and uses its annual event to mark their achievements. Willmott Dixon Partnerships' managing director Mick Williamson, said: "The Willmott Dixon's Got Talent awards are unique, celebrating the huge impact our apprentices make. We believe apprentices are great ambassadors for our company and will grow the business in the future. We called for more companies to invest in new apprentices in our report, Transforming Communities, which shares ideas to help organisations deliver sustainable growth to help communities drive employment opportunities."
"By investing so much each year in training, work experience placements and in people's time to mentor our apprentices, our skills programmes and initiatives allow hundreds of people to enhance their knowledge so they can have a successful career.
Willmott Dixon Partnerships is working with Birmingham City Council to repair and maintain 60,000 properties in the city. It's two contracts for the north and south of the city includes the areas of Edgbaston, Hall Green, Northfield, Selly Oak, Ladywood, Erdington, Perry Bar and Sutton Coldfield.